175 & Glastar Avionics Transplant
This project is somewhat unusual in that it involves the direct transplant of several avionic systems from one aircraft to another. The two aircraft involved are a Glasair Glastar and a Cessna 175. Avionics which are suitable for certified aircraft are being removed from the home-built Glastar to be installed in the C175. Meanwhile, the Glastar is receiving a new avionics package centered on the Garmin G3X touch. Work is being performed on both aircraft simultaneously by two teams of technicians.
Justification for directly transplanting avionics from one aircraft to another is simply a matter of convenience and price. With excellent equipment immediately available at no cost, our client was able to save some money while outfitting both aircraft for their intended roles with a minimum of hassle. As for those roles… the Glastar is being set up to take the role of IFR-capable pleasure-craft, while the C175 is destined for VFR flights.
If we take a closer look at the new avionics packages for each aircraft, we'll find that both cases are broadly similar in that they are comprehensive. Both aircraft feature primary flight displays and modern GPS/NAV/COMs as well as autopilot systems. Where the aircraft and their avionic systems diverge is in the details. For example, the Glastar allows for a remoted-mounted transponder to be controlled by the touchscreen Garmin GTN750. The C175, in contrast, utilizes a panel-mounted L3 Lynx as both a transponder and a multifunction display in its own right. This is just one example, but it illustrates the biggest overall difference between the two planes: The GTNS 750 and G3X touch in the Glastar (in general) allow for tighter integration of different systems and more centralized method of control.
Summary of Glastar Systems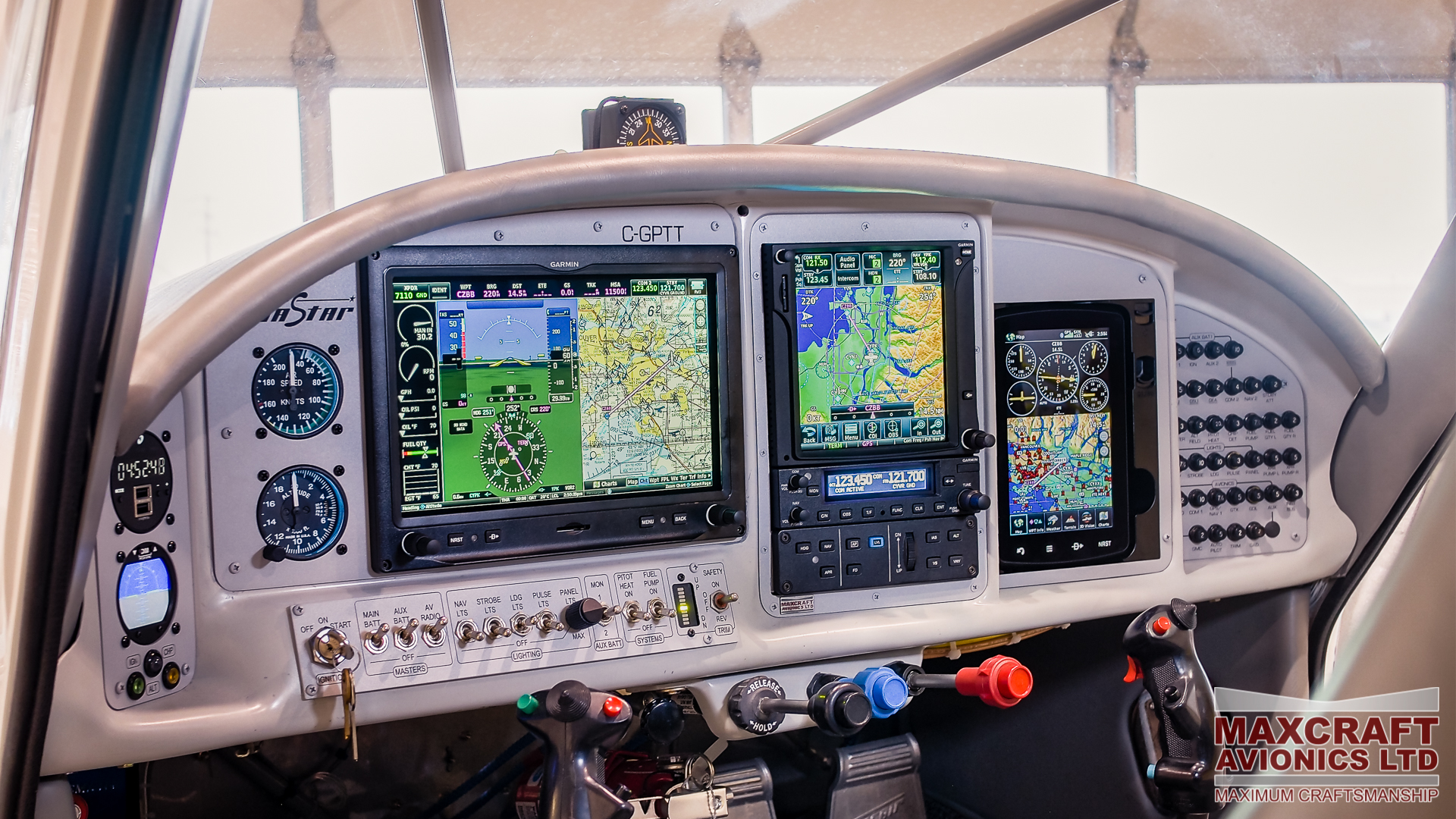 Part of this design was made possible by the Garmin G3X touch. The G3X touch represents some of the most sophisticated technology available to the experimental/home-built market and was a real upgrade over the Glastar's existing avionics package, much of which will be transferred to the C175. Despite its long list of capabilities, the G3X touch remains relatively affordable due to its status as un-certified avionics for home-built and experimental aircraft. Comparable equipment for certified aircraft like the Garmin G500 costs orders of magnitude more, and still lacks features found in the G3X – features like touchscreen interface, engine monitoring and autopilot. In addition to the equipment mentioned above, the Glastar's new loadout features RC Allen and UMA backup instruments and new Maxcraft custom metal panels.
G3X Primary Flight Display system

GDU 465 10.6 inch Display
GEA 24 Engine Monitoring System
Angle of Attack probe
GMC305 Autopilot & control panel

GTN750 GPS/NAV/COM
GTX23 Transponder
GNC255A Nav/Com
MD93 Digital Clock/USB Charger
RC Allen backup Attitude Indicator
UMA backup Altimeter and Airspeed Indicator
Custom Maxcraft metal panel
TCW Dual Battery backup systems
TCW Trim servo controller
Summary of C175 Systems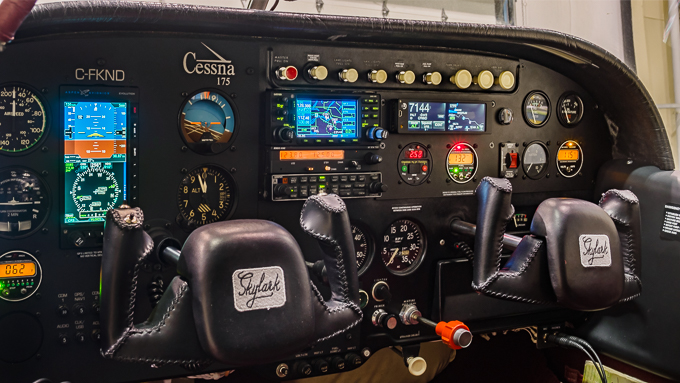 As mentioned, some of the equipment here consists of Glastar hand-me-downs. However, none of these Avionics are 'cheap', despite their lower cost of acquisition. The GNS 430, for example, remains a highly capable navigator. With the ability to interface with both an Aspen EFD flight display, and a new installed the S-Tec system 30 autopilot, it's perfect for this installation. It's also worth mentioning that the cosmetic presentation of this panel has been much improved by the inclusion of new Maxcraft coated panels, as well as customized Avion Yokes with "French stitched" leather wrapping by our friends over at Port Aircraft Interiors.
Garmin GNS430 (from Glastar)
GMA340 Audio system /w four place intercom (from Glastar)
Bendix/King KY97A VHF radio (from Glastar)
Aspen EFD 1000 – VFR only
S-tec System 30 Autopilot
Avion Yokes with custom "French stitched" leather wrapping
MD93 Digital Clock/USB Charger
Lynx NGT 9000 ADS-B transponder
Custom Maxcraft metal panel