In the 20 years since Maxcraft has been doing flight instrument panel replacements, we've seen lots of changes but nothing like what the glass panel revolution of the past couple of years has in providing the situational awareness and traffic avoidance to bring pilots like you home alive.
We've probably written more articles on glass panel avionics systems and installed more glass flight instrument panels over a longer period of time than anyone else in Canada and, as acknowledged experts, there's one thing we know: safe, successful integration with entire aircraft is not easy.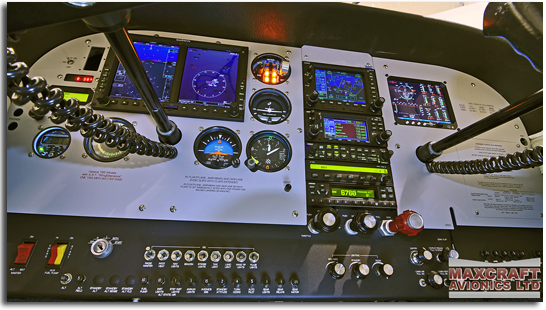 That's why over the course of
more than a decade replacing flight instrument panels
with new glass panel technology, we've developed the expertise, the turnkey process that takes it right down to the aluminum. We have also partnered with interior and maintenance shops to minimize your budget and downtime while maximizing your aircraft's features and capabilities.
And we do it all with the maximum craftsmanship that's made us a favourite with pilots – for over 20 years.
Acknowledged Glass Panel aircraft installation experts with decades of experience
The largest Garmin avionics dealer in Canada
Integrated installation experts
Turnkey process
Custom interiors
Replacement helicopter instrument panel experts
Done right the first time
EFIS
Duracoat Triple glass Max Panels (EFIS, Moving map, Digital Radios and Engine Monitors)
Prompt STC approvals by our Aircraft Avionics Design Services Group
To top it off Maxcraft has a proprietary 'MaxPanel Duracoat Finish' that is rugged yet looks better than any other panel you have seen. Come see a sample.
Customer Comments
"The last major improvement to NTI took place this year when you took out the Century 1 autopilot and installed an S-tec 50 that is coupled to the Aspen, with the GPS steering. I can't tell you how happy I am with it; as my wife commented 'this is just like an airliner'. The combination of the two (Aspen + S-tec) has made a world of difference to the airplane and made my flying so much easier and more enjoyable."
Rick Johnson
Call 604-465-3080 to Take Your Flight Instruments To the Max