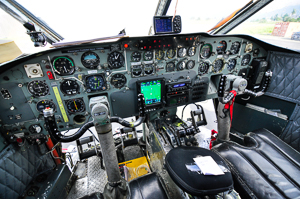 It's always a pleasure to see unique or unusual aircraft come into the hangar, and these Shorts SC.7 "Skyvans" are no exception. The very look of these things stirs discussion, prompting questions from bystanders like "Why is it shaped like a brick?" and "Are you sure that thing can fly?" The answers are respectively "Because it works" and "Yes indeed." In point of fact, the fuselage of this aircraft is one large airfoil, giving the Skyvan both its unique shape and its astonishing rate of climb — the latter feature being one which drew surprised remarks from our install manager during test flight.
According to Wikipedia, "the Short SC.7 Skyvan is a 19-seat twin-turboprop aircraft manufactured by Short Brothers of Belfast, Northern Ireland. It is used mainly for short-haul freight and skydiving." As it happens, Maxcraft's job here is to prepare two Skyvans for an overseas military skydiving training contract. Our work involves meeting the European Union's general regulatory requirements, as well as the operator's specific contract requirements.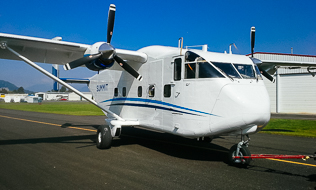 In addition to a modern GTN 750 package with TCAS and a remote audio panel, Maxcraft technicians have also installed dual diversity mode transponders and a GNC-255 NAV/COMM, both of which were specified as mandatory for operation in Europe. While ES transponders have been mandatory in Europe for sometime now, the 8.33 MHZ channel spacing requirement which prompted a GNC-255 is fairly recent. Mission-specific equipment installed by Maxcraft include a custom-built jump light system, and a cabin altimeter.
Over the course of this project, some additional faults were discovered and corrected. These ranged from minor structural repairs, to replacement of a faulty gyro. Both aircraft are also receiving new paint jobs from our friends at Upper Valley Aviation and new fabric upholstery courtesy of Port Aircraft Interiors. Engine maintenance was also performed at our facility by the operator's own maintenance personnel.





















































Summary of Major Avionics Equipment
GTN 750 Navigator (Garmin)
GI-106A Nav Indicator (Garmin)
GTS 855 TCAS-I (Garmin)
Dual GTX 33D Mode S Transponders with extended squitter (Garmin)
GMA35 Remote Audio Panel (Garmin)
GNC 255 NAV/COM (Garmin)
Custom Jump Lights and Cabin Altimeter (Maxcraft)