Maxcraft's own Cessna 182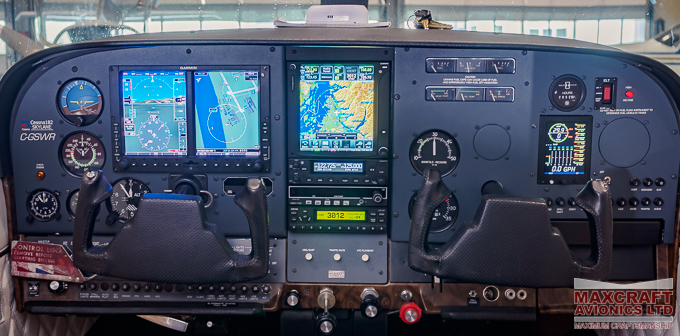 Here at Maxcraft, we're not just Avionics professionals; we're pilots as well. This week on the project page, we feature Maxcraft's own Cessna 182. This plane is used regularly by Maxcraft's founder, president, and general manager as well as some of Maxcraft's staff. It is used for demonstration flights, customer drop-offs, as well as commercial site visits. His plane is a Cessna 182P, and dates from 1975. This year Maxcraft gave it a full glass package – its first major upgrade since 2003.
C-GSWR serves as both a personal aircraft, as well as a platform for demonstrating cutting-edge avionics available for retrofit. We therefore do not exaggerate when we say that this plane contains some of the very best Avionics equipment available in its class – products like the popular Garmin G500 Primary Flight display, The GTN-750 navigator, The Avidyne TAS-605 traffic advisory system, JP instruments EDM-830 graphic engine monitor, and The Latitude IOnode flight-data monitoring system. But C-GSWR doesn't only show off products that Maxcraft deals in… it also showcases the precision, craftsmanship and quality of work for which Maxcraft is known for. Let us be clear: the installation seen here is no different from what we do for clients on a regular basis; when you get your installation done by Maxcraft, you end up with the same level of quality that pilots on our staff select for themselves.
The benefits of Maxcraft's stringent quality control are no more apparent than upon upgrade. Often when our technicians remove old equipment, they find wiring and cable management that is messy, badly-routed, badly-secured, corroded or otherwise substandard. This was not the case with C-GSWR, or with any aircraft that we've rewired here at Maxcraft.
Ten years after rewiring GSWR back in 2003, our high-quality laser-marked tefzel wire harnesses are still neat, organized, clearly marked and free from undue corrosion, stress or any other factors which can lead to intermittent performance, malfunctions, or difficult maintenance. The honest truth is that Maxcraft's wiring installation standards in most cases exceed those of the original aircraft manufacturer, and have a proven track record of reliability, even under the harsh conditions encountered by many of our commercial helicopter clients.
Now despite the continued usefulness and reliability of the equipment in this aircraft following Maxcraft's previous upgrade work, the world of Avionics has come a long way in ten years. We've spoken several times before, both here, and at our seminars about the benefits of replacing the conventional "steam gauge" six-pack with a modern glass-panel primary flight display, as well the benefits and regulatory requirements surround ADS-B implementation.
However, this project deviates away from normal "General Aviation" installations in that Maxcraft also included a cutting-edge commercial grade Flight Data Management system. These systems are usually best suited to commercial operators, however the Latitude IOnode was installed in C-GSWR for demonstration purposes to these fleet operators. A new JP instruments color EDM-830 engine monitor was integrated into this FDM system. This allows for the post-flight analysis of airplane altitude and GPS position overlaid on digital maps, as well as the correlation of that data with engine parameters during every second of flight.

This information is automatically downloaded once GSWR comes into range of our hangar's WIFI network. As a tool for fleet management, FDM systems are easier to demonstrate than they are to explain. If you're a commercial operator who would like to see the Lattitude IOnode FDM system working in person, please feel free to contact our sales department.
Last but not least, C-GSWR's cockpit saw several cosmetic changes during this upgrade. The first and most obvious change would be the panel itself. The coating and engraving process on our new panel is quite different from what Maxcraft used ten years ago. Our new process involves both powder-coating and laser-engraving, which results in a highly readable panel resistant to scratches, scuffs, and other damage. Both control yokes of this aircraft were refinished with the same coating process.
| | | | |
| --- | --- | --- | --- |
| | | | |