Maxcraft is proud to highlight this pristine and now state-of-art 1973 Skylane Cessna 182P
Jim's journey into aviation began only four years ago after retiring from the tech industry and selling his company.  Jim had always admired the freedom pilots have in terms of travel and, wanting to have such flexibility himself, enlisted the help of Maxcraft with the goal of acquiring a reliable single engine plane which would comfortably transport himself and his family.  The solution came in the form of a low time Cessna 182P for an excellent price.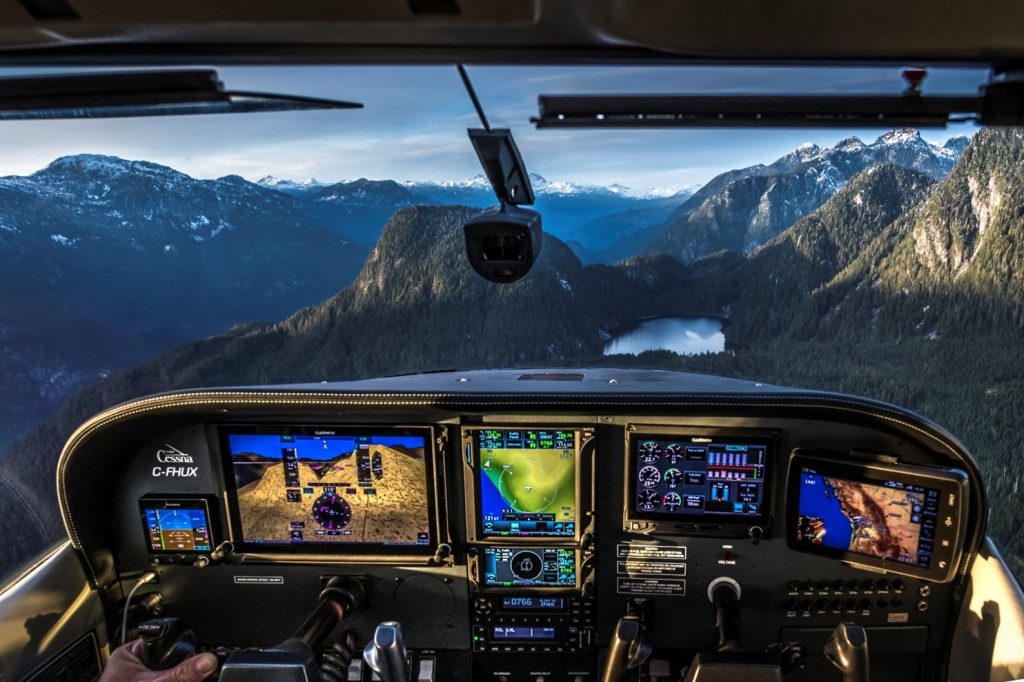 Though it was in good shape the plane needed some updating.  The avionics equipment was all original, but it had a new interior and paint job (a great way to buy an airplane these days). Jim's passion for technology made certain that anything plugged in or powered by electricity would be state of the art.  Shortly after the purchase of the aircraft, the audio system failed so it was flown to Maxcraft where we quickly installed a GTN750 and GMA35 audio panel. This allowed Jim to take his time and decide on his ultimate panel. Months later the aircraft came back for the full install.
The panel was replaced with a brand new aluminum MaxPanel custom CNC cut for all the new instrumentation, including the dual GTN GPS/NAV/COM units and the G500 TXi touchscreen displays which are the focal points of this plane. The panel was then powder coated to Jim's colour preference and then laser engraved with the required placards.
FULL EQUIPMENT LIST
| | |
| --- | --- |
| G500 TXi 1060 | Integrated Flight Display with SVT (Garmin) |
| G5 | Backup Electronic Flight Instrument (Garmin) |
| GTN 750 | GPS/NAV/COM & MFD System (Garmin) |
| GTN 650 | GPS/NAV/COM & MFD System (Garmin) |
| GMA 35C | Remote Audio System with 4 place intercom and Bluetooth (Garmin) |
| Flight Stream 510 | Wireless "Connext" gateway (Garmin) |
| G500 TXi 700 EIS | Engine Information System Display (Garmin) |
| GTX345  | ADS-B compliant Transponder (Garmin) |
| GFC600 | Digital Auto Pilot with ESP. 2 Axis with Pitch Trim (Garmin) |
| TS 800 | Active Traffic System (Garmin) |
| AERA 796 | Portable GPS display with SXM weather (Garmin) |
| GDL 51S | XM WX & Audio (Garmin) |
| MaxPanel | Custom Maxcraft powder coated instrument panel (Maxcraft) |
| Lemo Headset Jacks  | 4 Installed with Headsets (Lightspeed) |
| 345 ELT | 406Mhz ELT (Artex) |
| TA202 USB | Dual A/C USB high power charging ports (True Blue Power) |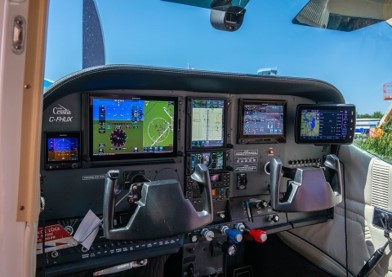 This Cessna 182 was the first aircraft in Canada to have the newly released and highly capable GFC600 digital autopilot featuring envelope protection and vertical navigation. Another first for Maxcraft was the Garmin EIS Engine Information System. This state-of-art system allowed us to remove all the traditional analog engine instruments and fuel indicators and display them on a dedicated touch-based glass panel. Interestingly, with the Flight Stream 510 this allows all engine telemetry to also be pushed to a tablet and then all engine and flight data be pushed to the cloud for post flight reviews.
Most of Jim's flying includes his whole family so safety played an important role in his avionics decisions.  A GTS800 Active Traffic system ensures nobody is getting close to this airplane in the air. An AERA 796 and GDL51 provides SXM weather (and music) regardless of which country he is in. The GMA34 Bluetooth Audio Panel allows him to easily route music and intercom isolation to keep all the family happy while still allowing him to communicate with ATC.  A GTX345 ADS-B transponder also supplies him with traffic and weather when in the US.

On top of the substantial avionics package (Listed at the beginning of this article) Maxcraft installed high power USB chargers and 4 LEMO headset jacks which enable Jim and his family to charge their devices and listen to their own audio within the aircraft.
At a meeting with Garmin International, Steve, our Director of Business Development showed off pictures of Jim Immler's new panel featuring their products.  The executives were so impressed that they personally contacted Jim to invite him to have his plane featured at their booth at the EAA AirVenture in Oshkosh, Wisconsin.  Jim was honored to accept and was thrilled this summer to be attending aviation's biggest convention of the year showing off his stylish, state of the art plane.
This Aircraft Was Even Featured on AOPA Live for its Spectacular Panel
Customer Comments
"In June of 2017 I purchased my 1973 Cessna 182p. The aircraft had an excellent condition, low hour airframe but no upgrades had ever been performed on the avionics. That was exactly what I wanted! It was my intention from the beginning to invest in a completely new avionics system from tip to tail. As an owner of a technology company, I have the experience to recognize the safety and reliability merits of an 'all digital' system. It also didn't take me long to recognize that the best suited company for the job was Maxcraft Avionics Ltd.
The following year as I communicated and planned with Steve Nunn and Daryl MacIntosh I quickly realized that their attention to detail and perfection would enable the creation of what could become possibly the greatest avionics package ever installed into a legacy piston single. The announcement of the TXi series by Garmin was the cream on the cake that timed perfectly with our schedule. There were no shocking surprises, no shortcomings, no squawks. Everything worked exactly as promised from the very first flight and continues to work flawlessly every day.
The panel I now enjoy is not just a pride to myself but also a great testament to the skills of Maxcraft Avionics. Garmin also joins in the pride as they closely watched this job come together. Not long after completion Garmin invited me to attend Oshkosh Airventure 2019 as a display aircraft in their booth. As I continue to log hours with my aircraft I am constantly reminded of the dependability, simplicity, and aesthetics of what the people at Maxcraft have created for me."
Jim Immler
C-FHUX
Does this project look like something you would be interested in?
Contact us at 604-465-3080 to find out how we can help it become a reality.