Cessna 208 Caravan G600 TXi upgrade

The GDU 1060 centered over the yoke is the highlight of this panel
Aircraft: Cessna 208 Caravan on floats in passenger configuration built in 1992. The Cessna 208 Caravan
Owner:  Adventure Air, is a small family owned air carrier in Manitoba about 60 miles north east of Winnipeg but operating throughout Canada. Adventure Air has a versatile fleet of aircraft allowing them to use wheel, float, or skis depending on the situation. Adventure Air is focused primary on charter operations for remote hunting and fishing, along with freight and passenger transport, but can also provide mining and exploration services, aerial surveying, fire detection, aerial photography, and much more.
 Need: This avionics upgrade was the second phase of a three-phase overhaul, first starting out with a major engine, and ending off with new floats from Wipaire Inc. in Minnesota. The avionics upgrades included a new modern glass display to replace aging analog instruments. While avionics work was being completed, this aircraft also received as new interior from Upper Valley Aviation.
| | |
| --- | --- |
| G600 TXi GDU 1060 | Primary Flight Display and Multi Function Display with SVT (Garmin) |
| GSB15 | Dual USB high power charging ports (Garmin) |
| GI275 | Backup Attitude Indicator with Battery Backup (Garmin) |
| GMA35C | Integrated Audio Panel (Garmin) |
| GTX335 | Transponder with ADS-B Out (Gamin) |
| MaxPanel | Custom Instrument Panel (Maxcraft) |
| TFM-550 | VHF/UHF Radio (Technisonic) |
| Exterior Paint | Upper Valley Aviation |
| Leather Interior | Upper Valley Aviation |
| New Floats | Wipaire Inc in Minnesota |
The Story: Although Adventure Air had been successfully utilizing this Caravan built in 1992 to transporting passengers to and from fishing and hunting destinations, it was beginning to show its age, when they found out their current floats would need to be replaced they decided to go for a complete overhaul. Along with rejuvenating their instruments and avionics they also wanted to get a fresh paint job and an upgraded interior. Teaming up with Upper Valley Aviation we were able to make this a seamless job covering everything from paint to avionics.
After reviewing our plans and setting a date and timeline for the work to be completed the aircraft had to be ferried from Manitoba to our facility in Pitt Meadows, British Columbia. But before the avionics work could begin the aircraft underwent a turbine engine upgrade.
Part way through their journey the pilot reported some issues with the Caravan's turbine powered engine. After making a stop to have some maintenance checks an issue was discovered which required a few days of troubleshooting and repair. This time on the ground resulted in the project timeline being shifted over.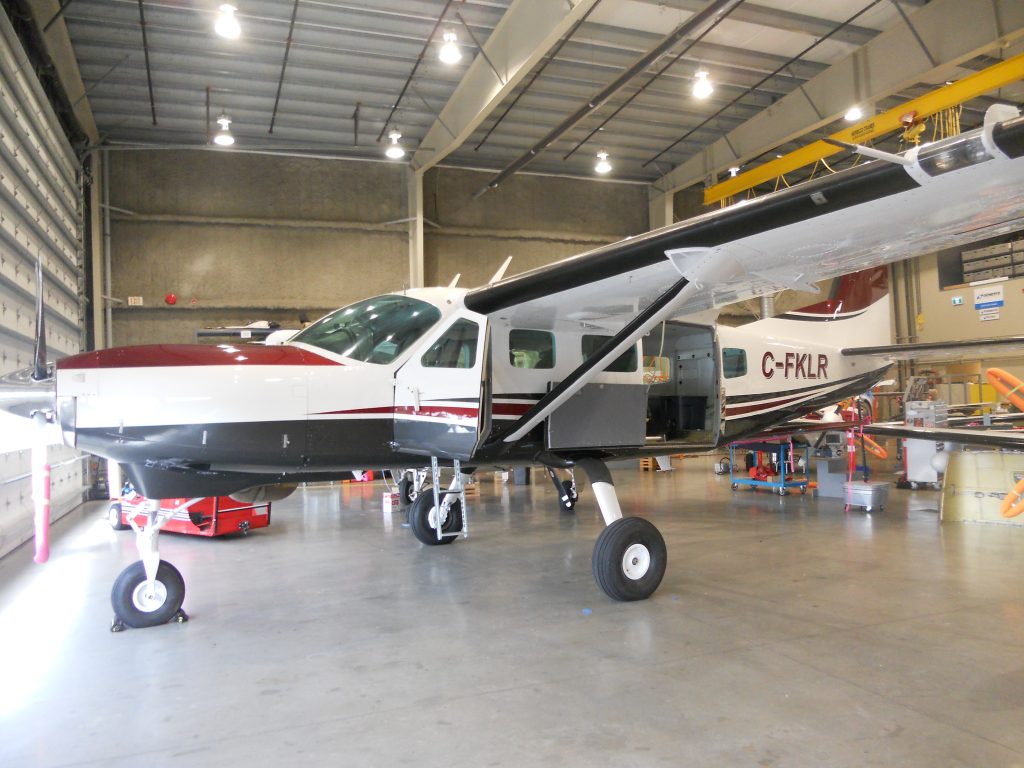 Once we finally had the aircraft in our hangar, we had to work quickly to prepare the aircraft for the time it would spend at Upper Valley Aviation receiving new paint and a new interior. This included making measurements for the new panel design, installing new antennas so the new paint wouldn't be damaged, and routing various cables around the aircraft. After this the aircraft went on a short flight to Chilliwack where the new interior was to be installed along with the paint job.
It wasn't long before the aircraft was flown back, once that was complete it was time to start the avionics work. In the time the aircraft was at Upper Valley Aviation we prefabricated a wiring harness which we were able to simply slide in and connect to the new avionics without the hassle of pulling wire in a confined space. Each wire on this harness was marked using our laser wire marking machine which gives every strand an easy to read and long-lasting identifier making future work or upgrades even easier.