Beechcraft Super King Air 200
The nature of avionics installation is that almost all work is custom work. Every aircraft is different; every owner is different. This is exciting, not only because of the variety of work, but also because it means we're often doing things that have never been done before, and in many cases developing unique STC's (Supplemental Type Certificates) through our in-house design department.
Such is the case with this Beechcraft Super King Air (also known as the Hawker Beechcraft B200). Our client needed a cost effective yet modern avionics panel for commercial operations in the Alberta oil patch including a traffic collision and avoidance system for use in the crowded airspace surrounding the Canadian Oil Patch.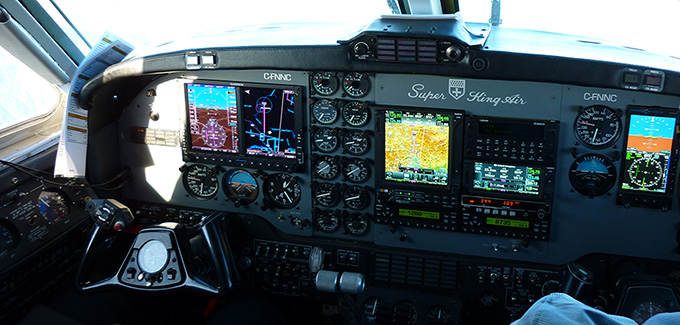 We gutted the majority of wiring and fabricated a custom panel with all new "glass" instruments.
A Garmin G600 was installed in the pilot position and an Aspen EFD-1000 System in the co-pilot position.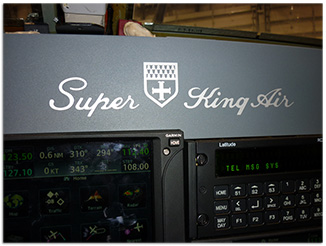 Additional systems include:
Garmin GTX 850 TCAS
GWX 70 Weather Radar
CVR120A Cockpit Voice Recorder
PMA7000B Audio System
Dual GTX330 transponders
KR87 ADF System
Latitude Tracking System
Dual GPS/Nav/Com (GTN650 / GTN750)
Some of this package is similar to what we install regularly. For example, the ever-popular Garmin G600 PFD/MFD was installed in the pilot position. Although the King Air 200 is approved for single-pilot operation, a secondary Aspen EFD-1000 was selected as a cost-effective means of increasing situational awareness in the co-pilot position, as well as decreasing cost involved in maintaining legacy instruments. As far as we know, this configuration of equipment has never before been installed in a King Air.
The combination of Garmin and Aspen equipment is not the only thing that makes this installation unique. Maxcraft's design department also developed a unique STC for installation of the "A" version of Universal Avionics' CVR120 cockpit voice recorder. This recorder is light, low maintenance, and highly effective. It utilizes an internal flash memory and features an ordinary Ethernet interface for simple on-aircraft download of up to 25 hours of flight data. Most importantly, it complies with upcoming Regulatory Requirements for the use of 120 minute recorders with RIPS.
Installation of the Garmin GTS 850 TCAS I into a pressurized King Air 200 is included in our newly-developed STC SA13-32, which includes approvals for the installation of a GWX70 weather radar and GTX330 Mode S transponders. As we've stated in the past, modern solid-state radars like the Garmin GWX70 have a lot to offer over older magnetron-based systems, including increased reliability, decreased maintenance costs, and enhanced functionality. Because the King Air B200 is a pressurized aircraft, special measures were taken which necessitated the use of an alternative antenna. As the holder and developer of these STC's, Maxcraft is not only the first to install these particular systems on King Airs, it has unique capability to do so repeatedly. We believe that this equipment in conjunction with Garmin Primary Flight and Multifunction display systems offers a complete and modern avionics solution for commercial Hawker B200 aircraft.