Twin Comanche – Maxpanel with Garmin G500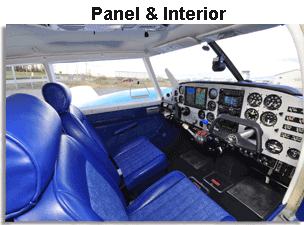 After fitting the aircraft with a custom panel , GNS430W GPS/Nav/Comm, GTX327 transponder, S-TEC 50 autopilot, UMA Instrument Lighting System, PMA8000B Audio Panel, as well as the featured glass Garmin G500, this Twin Comanche is a much safer joy to fly.
The Aircraft and Owner
The Piper PA-30 Twin Comanche: reliable fast and fuel efficient, it is an aircraft that suits the needs of long-time owner Mr. Ken Mori. However, like every aircraft owner, Ken needed to tailor various aspects of the airframe to suit personal preference. Retired, and having owned the aircraft since 1972, Ken decided it was a fine time to do the upgrade.
The Need
Already having a preliminary design concept in mind, the customer needed a quote based on his framework for what would be a comprehensive avionics upgrade with replacement of the dated instrument panel.
The primary need of the pilot was his desire to experience single piloted IFR flight with a glass paneled EFIS (electronic-flight-instrument-system). With safety of paramount importance, the pilot was eager to modernize for enhanced situational awareness.
Although not an avionics related upgrade, installation of new interior needed to also be underway, concurrent to the aircraft's downtime for the avionics modification.
The Maxcraft Solution
Conferring at Maxcraft with Steve and Daryl, Ken's ideal panel solution began to take shape. Throughout the process, we were able to inform Ken of the various options and configurations available to him, based on needs he had presented.
Accommodating Ken's desire to redo the aircraft interior, Maxcraft's relationship with Port Interiors facilitated the modifications to happen both independently and concurrently, minimizing downtime for the aircraft.
The G500 with dual 6.5″ screens displays an abundance of key information. Utilizing AHRS (altitude-heading-reference-system) for sensing data, the G500 interfaces well with other systems.
The GNS430W provides GPS, Nav Data, and Communication. It also provides a 200-channel ILS/VOR with localizer and glideslope. Additionally, it works in tandem with standard autopilots that are accepting of roll-steering commands. The GNS 430W easily interfaces with optional (weather) sensors and traffic tracking systems
The GTX327 is a mode C transponder that is easy to see, read, and use. The innovative keypad makes entering squawk codes a snap, and a dedicated VFR button allows for quick-and-easy VFR squawking.
The S-Tec 50, when interfaced with most panel-mount GPS systems (such as the Garmin GNS 430W), is able to coordinate autopilot flight movements with GPS Steering (GPSS). Data from the GNS430W is sent to the S-Tec 50, enabling the autopilot to anticipate turns, as well as to fly waypoints, approaches, holding patterns, and procedure turns.
The PMA 8000 series is probably the most versatile of audio panels. Versatility and reliability together make it a desirable choice for nearly all radio configurations.
With UMA lighting, standard instruments and gauges will show an exceptional benefit in low-light visibility.
The custom Maxpanel is tailored to meet customer configurations. The Maxpanel, with a choice of duracoat finish, it is fabricated to provide professional fit and finish with easy to read labels and laser etching.
Interior modifications carried out by Port Interiors provide vibrant deep blue upholstery for matching seats and side panels. In addition, Langley Aero Structures installed (bug and scratch free) aircraft windows.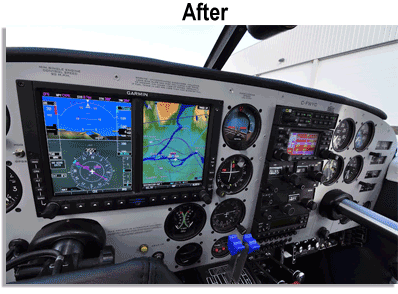 The Story
Wade, acting as project crew chief managed the overall upgrade/modification. Coordinating with our structures specialist, his first challenge was having the whole original panel cut out. Conducting structural surgery, it was a gritty yet necessary step in moving forward. We removed the panel, factory autopilot, instruments, and everything else. Meanwhile, our design department had completed drawings for layout of the new panel. By this point, our structures professional had begun sizing panel mock-ups for future fabrication.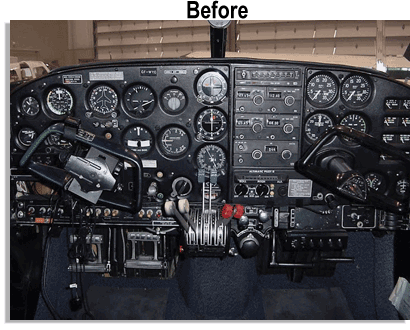 With the aircraft's seats removed for re-upholstery, our technicians were busy behind the panel and had finished the wiring. Conveniently, the wiring for various systems (such as headset jacks) was run behind interior side-panels which had already been removed for upholstery. Having modified the flight controls to provide for installation of the S-TEC 50 autopilot, Wade saw that everything was laid in, integrated and installed.
The aircraft, prepped and equipped, was finally ready for the actual panel-face to be installed. Fabricated with our custom-metal "Maxpanel Duracoat" finish, the panel which had been painstakingly fabricated, coated, drilled, and engraved, went in. Concluding the project, it fit perfectly.
Customer Comments
I sought three quotes for this panel upgrade project and Maxcraft was one of the companies. Maxcraft was recommended to me by Bill Neale, a fellow Comanche owner and former Pitt Meadows Airport Manager. When I sought quotes to undertake the panel upgrade project, and requested Maxcraft to submit to me their bid based on my preliminary design concept of the upgrade panel, my first impression was that because the quote was done professionally and in sufficient detail, even at this stage, that I thought to myself that I would like to deal with Maxcraft. I base this comment on my experience as a professional engineer and manager in the nuclear industry before I retired. I was involved in many contract negotiations. Throughout our preliminary and follow up meetings to firm up the details of the contract, my first impressions were reinforced by the well organized meetings with Steve Nunn and Clarke Paterson. As the work on the panel got underway, I noted that all the staff were friendly and accessible, even the President, Daryl MacIntosh. The lead technical person, Wade Ouellet, was a personable and easy to work with individual. The finished product is of excellent quality, was on budget, but a little behind planned schedule. However, based on my experiences, it was not a surprise to me for projects of this nature. It is the nature of the beast. Overall, it was a positive experience to work with Maxcraft staff and hope to continue to do after service follow-up work in the future.
Regards,
Ken