Garmin G500 – Glass Cockpit for the Piper Malibu
The Piper Malibu received Garmin's new G500 glass panel flight display system with synthetic vision technology, along with a GAD43 Gyro Adapter System interfaced to an existing autopilot
The Aircraft and Owner
A Calgary resident, Martin Merritt frequently commutes. Regularly flying over mountains at 22,000 feet, he flies back and forth from Calgary to Vancouver in his 1989 (PA-46) Piper Malibu.
The Need
Martin flies single pilot IFR and wanted to bring his panel up to the latest glass technology for safe flight over the mountains at all times of the year.
Martin's old system was failing. He wanted to upgrade the aircraft with a new 'glass cockpit' to ensure safety and reliability while enhancing situational awareness during IFR flight.
The Maxcraft Solution
To enhance and modernize, Maxcraft proposed replacing the traditional 6 pack of analog instruments with a Garmin G500 Flight Display with Synthetic Vision Technology (SVT), and a GAD43 Gyro Adapter.
The Story
Martin flew his Piper Malibu from Calgary to CYPK (Pitt Meadows Airport). After a tour of Maxcraft, discussion and design consultation, Maxcraft became his top choice for the upgrade.
The GAD43 Gyro Adapter System was installed. By installing the GAD43 Gyro Adapter System, we were able to remove the Bendix/King KI256 primary attitude indicator. With every task, our experienced technicians worked around the aircraft with care.
Maxcraft removed a few more redundant instruments, re-arranged the remaining avionics, and fit the dual screen Garmin G500 'glass cockpit' electronic flight display. The glass panel replaced the standard six-pack of instruments with a twin screened display
Martin's dog slept peacefully under the wing throughout the day while technicians got to work on their first challenge: Cleaning out the wing wiring to install a magnetic sensor for the G500 was difficult, but it ultimately passed the necessary interference checks.
Behind the scenes, the Garmin G500 had to integrate with the GNS530W GPS/Nav/Comm and KFC150 autopilot. The GAD43 gyro adapter was wired to the G500 display which was wired to an existing autopilot. The whole integrated system was configured and adjusted for optimal operation.
Adding new wiring, the team was able to move the VOR to the right side of the panel, underneath the radio rack. An additional hole had to be cut for this modification. Additional wiring was also installed to extend the oil pressure gauge.
Flight testing went well, with the aircraft's autopilot and Garmin G500 performing admirably. Everything functioned well, working reliably and without snags.
As Martin had just refurbished the interior, our technicians took great care to keep everything clean while managing to complete the project with the 'Maximum Craftsmanship' which Maxcraft has become known for.
With the new avionics installations Martin's pristine aircraft was ready for departure, and optimized for single-pilot IFR flight over the mountains.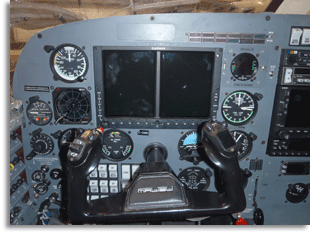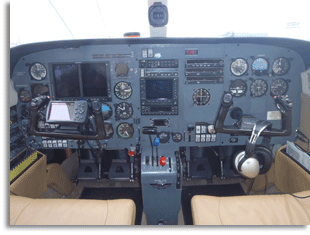 Customer Comments
"Steve, last February I limped into Pitt Meadows airport in my Piper Malibu with a failing attitude indicator and a porpoising autopilot. A friend on the field suggested that you might be able to help me out. In the end you could and you did, I'm very pleased with how it all worked out. You helped me think through the repair versus modernize options and costs and in the end I chose to modernize. We put in a new Garmin G500 glass panel and integrated it with my existing GNS530 GPS and KFC150 autopilot.
The work was done pretty much on schedule, it was absolutely on budget even though I chose to rethink a couple of my choices once the work was already underway. I dropped by the shop often during the month that you had my ship and it was clear that Clarke and his team, especially Andy, Wade and Ben who did most of the work on C-GMDK were focused on doing the job right, making the installation look clean and in taking good care of my recently refurbished interior, thanks guys! While we were putting all the new gear in I also had you troubleshoot my ADF and a couple of dim lights in my autopilot. Both now working perfectly, it was great to get these little things that had been bugging me for ages taken care of.
A job this comprehensive doesn't go without a few snags or calibrations, if only because of all of the interfaces to existing equipment. Maxcraft's follow up support has been excellent. I know that I'm a fussy customer, I now know that Maxcraft are at least as fussy as me! Thank you for having a high bar of your own and for always being willing to meet mine. After 6 months of flying the new installation and a couple of shop visits for fine tuning and calibration I'm ready to pronounce my installation 'perfect'. The G500 is a joy to fly behind; it's deadly accurate and rock steady. The synthetic vision is a great source of confidence flying over the mountains and the interface to my autopilot works beautifully. In fact it's like I have a new autopilot; with the G500 commanding the KFC150, the autopilot flies the ship like it is on rails.
While the G500 installation may be dialed in my panel is far from finished. As all aircraft owners know there is always one more upgrade and I am busy saving for the next one right now! Naturally it will be done at Maxcraft.
Steve, I can't tell you how pleased I am to have found Maxcraft to look after my Malibu's avionics. Your price, workmanship, scheduling and attention to detail met every expectation of an admittedly fussy customer. I am happy to have you use this letter in any of your promotional material."
Yours truly,
Martin Merritt
Piper Malibu C-GMDK