ExactAir came to us with this new to them Cessna Caravan which they wanted to transform into the ultimate support aircraft for their work with the SOPFEU, the forest fire fighting authority for the province of Quebec. This included dual G600 TXi primary flight displays, dual GTN Xi navigators, Garmin's powerful GFC600 digital autopilot, and possibly the first ever installation of Garmin's TXi Engine Indication System (EIS). Along with the plethora of Garmin glass displays, we also installed many of the industry standard avionics aerial fire fighters rely on such as the Latitude S200 Skynode satellite phone and tracker.
Fire Fighting Caravan G600 TXi Glass Panel Upgrade 
2003 Cessna 208 Caravan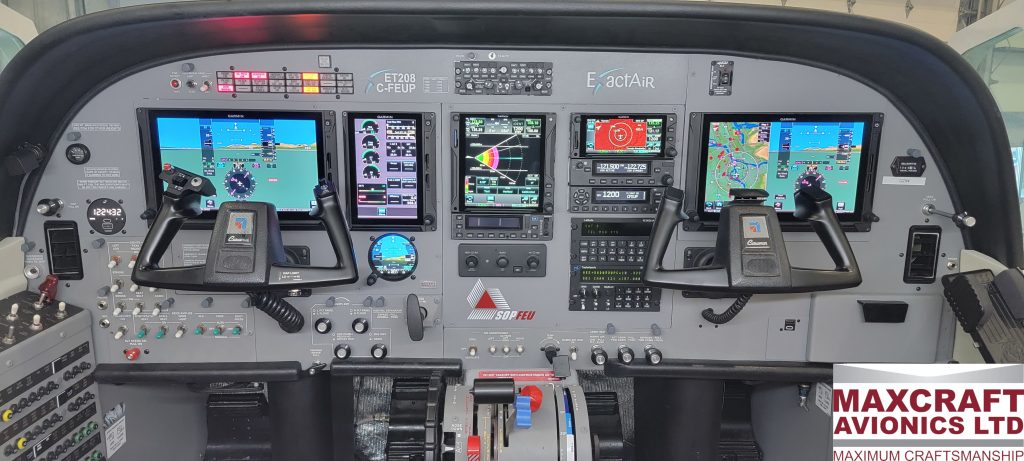 Aircraft & Owner: 
The Cessna 208 Caravan is a classic single engine turbo prop aircraft. Powered by a Pratt & Whitney Canada PT6A engine, the Caravan is known for its ability to carry large amounts of cargo and/or passengers, the Canavan also has incredible range and performance making it almost any pilot's dream airplane. ExactAir was founded in 1983 and originally began as an aeronautical school and club but has since greatly expanded to a fleet of over 34 aircraft while offering a highly diversified range of aerial services. Based in Saguenay-Lac-Saint-Jean, Quebec, ExactAir's aircraft have flown across North America. Every summer, ExactAir partners with the Société de protection des forêts contre le feu (SOPFEU), whose mission is to provide forest fire protection and fire fighting to the province of Quebec. ExactAir provides some twenty aircraft which fly over Quebec detecting fires, bird-dogging, and transporting fire crews between different bases.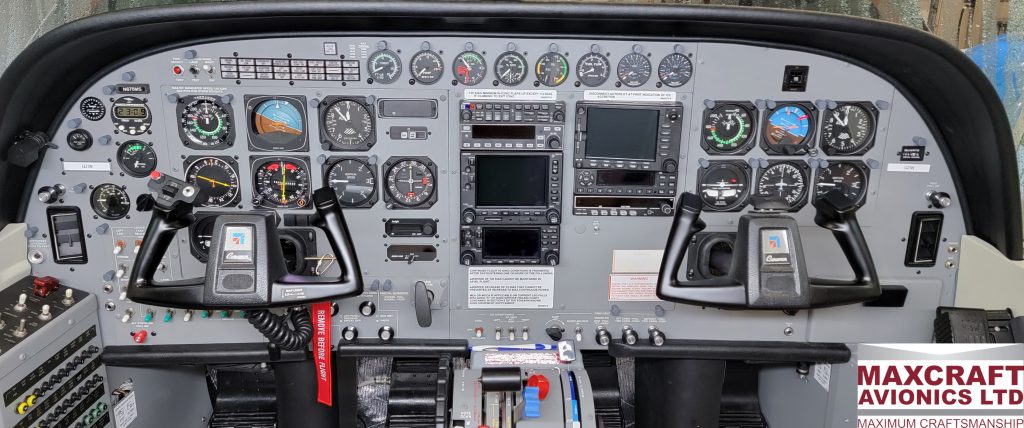 Need: 
ExactAir was searching for another aircraft to add to their fleet of aircraft which support the SOPFEU during aerial firefighting operations. Their search led them to this 2003 Cessna 208 being sold by Wipaire in Minnesota and decided to jump at the opportunity to purchase it. While this Caravan had received many upgrades throughout its lifetime, the instruments and avionics were far from leading edge, and ExactAir wanted this Caravan to have the most capable avionics possible to safely support firefighting operations. This would involve replacing many of the analog instruments with glass displays, engine instruments with an electronic engine indication system, and installing specialized, industry standard equipment used for aerial firefighting. 
As this aircraft was purchased from the United States, ExactAir also had to complete the importation process required by Transport Canada in order to register and operate the aircraft in Canada. The Caravan was flown from Minnesota to ExactAir's main base in Quebec, then to Maxcraft's hangar in Pitt Meadows, British Columbia. It arrived with a temporary Canadian tail number covering up the original US tail number, and on a flight permit. As we recently received an additional rating for our Approved Maintenance Organization (AMO) to do maintenance work on the Caravan, we were able to assist ExactAir with many of the tasks required for the import and snag free operation of this aircraft. Our in-house mechanic was able to complete a number of tasks concurrently with the avionics work, reducing overall downtime.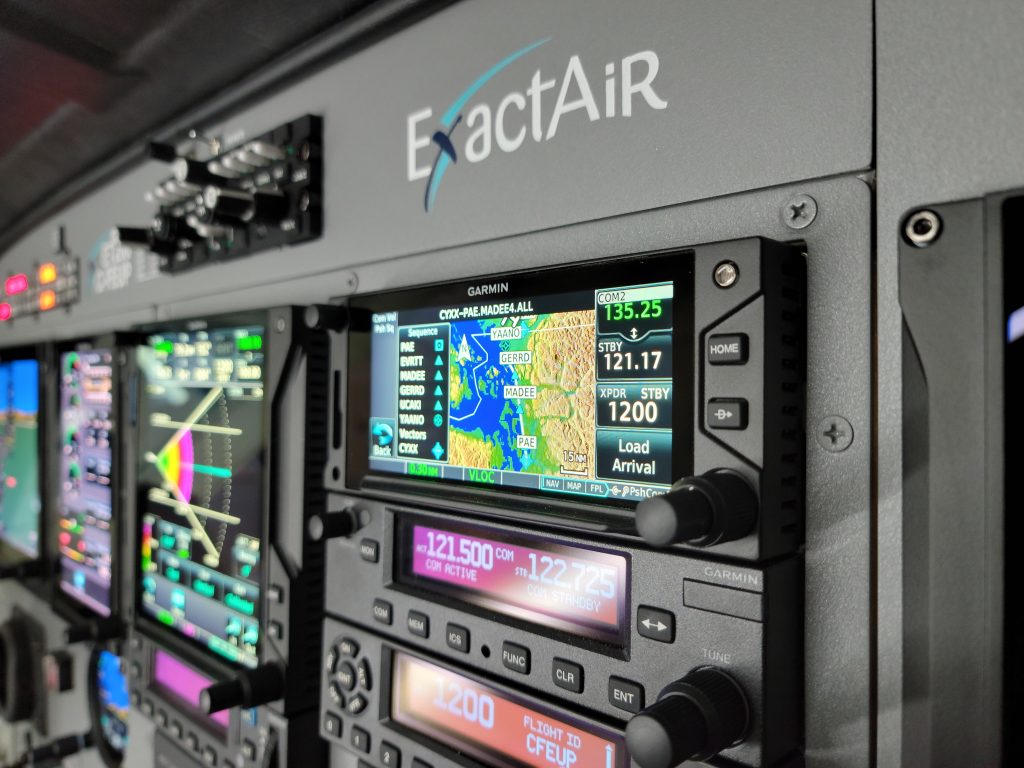 NEW EQUIPMENT LIST 
| | |
| --- | --- |
| Dual G600 TXi  | Integrated Primary Flight Display with SVT (Garmin) |
| G600 TXi EIS | Dedicated 7″ Portrait Engine Indication System Display (Garmin) |
| GI 275 | Standby Electronic Flight Instrument (Garmin) |
| GTN 750Xi | Touchscreen Flight Navigator and Multifunction Display (Garmin) |
| GTN 650Xi | #2 Touchscreen Flight Navigator and Multifunction Display (Garmin) |
| Smart Glide | Dedicated Smart Glide Button (Garmin) |
| FlightStream 510 | Wireless Cockpit Connectivity (Garmin) |
| GWX 75 | Digital Doppler Enabled Weather Radar (Garmin) |
| SA22-33 | GWX 75 Weather Radar Supplemental Type Certificate (Maxcraft) |
| GTX 345D | ADS-B In/Out Diversity Transponder (Garmin) |
| GFC 600 | Digital Autopilot with Pitch Trim and Yaw (Garmin) |
| GTS 825 | Active Traffic Advisory System (Garmin) |
| GTR 225 | #3 Aviation VHF Comm Radio (Garmin) |
| TFM-138B | VHF FM Radio System (Technisonic) |
| S200 | Skynode Iridium Satellite Phone and GPS Tracking System (Latitude Technologies) |
| RC6000/A | Skynode Control and Display Unit (Latitude) |
| JA94 | Dual Audio Panel (Jupiter Avionics) |
| CH93 | Digital Clock / High Powers USB Charger (Mid-Continent Instruments+Avionics) |
| TA360 | Dual USB Charging Port (Mid-Continent Instruments+Avionics) |
| ELT 345 | 406MHz Emergency Locator Transmitter (Artex) |
| MaxPanel | Custom Powder Coated Instrument Panel (Maxcraft) |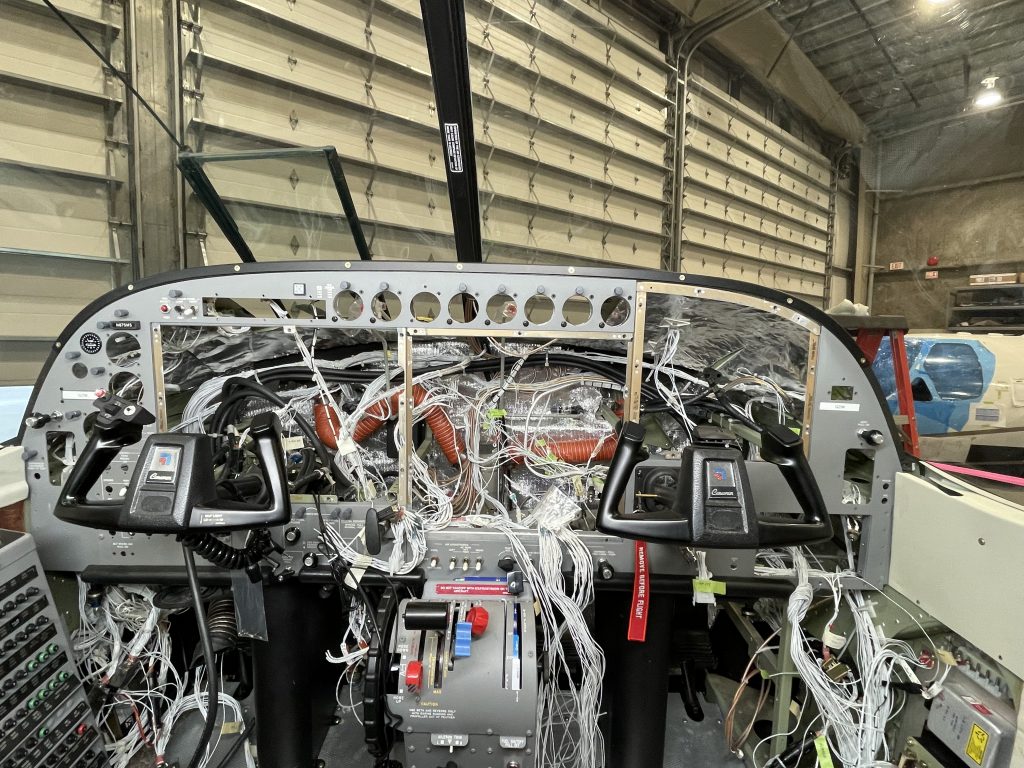 Maxcraft Solution: 
The centerpiece of this installation is Garmin's G600 TXi primary flight display (PFD), two large 10.6" touchscreen displays were installed on both the right and left side of the panel. The left-hand side display will be the pilot's primary source of information and replaces the multitude of analog instruments previously installed. The right-hand display can be used to display the same information as the pilot's display, or it can be used by a fire observer to view a video source such as an infrared camera. We didn't install a camera at this time, but we did install standard video provisions, along with wiring to a common location to allow for easy upgrades should they decide to install a camera later. 
Right next to the pilot's G600 TXi display is a dedicated engine information system (EIS) display. This 7" touchscreen will constantly show the engine's current operating conditions and will immediately alert the crew should any of the engine's conditions exceed limits. The EIS also records all the data throughout the flight allowing for post flight review and allows maintenance crews to spot possible trends and perform preventive maintenance before an issue develops beyond a simple repair.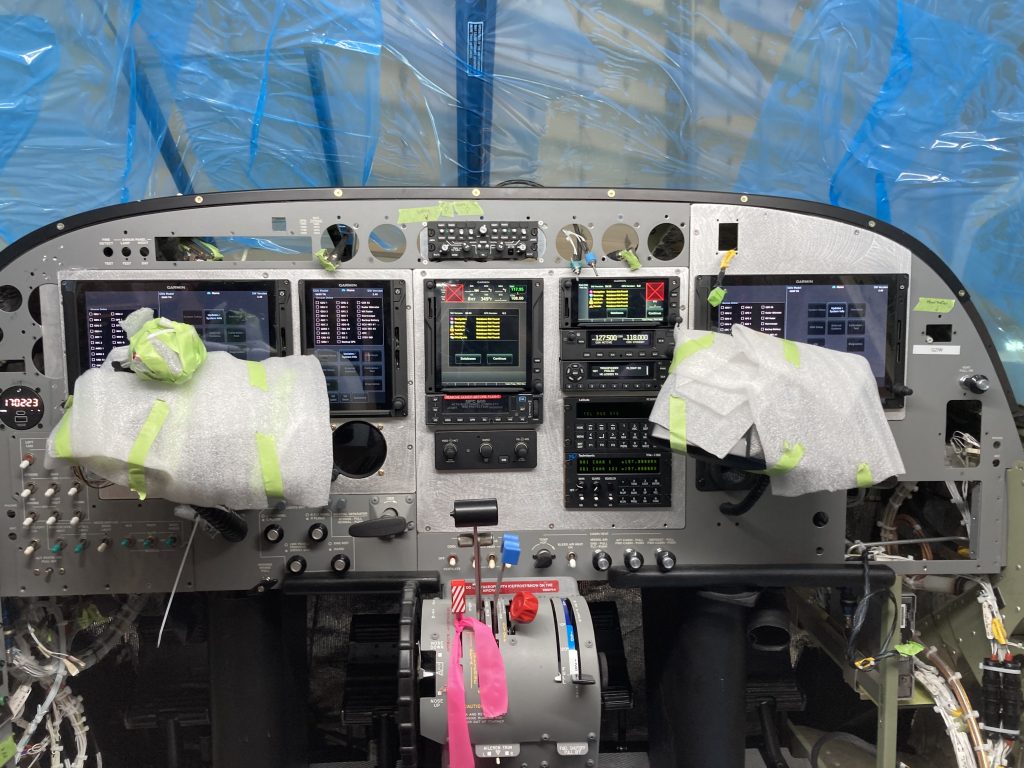 Below the EIS display is Garmin's GI 275 electronic flight instrument. This small 3.25" instrument has a high-resolution touchscreen which displays everything the pilot needs to maintain safe flight, such as altitude, attitude, airspeed, and heading. With a built-in battery backup, the GI 275 will continue providing vital information, even during a complete electrical failure ensuring the aircraft can make it home. 
Providing GPS, radio navigation, and VHF airband communications is a pair of Garmin GTN navigators. The larger GTN 750 Xi will be the crew's primary source for navigation and situational awareness information, while the smaller GTN 650 Xi will provide redundancy and another multifunction display. With the FlightStream 510 installed in the GTN 750 Xi, crew will be able to easily and wirelessly transfer simple or complex flight plans directly from a mobile device running Garmin Pilot or Foreflight to the aircraft's navigation equipment, eliminating the need to manually enter each and every waypoint prior to flight. The GTN 750 Xi also acts as a control head for many of the remote mounted systems such as traffic, and weather radar.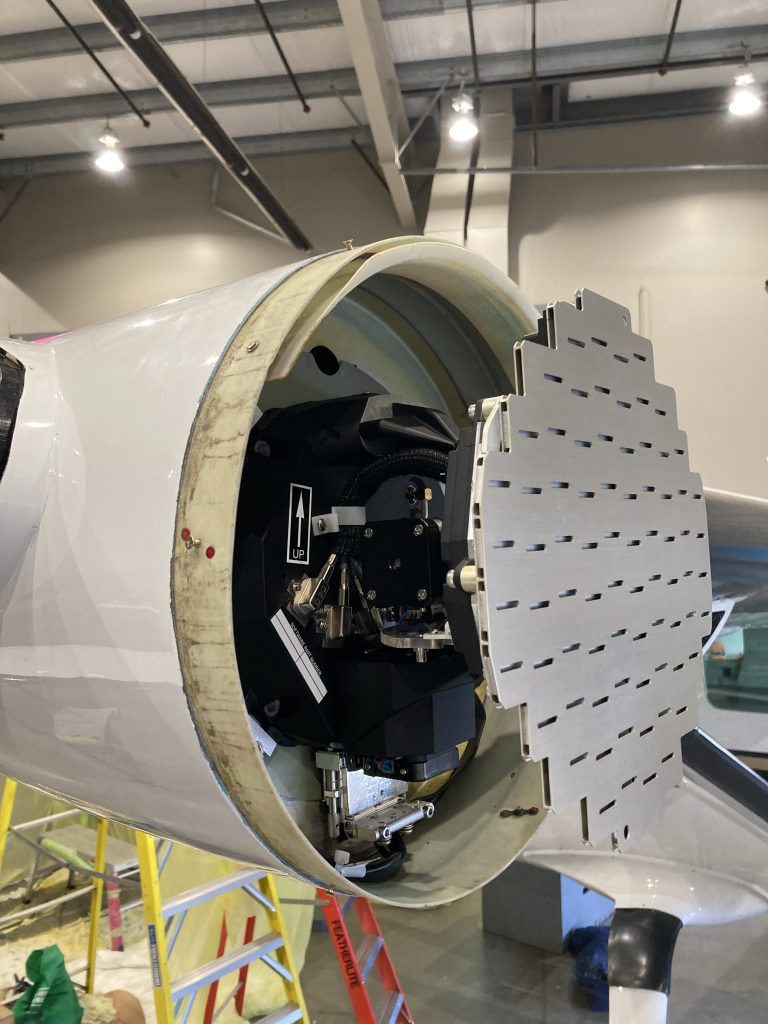 Mounted on the right wing is Garmin's GWX 75 digital doppler enabled weather radar. This advanced weather radar provides high definition colour scans of the environment ahead of the aircraft scanning up to 120 degrees horizontally allowing the crew to avoid troublesome storms when flying in instrument meteorological conditions (IMC). The installation of the GWX 75 was not covered by a Garmin supplemental type certificate (STC), so Maxcraft extended our existing STC (SA22-33) to cover the Cessna Caravan. 
With the future of ADS-B requirements being up in the air in Canada, many operators are opting to install transponders which will be compatible with space-based ADS-B systems. ExactAir decided to future proof this Caravan by installing Garmin's GTX 345D transponder. The D stands for diversity, which means it transmits ADS-B signals to two separate antennas, one located on the top and one on the bottom of the aircraft allowing for signals to be receivable by both ground stations, and satellites.  
Garmin's GFC 600 is one of the most advanced autopilots on the market, bringing new levels of capability and reliability to this Caravan. The GFC 600 provides superior integration with the G600 TXi, and GTN navigators, and offers pitch, roll, pitch trim, and yaw control through a series of servos connected to the flight controls. The GFC 600 also has a variety of safety enhancing features. Even when the autopilot isn't engaged, it's always monitoring the flight parameters to detect a number of unsafe situations such as over/under speed. The GFC 600 will audibly alert the crew, then begin gently nudging the controls back towards stable flight. Garmin's dedicated return-to-level (LVL) button will automatically return the aircraft to straight and level flight from any attitude when activated. This can save the day if the aircraft inadvertently enters instrument meteorological conditions.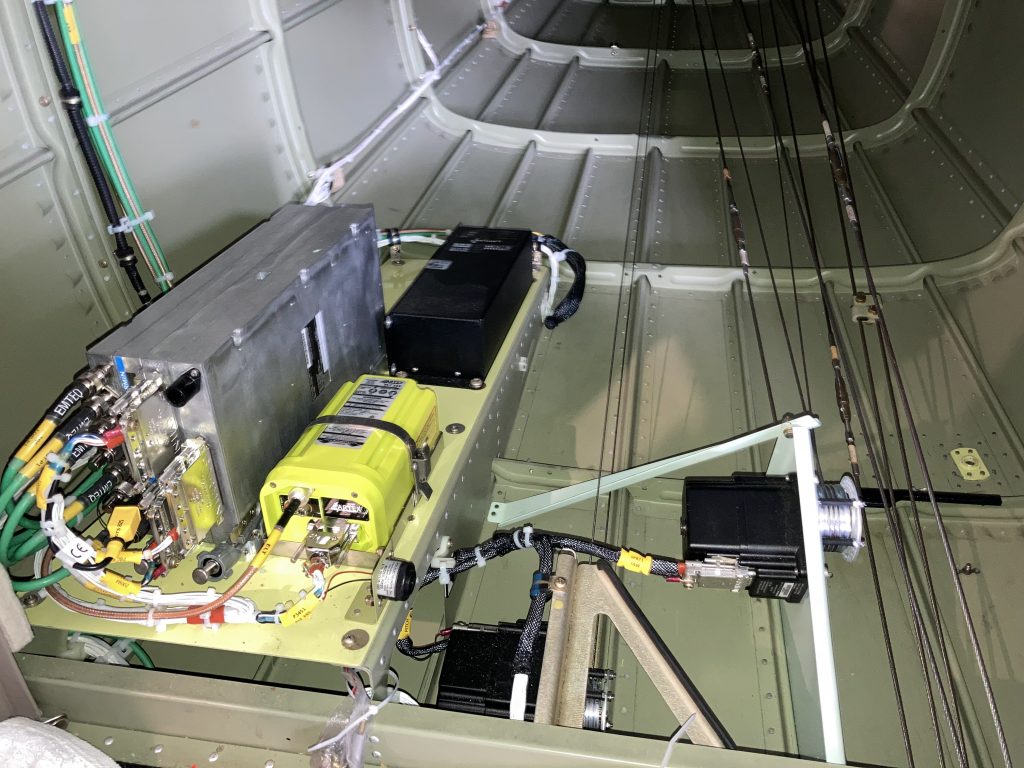 Garmin's GTS 825 provides a high level of situational awareness by combining ADS-B in and active traffic targets into one easy view. Traffic targets can be viewed on one of the multi-function displays, or if the traffic is within a predefined range, it will be displayed on the PFD to alert the pilot. The traffic system will also provide spoken ATC-like audio alerts to keep the pilots looking outside for the traffic instead of down at a traffic display. 
Some quality-of-life improvements include the Artex ELT 345, a 406mhz emergency locator transmitter which transmits a signal to search and rescue satellites in the event of a crash. The ELT is activated either by a built in G-sensor which detects collisions, or by a switch located on the instrument panel. With electronic flight bags becoming an everyday tool for pilots, we added two sources of USB power to the instrument panel. The CH93 is a dual high power USB charger, and digital clock. The clock can display local/UTC time, flight time, countdown, or timer. On the right side of the panel, we installed the TA360 dual port USB charger.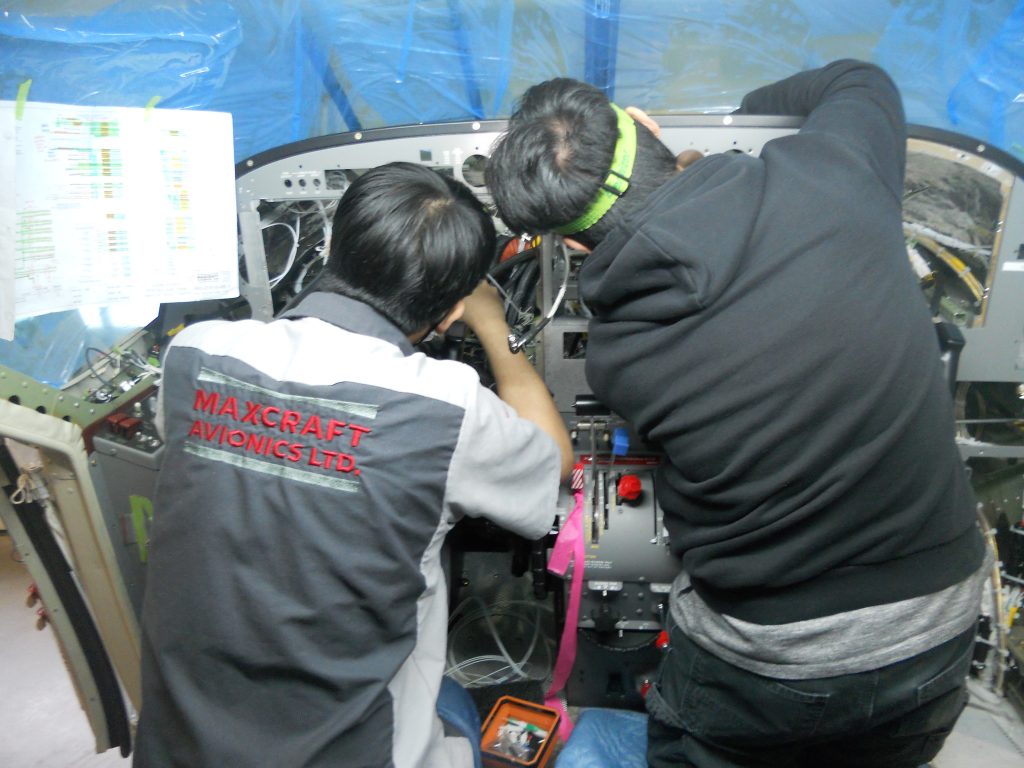 Since ExactAir is planning to use this Caravan to support the aerial firefighting efforts, we also installed many standardized pieces of equipment the fire industry uses. One of the most obvious differences with the avionics stack is how many communication devices we installed. With five separate transceivers, we needed to install a capable, and easy to use audio panel to manage all these sources. The Jupiter JA94 audio panel is used by many operators in the firefighting industry, and allows for complete control over two audio places. This means the pilot can be monitoring and responding to ATC communications while the passenger next to him is communicating on the FM VHF radio to crews on the ground without either interfering or hearing the other.  
Along with the three airband VHF radios, we also installed a TFM-138B. This radio is programmable with frequencies from 138-174mhz and is often used in aircraft which must communicate with users on non-aircraft radios. This radio can be programmed with firefighting frequencies allowing the crew to communicate with fire crews on the ground. For longer distance communications, we installed the Skynode S200 Iridium satellite phone and tracking system. This system is regularly used by forestry firefighting aircraft and meets the requirements for live tracking. The S200 can automatically log and report time up/down, as well as several other event-based circumstances. The other main feature of the S200 is the satellite phone, which allows for 2-way data networking, messaging, and phone calls. 
To make all this equipment look factory installed, we fabricated four new instrument panel pieces, and powder coated them using the same powder coat Cessna uses at the factory. We also laser engraved the aircraft's callsign/registration, ExactAir's logo, and SOPFEU's logo, the last two featuring multiple colours.  
The Story: 
Along with our efforts designing, installing, and configuring the multitude of avionics, our in-house AME-M (mechanic) was busy working away on a number of maintenance items. In January of 2023, Maxcraft was granted authorization to perform maintenance on the Cessna 208 Caravan and we took full advantage of our new capabilities on this project. By completing these tasks in our hangar concurrently with the avionics upgrades, we are able to reduce overall downtime of the aircraft. As part of the import process our mechanic completed many inspections, timed items, and replaced items which were close to expiring. One of the biggest tasks we completed was removing and reinstalling the propeller for overhaul.  
The process of removing and reinstalling the propeller












The propeller was removed and sent to Western Propeller, which is located less than an hour away from Maxcraft's hangar. The propeller was removed, overhauled by Western Propeller, and reinstalled in time for the avionics and engine ground tests.  
One of the most considerable changes to an aircraft being imported is the changing of the registration, or tail number. Pilots often refer to planes by their tail number and it almost becomes part of the aircraft's personality. This Caravan was flown to Maxcraft with a temporary printed Canadian tail number covering the old US N number. ExactAir obtained a customized registration mark from Transport Canada "C-FEUP", Feu meaning fire in French. We brought in a painter who removed the N number, matched the base paint, and painted on the new Canadian registration. 
The Process of Changing the Registration 




















Customer Comments
"First of all, thanks to all of the Maxcraft team! It has been a real pleasure to work with all of you. Your dedication to perfection and professionalism is remarkable. I will speak in the name of my four associates at ExactAir to confirm that we are really happy today to have decided to cross the Canada with our « new » and first C208 of the fleet to meet with your team. Overall expectation were all met and even above. In my mind, C-FEUP is truly a work of art and your help and experience in creating this state of the art forestry aircraft was much appreciated. The final display is better than expected and so much fun to use. The safety improvement for single pilot operation is very impressive. My overall experience with Maxcraft can be summed in: They did what they said they would do, sometimes even better. They met delivery time even with some surprises encountered along the way and kept our budget in mind! Thanks to everyone at Maxcraft again. I am sure that our client, SOPFEU (Quebec forestry fire protection agency) will be as happy as we are with C-FEUP for many years.C-FEUP was bought and modified for the 2024 forestry fire season but as I am writing those lines, june 16th 2023, I am at 9000 feet, in cruise flying SOPFEU staff. The forest fire are raging more than ever all over Quebec since end of May, a never been seen situation and since May 31, C-FEUP have flown each and every day to help with the situation, from birdog mission, to spotting fire to troops transportation, we are at more than 100h air time in the last 17 days, and not a single snag was reported! Really glad to be able to help and try to do our part."
Benoit Luneau
President and Owner
ExactAir