Maxcraft's Design Approval Organization (DAO) assisted Gemini Helicopters with the importation of two EC135 helicopters from Germany. To complete the importation Transport Canada required the EASA supplemental type certificate (STC) used to install the GPS system be converted to a Transport Canada STC. Maxcraft developed a serialized STC covering the two helicopters, while also installing new communications and audio management systems, which were also installed using STCs developed by our in-house DAO.
EC135 P2 Import Assist and Communications Upgrades 
2x 2002 EC135 P2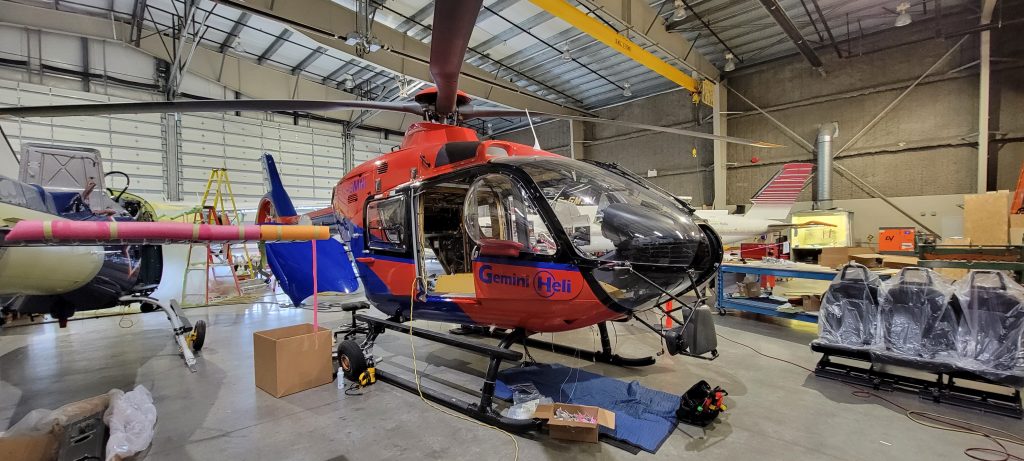 Aircraft & Owner: 
The Eurocopter EC135 (today referred to as the Airbus H135) is a light four-blade, twin engine helicopter. This helicopter was ever popular among air ambulance operators, with more than half of all EC135s operating in 2016 being engaged with emergency medical services. Gemini Heli Ltd. is a helicopter operator based in Grande Prairie, Alberta. Gemini offers helicopter transportation and operations for everything from sightseeing, and heliskiing, to highly advanced long lining for the forestry, and oil and gas industry, to search and rescue, and medivac flights.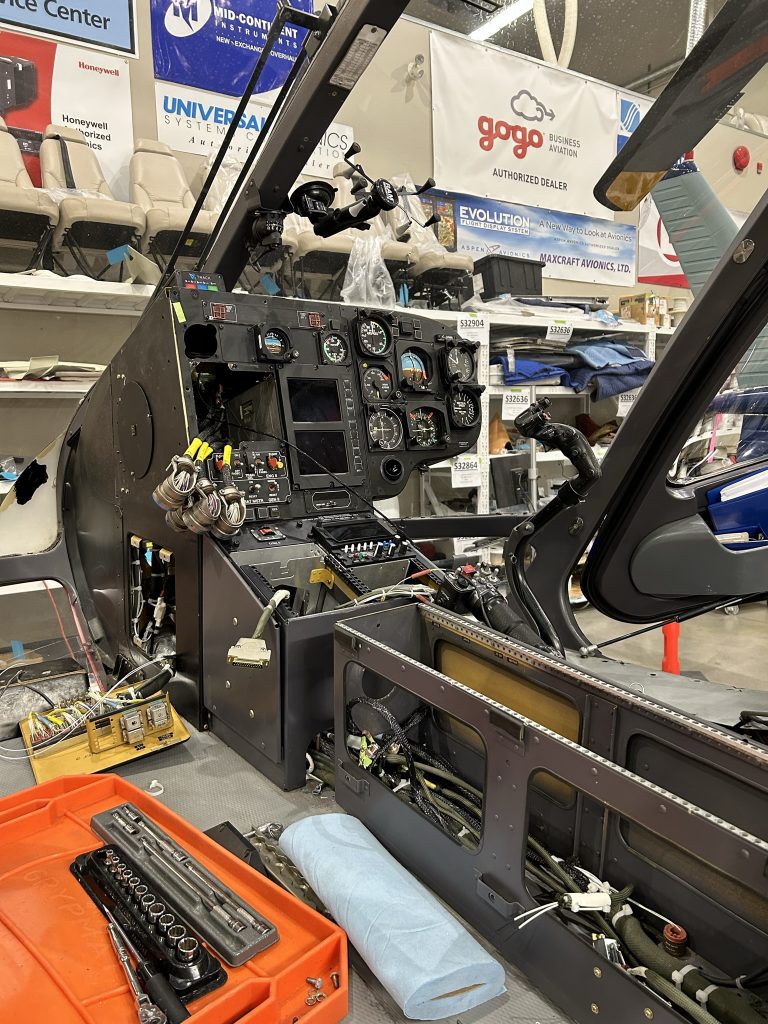 Need: 
Gemini Heli was looking to expand their fleet of helicopters and found two EC135s on the market which were located in Germany. This pair of EC135s were used by DRF Luftrettung, which is part of the German emergency medical services air medical services branch. These helicopters were transported from Germany to Gemini's main base in Grande Prairie, Alberta where they began the importation process. During importation an aircraft is examined more than almost any other time in its life. The importer is required to prove the aircraft meets all the airworthiness standards, and any modifications were completed in a way to satisfy Canadian regulations.  
While Gemini was completing the importation of these aircraft, they discovered the installation of the Garmin GNC225B Com, and GTN650 GPS/Nav/Com were approved under a European Union Aviation Safety Agency (EASA) supplemental type certificate (STC) and Transport Canada wanted to see a Transport Canada approved STC to satisfy the requirements for importation.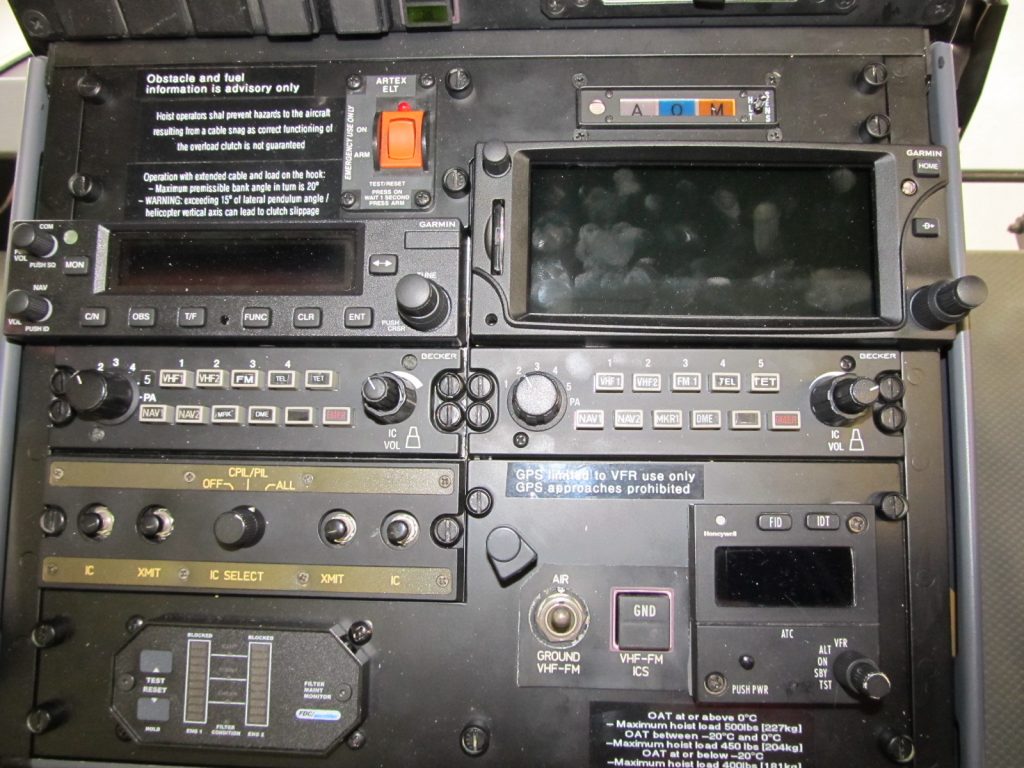 This project started out solely as a certification project to approve the GTN and VHF Com, mid-project Gemini requested we install a VHF FM radio, these radios are very popular in helicopter fleets due to their interoperability with ground crews, and other non-aviation operations. Technisonic's TDFM-136B has become almost an industry standard for helicopter operators. The TDFM-136B allows the pilot or passengers to transmit digital or analog FM communications on a wide array of programmable frequencies. With 230 memory positions, the TDFM-136B can easily recall frequencies with a few button pushes.  
The existing OEM audio panel system installed in the EC135 was deemed inadequate for Gemini's needs and they also decided to install the JA95 from Jupiter Avionics. The JA95 brings completely independent audio control for two positions, and audio for up to seven. A dual audio panel system is a must for many helicopter operations as they allow for the pilot and an observer to both transmit and receive on separate radios without interfering with each other. This means the pilot can make calls to air traffic control while an observer coordinates with crews on the ground.  
PHASE 1 NEW EQUIPMENT LIST
TDFM-136B

 

Digital VHF FM Transceiver (Technisonic)

 

SH19-7

 

TDFM136B Supplemental Type Certificate (Maxcraft)

 

CI 295-300

 

Tri-Band FM Antenna (Comham)

 

JA95

 

Dual Audio Panel System (Jupiter Avionics)

 

SH22-30

 

JA95 Supplemental Type Certificate (Maxcraft)

 

P-LSH22-048/D

 

GTN 650 & GNC 255 Serialized Supplemental Type Certificate (Maxcraft)

 
 PHASE 2 NEW EQUIPMENT LIST
TA 202 x2

 

High Power USB Chargers (True Blue Power)

 

CH93

 

Digital Clock and High Power USB Charger (Mid-Continent Instruments + Avionics)

 

External Mirrors

 

Electrical Provisions for External Mirrors

 

Cargo Hook

 

Electrical Provisions for Cargo Hook

 

Sat Tracker

 

Electrical Provisions for Satellite Tracking System

 

Bambi Bucket

 

Electrical Provisions for Fire Fighting Water Bucket System

 

Longline Release

 

Electrical Provisions for Longline Cable System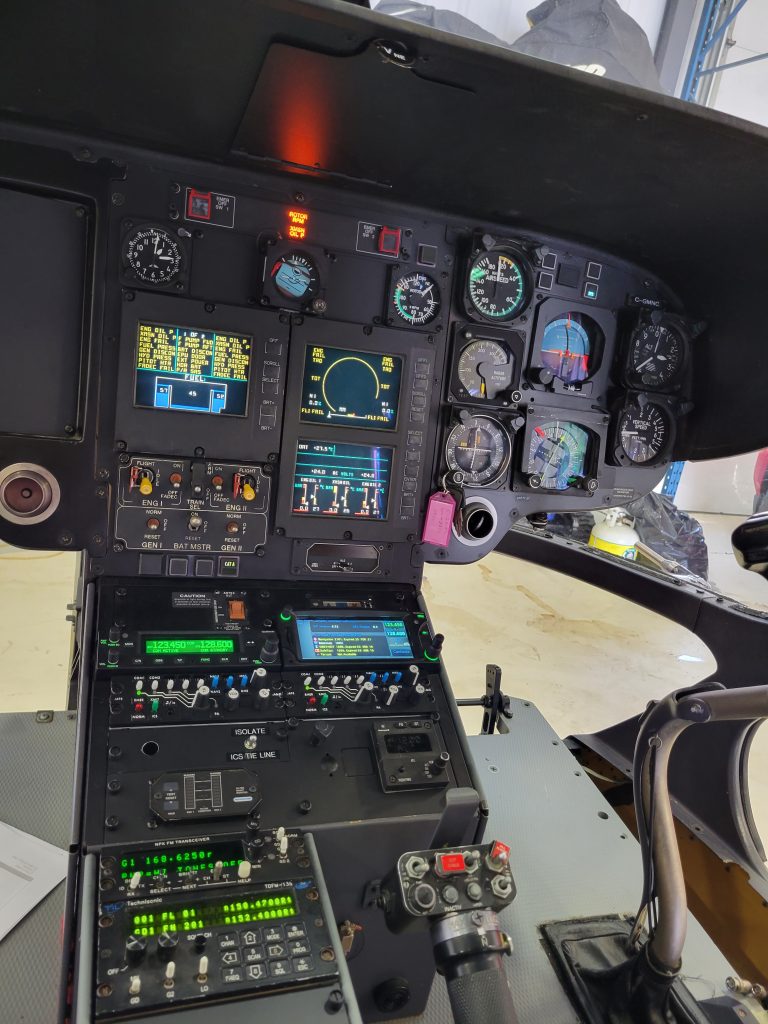 Maxcraft Solution: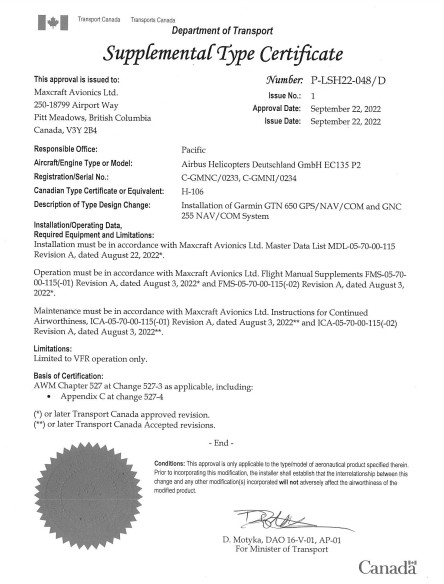 To satisfy Transport Canada with the importation of the two EC135s Maxcraft documented the existing installation of the Garmin GTN 650 GPS/NAV/COMM/Multi-function display, and the Garmin GNC 255 NAV/COMM. After documenting and creating supporting data for the existing installation, we were able to issue STC # P-LSH22-048/D. This is a serialized STC meaning it's only applicable to these two specific airframes and cannot be used on other aircraft unless it's extended to include those serial numbers as well. 
Alongside the development of the STC, we also took advantage of one of our other STCs covering the installation of the Technisonic TDFM-136B VHF FM transceiver. The TDFM was installed in the center pedestal giving easy access to both the pilot and front passenger to select frequencies and other functions. 
As the EC135 audio system integrates with critical required warning systems, approved installation data is required. Maxcraft's DAO developed a new, custom JA95 audio system data package which, after a successful test flight, was approved per STC # SH22-30. This is likely the first STC approval for this advanced dual audio panel system in the EC135 helicopter. 
The Story: 
About half a year after the initial project, one of the helicopters was flown from Grande Prairie, AB to Maxcraft's hangar in Pitt Meadows, BC where we installed some new equipment, along with provisions for multiple systems. With electronic flight bags becoming more and more popular among pilots, Gemini wanted to have amble charging capability in the cockpit. This was achieved by installing Mid-Continent's CH93 digital clock and high-power USB charging ports. Along with the CH93 we installed two TA202 high-power USB charging ports. Bringing the total USB charging ports to 6, ensuring all the mobile devices onboard remain fully charged and ready to use. 
We also installed many provisions for various externally mounted equipment. Wiring was run throughout the aircraft to allow for the installation of external mirrors, which allow the pilot to maneuver the aircraft into tight spaces and navigate external loads into position. Provisions were also installed to allow the carrying of a variety of external loads such as long lines for people or heavy objects, firefighting water buckets, or a cargo hook. These additions truly make these helicopters capable of performing any mission imaginable. Maxcraft holds a variety of STCs for the EC135 platform: 
Maxcraft EC135 Supplemental Type Certificates 
SH17-13

 

Installation of Garmin GTS Traffic System

 

SH17-14

 

Installation of Garmin HTAWS (Helicopter Terrain Awareness Warning System)

 

SH19-7

 

Installation of Technisonic TDFM-Series FM Communications System

 

SH22-30

 

Installation of Jupiter Avionics JA95 Audio System