Cessna 206 Makeover
Aircraft: 1971 Cessna 206 (U206E). The Cessna 205, 206, and 207, known primarily as the Stationair are a family of single-engine, general aviation aircraft with fixed landing gear, used in commercial air service and also for personal use. Cessna describes the 206 as "the sport-utility vehicle of the air."

Owner:  Aaron and Rhonda are based out of Fort Langley, B.C.
Need: Aaron, his wife Rhonda, and their active family needed an aircraft to get them all around. They decided on the versatile C206 and found one that fit the bill in the U.S.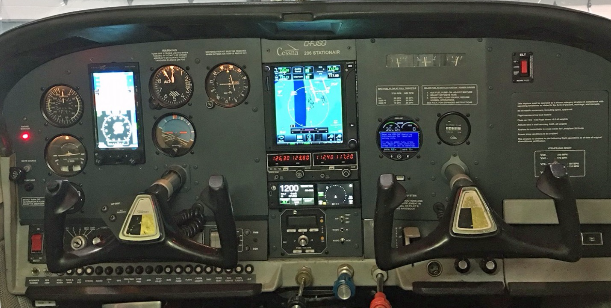 Summary of Equipment:
GTN750 GPS/NAV/COM & MFD System  (Garmin)

FlightStream 510 Wireless tablet interface (Garmin)

GMA35 Remote Audio Panel (with 6 place intercom) (Garmin)

CGR-30P Engine Monitor (Electronics Internationial)

Lynx NGT-9000+ System Transponder, ADS-B, Active Traffic (L3)

EFD1000 VFR PFD Flight Display System (Aspen)

ELT System (Kannad)

LED Instrument Lighting

MaxPanel – Custom Instrument Panel

Custom Lower Switch Panel Overlay

Provisions for an AERA 796 interface (stow under panel)
The Story: Maxcraft worked with Aaron while he was shopping for an airplane and loosely spec'd in what kind of avionics he would want in his Cessna. Aaron's trip up from the southern U.S. with his newly acquired Stationair was grounded numerous times with maintenance snags and weather.   The aircraft finally arrived and went straight into our hangar for a makeover. His new acquired bird looks like a good airframe but the avionics was sorely lacking. We worked with Aaron and Rhonda to design an affordable avionics package that would keep their family of 5 safe up in the air. The project took a while to complete but it now performs like a new airplane and we strongly suspect that Aaron won't be the only pilot in that family!