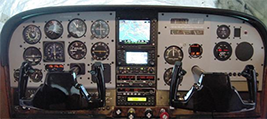 Maxcraft Cessna 182 After
Daryl upgrades the Maxcraft company Cessna 182! We've replaced all of the 1970's legacy avionics with brand-new equipment. The package is almost entirely Bendix/King but with the addition of a Garmin GNS 430 and an Apollo MX20 Multifunction display. This installation represents some of the very best GA avionics that can be put in a light airplane. The Garmin and Apollo units in particular are cutting edge, bringing large full color moving maps to the GA market. There's nothing else like this available right now.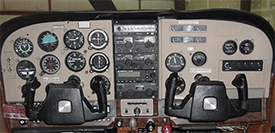 Before the upgrade. Note the cracked beige plastic panel and worn out center stack.
Here's a list of what went into the upgrade:
Bendix/King KMA28 Audio Panel
Bendix/King KN63 DME system
Garmin GTX327 Transponder
Bendix/King KCS55A Gyro compass system
Bendix/King KR87 ADF system
Bendix/King KX155 (No.2) Nav/Com
Garmin GNS430w (No.1 Nav/Com/GPS)
UPSAT Apollo MX20 Multi-Function Display
Avionics equipment shelf fabricated and installed aft of passenger cabin
New aluminum pilot's Instrument Panel fabricated, painted and silk-screened