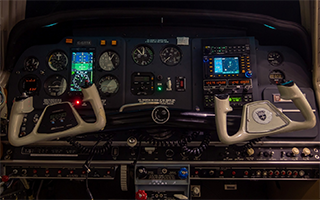 Beechcraft Bonanza
This week on the project page we'll take a look at a Traffic Advisory System (TAS) upgrade for the average GA pilot. Our example is a Model 36 Beechcraft Bonanza with an existing Aspen EFD-1000 primary flight display and Garmin GNS 480 WAAS GPS/NAV/COM. The owner is a long-time friend of Maxcraft and a repeat customer.
While the EFD 1000 is already an exceptionally affordable entry into the world of glass-panel avionics, its functionality can be further enhanced by supplying it with traffic data. To provide this data, Maxcraft selected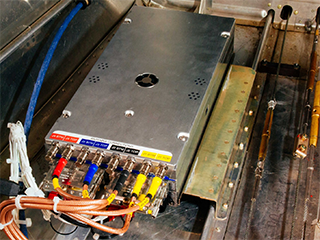 The GTS-800 mounted aft of the baggage compartment on a custom-fabricated mounting shelf.
a Garmin GTS-800 Traffic Advisory System. The GTS-800 was selected in part, because of its affordability. Indeed, the GTS-800 makes traffic data available at a price point that is within the budget of most GA pilots and is compatible with a wide variety of displays, including the popular Aspen EFD-1000.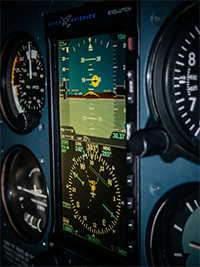 The Aspen EFD-1000 displaying traffic danger close. If you see this, you're in trouble!
By integrating the Aspen EFD-1000 as main traffic display and the Garmin GNS-480 as traffic controller, Maxcraft was able to upgrade an already excellent system to included see-and-avoid capability, providing excellent value and enhanced situational awareness. In fact, within minutes of lift-off on the aircraft's very first post install test flight, the system issued a traffic advisory (TA) warning which was displayed in 3D on the Aspen as well as the GNS480. A minute later, CYPK tower issued the same warning, however thanks to his TAS, the pilot was already aware. As of writing, the Bonanza shown here has already been sold. However, our client has remarked that a traffic system will be the first new installation for his new aircraft, a B55 Baron.
Installed Equipment
Garmin GTS 800 Traffic Advisory System
CL-105 VHF Antenna
Garmin GA-58 Traffic antenna
Various fabricated shelves and antenna doublers
Maxcraft prides itself on precision and quality of workmanship. Routing cables can be a work of art.