Cessna 177 Cardinal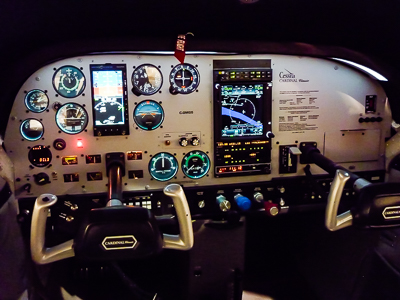 This Cessna C177B Cardinal came to Maxcraft from a mother and son team from Langley. At an earlier date, Michael and Michelle Thompson (both pilots) had come in to discuss updating their panel for better reliability, situational awareness and for have future IFR operating capability.
They decided to replace mechanical gyro's, outdated VFR GPS and a failing multi-function display and install an Aspen Primary Flight Display (EFD Pro 1000) and a Garmin Touchscreen GPS/NAV/COMM Navigator (GTN 750), both of which bring enhanced situational awareness to their panel and significantly eases operation of the aircraft.
With the go-ahead from Michael and Michelle, Will and his team installed the systems requested. To match the look of the new equipment, Michelle and Michael opted for refinishing their panel with Maxcraft's famous coating and engraving process. The Maxcraft team then topped off the installation with a new Kannad ELT 406, to replace the existing 121.5 unit out back and new instrument lighting to enhance the panel and ease night flight operations. The Cardinal is now a safer and more reliable aircraft for the Thompson family to enjoy.