Glass Panel Training Aircraft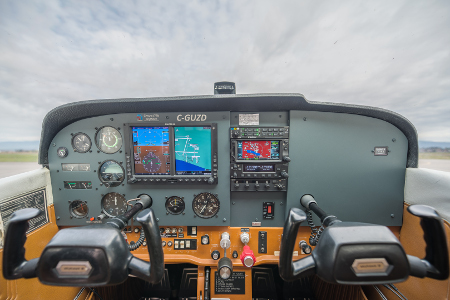 The world of civil aviation is in the middle of an undeniable and accelerating transition towards glass panel cockpits. Consistently falling equipment costs, combined with the competitive influence of every new adopter, points to glass panel avionics soon being the norm rather than the exception. This will happen sooner than you think. The big question for many flight schools is not whether to upgrade — it's whether to upgrade now, or later. Like most business decisions, this is largely a matter of money. The calculations come down to the cost of the upgrade, the flight hours required to pay for it, the lifespan of the equipment, and ultimately return on overall investment. This will vary from school to school based on the type of customer they serve.
The traditional line of thought in Canadian aviation is that a commercial pilot's first job will be on a steam gauge six pack, and that a flight school doesn't need glass panel avionics. While that's partially true for Canada at the moment, the reality is that more and more regional commercial operators are upgrading to primary flight displays, as well as the majority of larger airlines, and many private pilots. Schools often also have customers that range from far beyond the local market. International students from China will typically fly a large airliner with a glass cockpit for their first job. This isn't all just theory either; here at Maxcraft we've seen a recent and noticeable increase in volume of glass panel upgrades for flight schools. It's evident to us that for many schools, (and for this particular Cessna) now is the right time.
| | |
| --- | --- |
| | |
The photos you see here come from a recent job for our friends at Pacific Rim Aviation Academy, a highly professional flight school and AMO with a focus on individualized learner-centered training. While this particular aircraft is not Pacific Rim's first glass panel aircraft (a Diamond DA20's with a Garmin G500 was purchased in 2014) this is their first glass panel aircraft with IFR-capability.
The three most important pieces of equipment in this installation are the Garmin G500 flight display, the GTN650 Navigator, and the GNC 255 Nav/Com. These were installed alongside with an existing PS Engineering audio panel, a slightly older Garmin transponder, and a few pieces of the legacy six pack. We also replaced the brittle plastic instrument panel overlay with one of our highly durable engraved and coated metal MaxPanels. Some of the G500's fancier options (like synthetic vision) were left out of this installation, not only to keep costs manageable, but also because of their questionable benefit to a dedicated training aircraft. That said, the G500 in it's basic configuration has proved to be an excellent training platform. In the weeks following its upgrade this 172 has quickly become Pacific Rim's most popular aircraft, surpassing even their newer Diamond aircraft with more than twelve checkouts in just under one month.
Summary of Installed Avionic Systems
G500 Intergrated Flight Display (Garmin)
GTN 650 GPS/NAV/COM (Garmin)
GTX 320A Transponder (Garmin — Existing)
GNC 255 Nav/Com (Garmin)
PMA8000B Audio Panel (PS Engineering — Existing)
Coated and Engraved Custom Metal Maxpanel (Maxcraft)