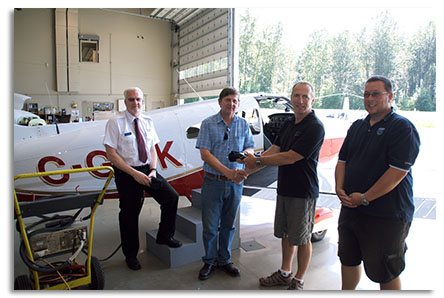 The Aircraft and Owner
During May 2012 a complete restoration process for Abbotsford Flying Club's 1977 Piper Cherokee Archer II (C-GIUK) began.
Upgrades included a new digital avionics suite, a complete new paint job, a new (zero-time) engine, all new leather seats & upholstery, and new windows.
The Need
For more than a year Abbotsford Flying Club was looking into an extensive upgrade and overhaul of C-GIUK. However, planning the endeavor was shaping up to be quite the undertaking as many of the club's members had different visions in mind for the project.
The Maxcraft Solution
GMA 35 audio system: a 4 place blind-mounted intercom with '3D Spatial Audio'
GTN750 GPS/Nav/Com/MFD system
SL40 VHF radio system
UMA ring lighting for instruments
New instrument panel with Maxpanel Duracoat finish
GTX-32 blind mount transponder
New paint / interior
New 'zero-time' engine
The Story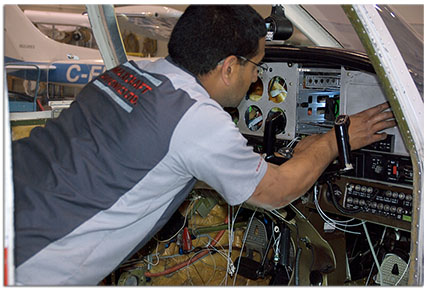 Maxcraft offered Abbotsford Flying Club a turn-key solution through in-depth consultation, follow up recommendations, and professional management of the project. With the necessary knowledge and industry connections, Maxcraft's planning and efficiency allowed the ability to negotiate with contractors on behalf of the customer for the best offering, price, & delivery.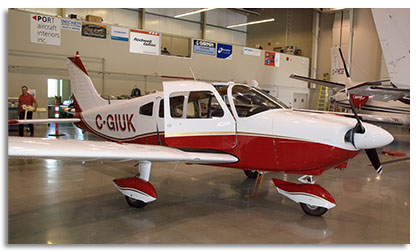 The avionics equipment installation was actually done in two stages. After some measurements for panel fabrication and the removal of some interior/avionics, there was initial installation of some wiring along with structural racking for the GTN 750 GPS/Nav/Com/MFD. The aircraft then flew to Upper Valley Aviation for the next stage of the project.
Following paint and new windows at Upper Valley Aviation, the aircraft went to Bakerview Aviation where the engine was removed for installation of a 'zero time' factory rebuilt engine.
Afterwards, the aircraft returned to Maxcraft for the final stage of avionics. In went the newly fabricated max-panel along with remaining avionics equipment. The GMA 35 audio system and GTX-32 transponder were actually 'blind mounted' so that the hardware was installed behind the panel with the interface accessible through the GTN 750 multi-function display. With the equipment all installed some minor snags were also discovered, quickly addressed, and rectified.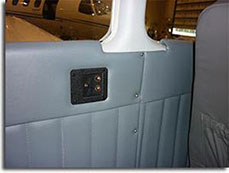 Maxcraft's upgrades were followed by extensive interior work completed by Port Aircraft Interiors. Interior upgrades included new upholstery, side-panels, and leather seats with impeccable attention to detail.
Customer Comments
"The best decision we made was to have Maxcraft manage the project"
– Abbotsford Flying Club