The Aircraft and Owner
Owned by a private pilot, this de Havilland Canada DHC-3 Turbo Otter is one of a few aircraft which the owner flies out of Fort Langley Airport.
The Need
The primary need was to have the upgrade completed within 3 weeks as the owner wanted a Garmin G600 along with a traffic system installed prior to leaving on a fishing trip with the aircraft.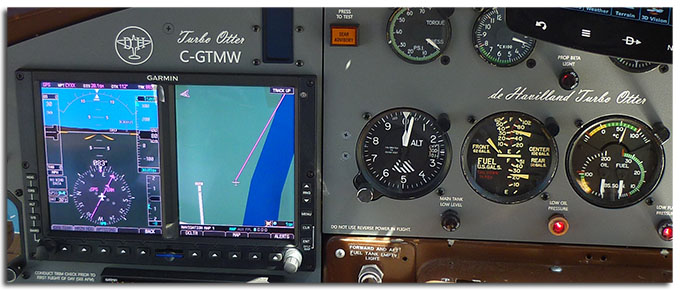 The Maxcraft Solution
Garmin G600
GTS 800 traffic system
SL40 VHF radio
796 GPS handheld provisions
New instrument panel with Maxpanel Duracoat finish
Precise Flight Pulse Light System
The Story
Garmin G600 system installs include a variety of components in addition to the primary & multi-function display. For example, the solid-state GRS77 AHRS (digital altitude-heading-reference-system) has separate components that essentially gather flight information normally indicated by six separate instruments. This information is gathered from components like the GMU44 magnetometer and GTP59 outside air temperature probe. These were installed along with the GDC74A air data computer which processes the data for output use.
AHRS data is utilized by the G600 display but can also be adapted for autopilot use. A GAD 43 autopilot adapter was installed to allow usage of attitude information to drive the autopilot, instead of having a complex attitude indicating gyro to autopilot interface. The aircraft's Century 2000 autopilot system combined with the GAD 43 autopilot adapter is much simpler, more reliable, and performs same tasks with greater precision.
The Garmin GTS 800 TAS (traffic avoidance system) was installed, providing active and passive ads-b interrogation up to 12nm. With it, traffic can be viewable in 3D on the Garmin G600 SVT display. Spoken audio alerts can also specify relative target bearing, altitude (above/below) & range.
A new equipment piece going into the panel was the SL40 VHF radio. As Maxcraft designed/fabricated the new "Maxpanel", items such as this were placed to provide the pilot with preferred viewing angles and useable accessibility. While a GNS 430 was already present, we relocated it a few inches to the right for this reason. With our duracoat finish and laser engraving, the completed panel came out quite nicely.
Will, the project crew chief, did an excellent job of managing the installation process. He ensured that all upgrades and installations were completed correctly. The project was also completed within the required time-frame of 3 weeks, which was in time for the owner's fishing trip.