Flown directly from the Airbus factory in Fort Erie, Ontario to Maxcraft, we were involved in every step of the purchase process. Packed full of mission specific technology, this H125 is ready to explore British Columbia's beautiful back country.
Brand New Airbus H125 Workhorse
British Columbia is a world-renowned for its natural beauty. What better way to enjoy beautiful British Columbia. With seemingly endless snowcapped mountains in the winter, and tens of thousands of lakes to explore, this helicopter will be able to open new doors, and access almost any location no matter how remote.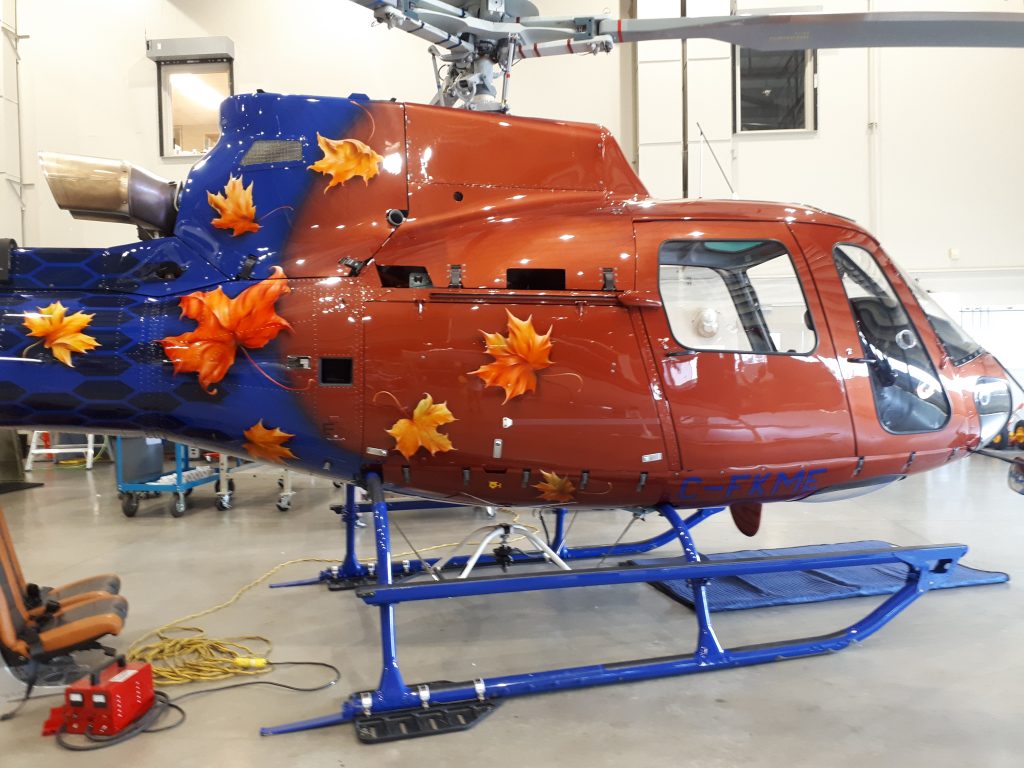 Aircraft:
This Airbus H125 was purchased brand new and configured from Airbus Helicopters Canada in Fort Erie, Ontario for a private owner. Every step of the process was overseen by Maxcraft. Purchasing any aircraft is a challenging job. Buying a new aircraft directly from the factory, with many customization options makes this process even more difficult. We were able to use our many years of experience to make this process as painless and efficient as possible for the customer. The custom paint job from the factory featuring maple leaves on a burnt orange and blue background, combined with the gorgeous leather interior makes this helicopter look and feel luxurious. Holding the current world record for highest altitude takeoff and landing, performed on Mount Everest, the H125 was an obvious choice for a mountain flying helicopter.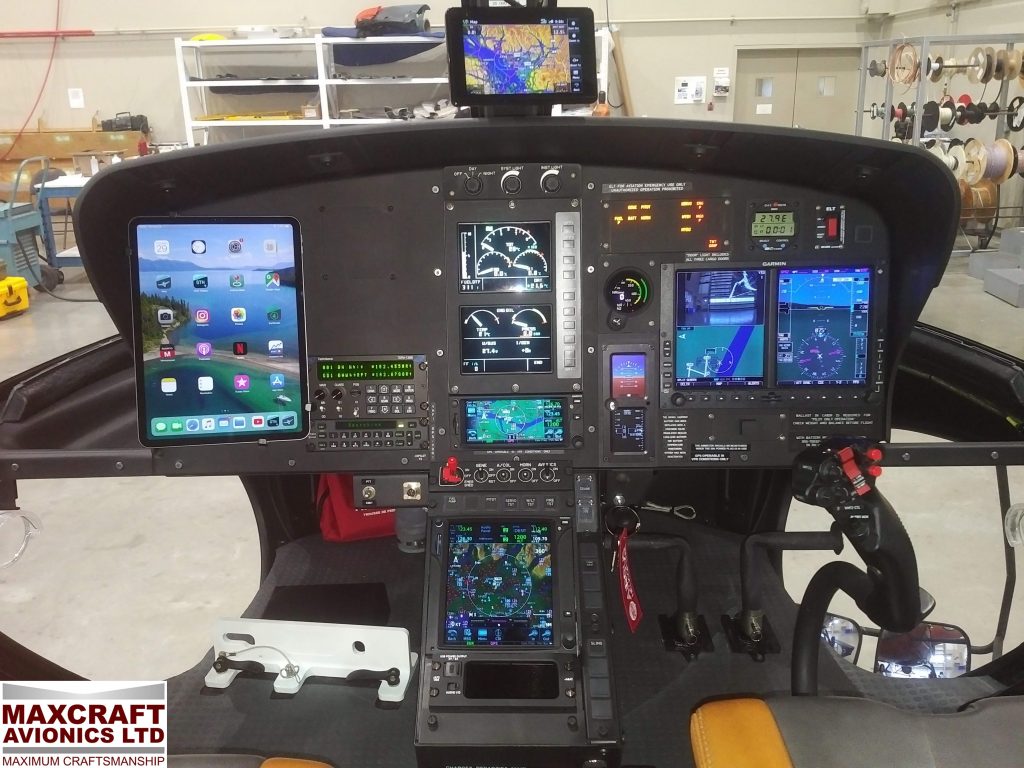 Need:
While this helicopter came well equipped from the factory for some operations, it was missing some important features and equipment needed to ensure safe flight in the mountainous areas found in remote parts of BC. When flying in mountains, situational awareness must be at an all-time high. GPS navigation, 3D synthetic vision, and terrain alerting is a big asset when conditions can deteriorate quickly. Being able to get out and back to safety was a top priority for this installation. Standard VHF radios likely won't reach anybody in the remote mountains, so satellite communications and tracking were important additions. We also opted to add some additional features in the rear passenger area to make entry and exit more efficient and comfortable.
NEW EQUIPMENT LIST
GTN750H
GPS/NAV/COMM/MFD (Garmin)
GTS800 TAS
Traffic Awareness and Collision Avoidance System (Garmin)
GMA35C
    Audio Panel with Integration with GTN750H (Garmin)
TDFM136B
    VHF FM Transceiver (Technisonic)
S200 + PTA12
Satellite Phone and Messenger (Latitude)
TA360
USB Power Chargers (True Blue Power)
Aera 660
Handheld/Portable Aviation GPS Tablet (Garmin)
JA72
Glovebox with USB Charger and Music Jack (Jupiter Avionics)
iPad Mount
Cockpit Tablet Mounting Solution (MyGoFlight)
M803
Clock (Davtron)
Zulu 3
Noise Cancelling Helicopter Headsets x5 (Lightspeed)
LEMO Jacks

FD600CAM

Powered Headset Connectors

Rear Mounted Tail Camera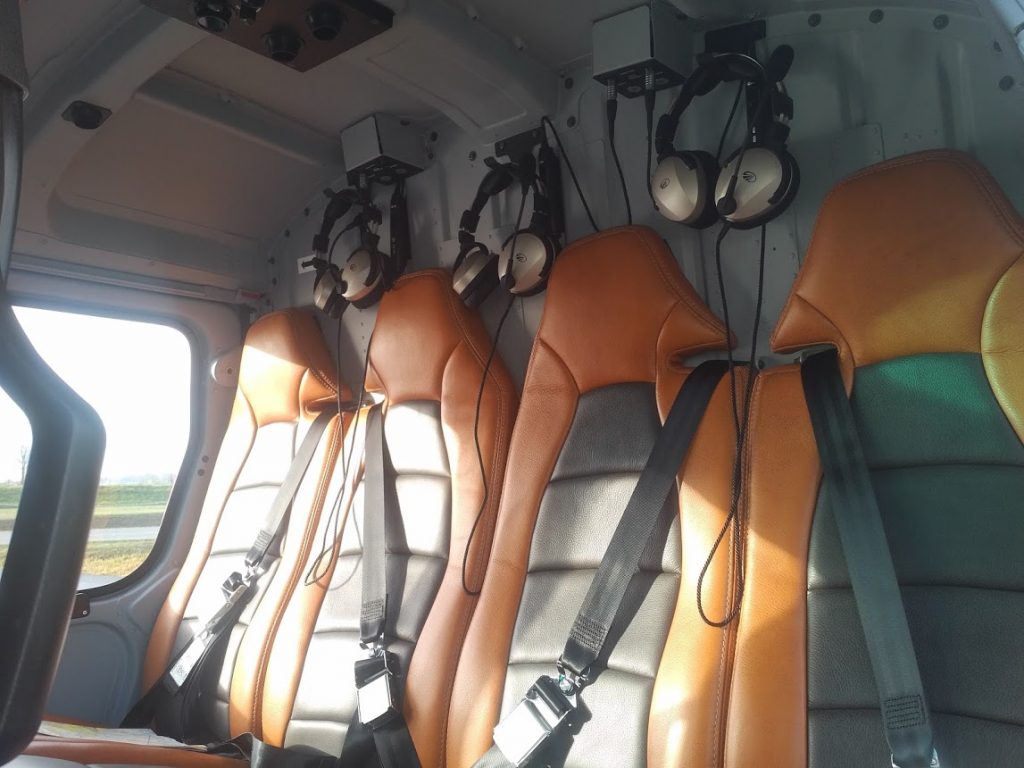 Maxcraft Solution:
The GTN750H from Garmin is the centerpiece of this installation, perfectly integrating it also enables additional features on the preexisting G500H primary flight display. In order to install the GTN750H in the center pedestal we were required to make modifications to the metal work. Our structures staff were able to work their magic to ensure we could fit it where we wanted. Connecting many of the systems together, including the GMA35C audio panel and GTS800. The GTN750H has an easy to navigate touchscreen interface allowing the pilot to change settings on the fly all in one location. The GTS800 Traffic Avoidance System (TAS) combines both active traffic and ADS-B targets and offers the pilot both visual and audio warnings of nearby traffic and possible conflicts. A very important aspect of this install was Garmin synthetic vision technology. This gives the pilot a real time, lifelike view of the geography surrounding them. Synthetic vision increases situational awareness and safety, especially in mountainous terrain. We also opted to install an iPad panel mount to provide the guide sitting next to the pilot access to specialized topography maps along with other tools to navigate to prime locations.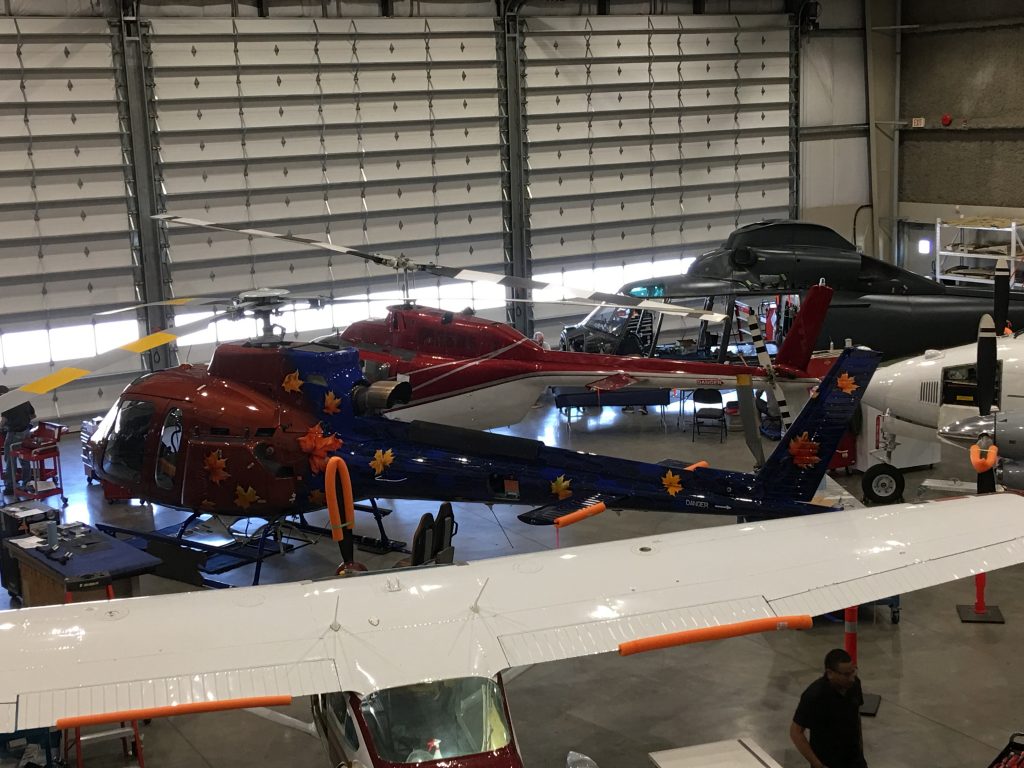 The Story:
On July 18 this helicopter left the Airbus factory in Fort Erie, Ontario after being custom built for the customer with guidance from Maxcraft. Shortly after it arrived at our facility in Pitt Meadows. While we made many technical upgrades for safety, we also made several upgrades for comfort and mission success. The satellite phone and messenger from Latitude allows the pilot and passengers to stay connected to the outside world, even in the most remote parts of British Columbia. More importantly the Latitude S200 provides an automated tracking system which is able to integrate with a variety of mapping and flight data monitoring systems adding an extra layer of safety in areas lacking coverage by more traditional radio based systems. USB charging ports from True Blue Power keep the passenger's devices charged even after a long day out in the bush.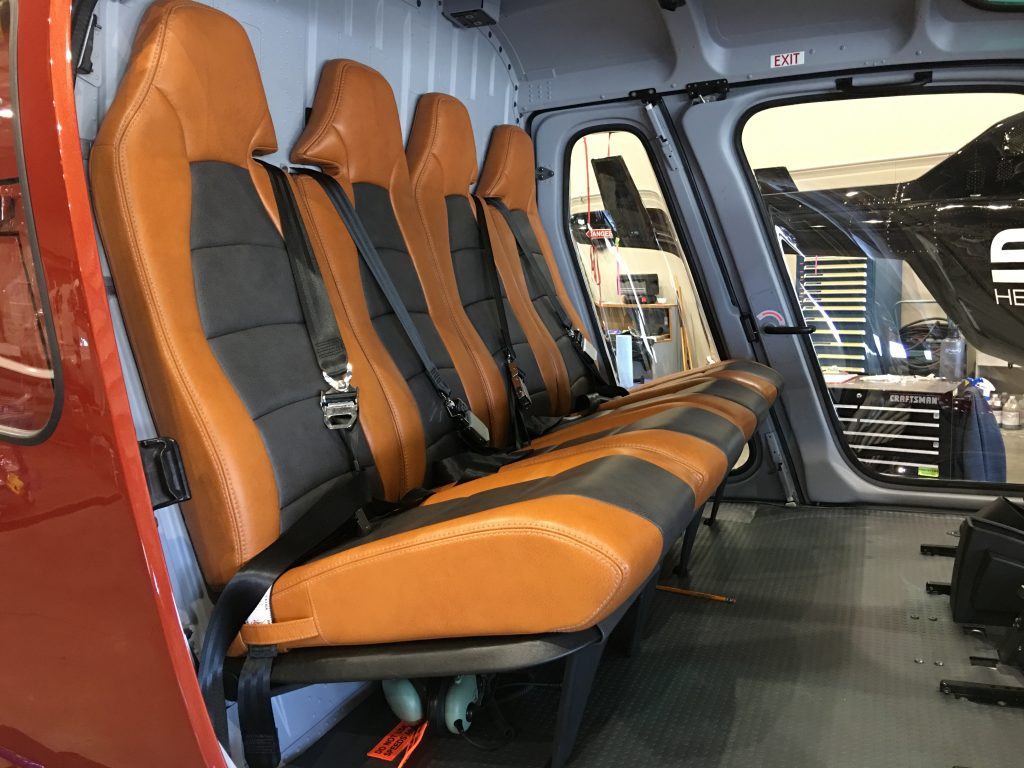 One major option our customer wanted was the ability to hot load passengers, which is the practice of loading and unloading the aircraft without shutting down the engines, sometimes even hovering in place and getting out onto the summit of a tall mountain. The rear bench style seating in the H125 will allow the four passengers to quickly slide out each side door. Every seat on this helicopter has LEMO jacks which provide power from the aircraft electrical system to the active noise cancelling headsets. This eliminates the need to worry about replacing batteries. We also installed custom fabricated brackets for the rear seats to hold the headset control box, and to easily store the headset when exiting the aircraft. The cords on the rear headsets were shortened to prevent tangling when removing and storing the headset.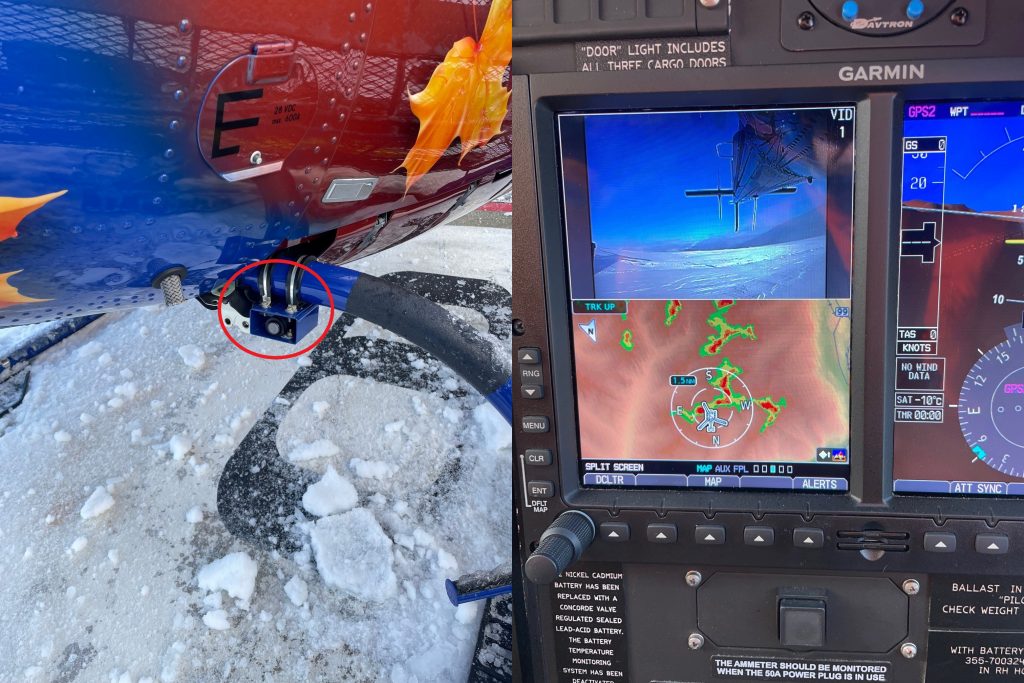 An external camera was mounted on the tip of the tail which can be viewed by the pilot on the G500 primary flight display. This allows the pilot to have an unobstructed view of what's behind the aircraft to ensure the tail rotor is clear of any possible hazards.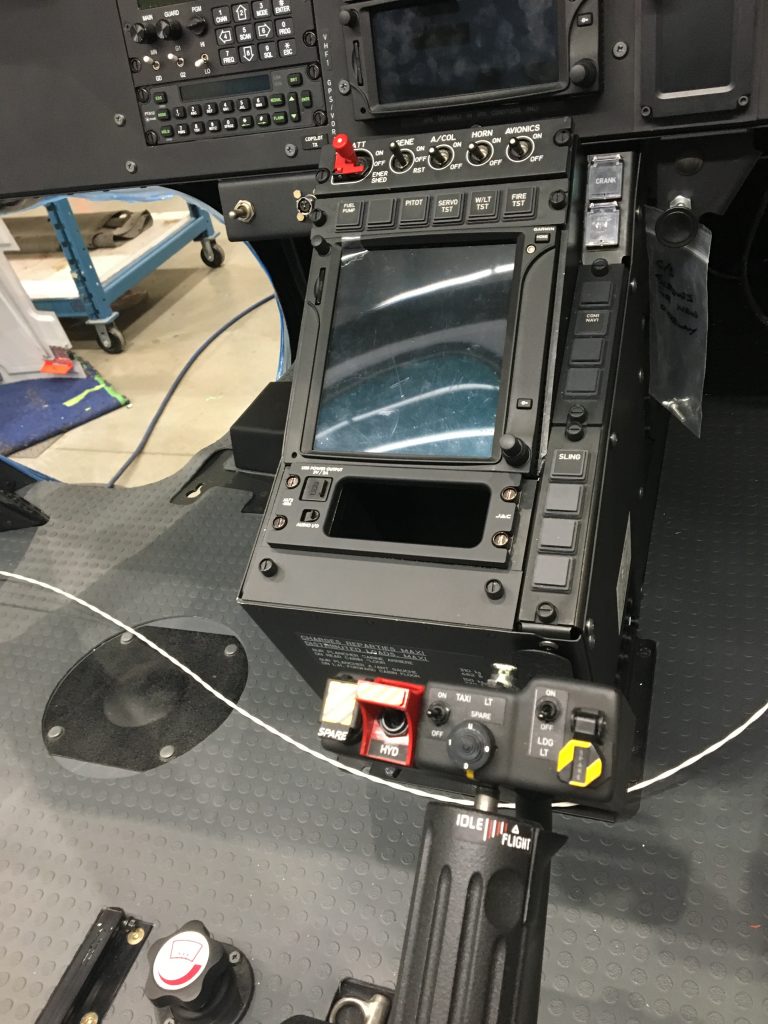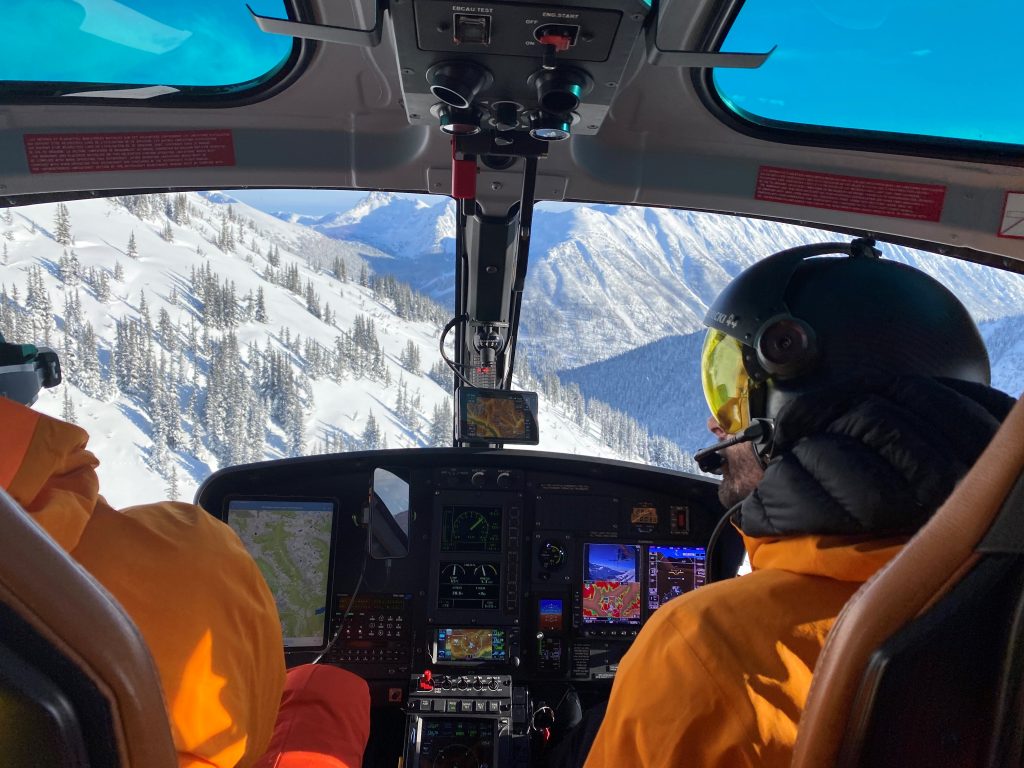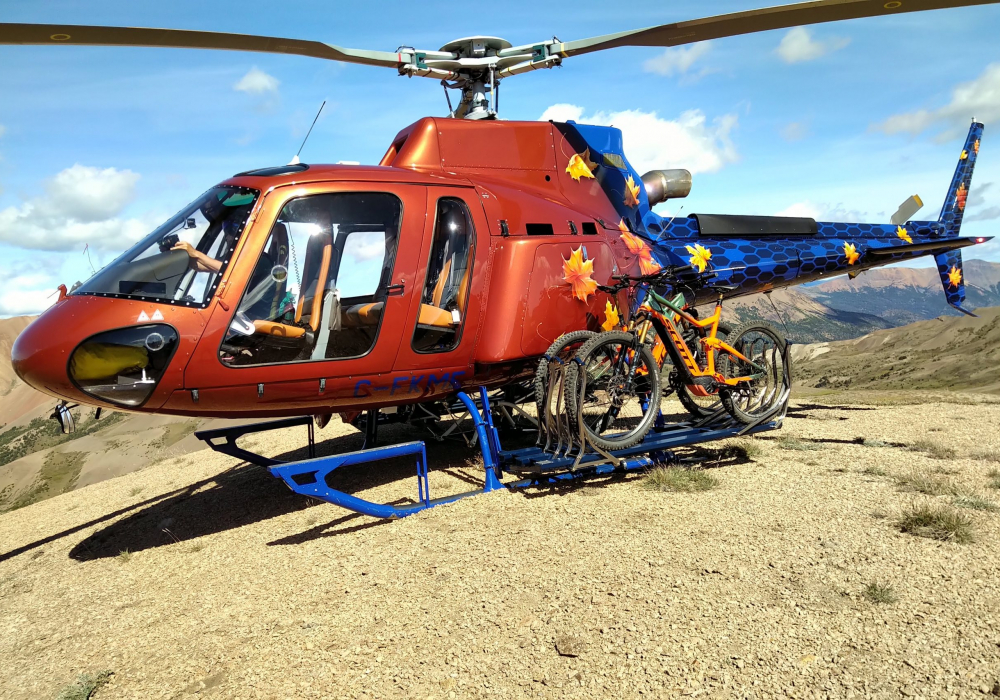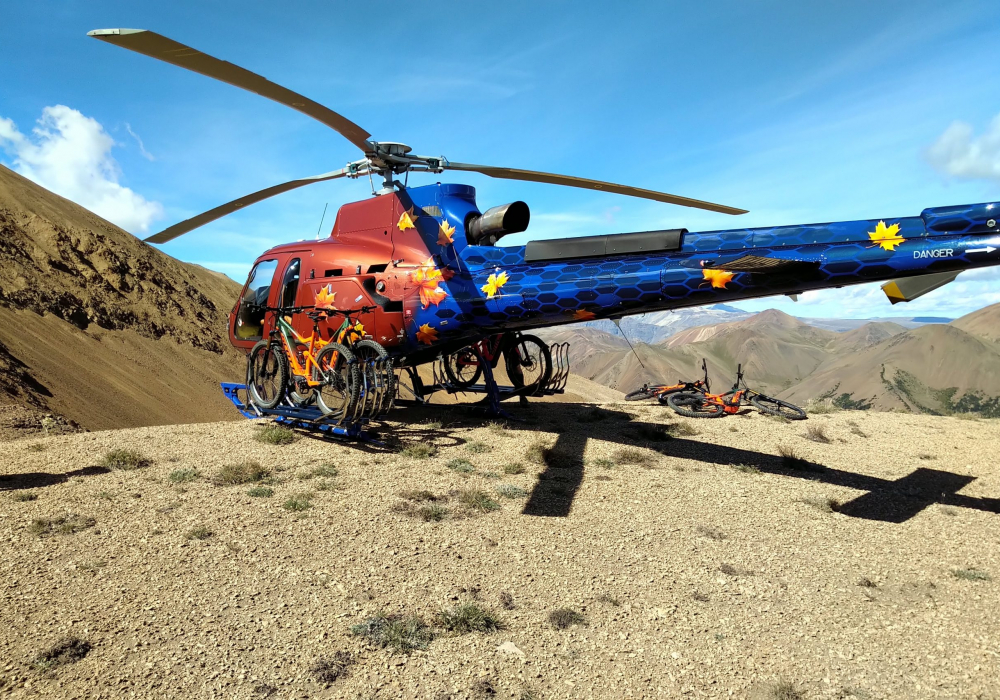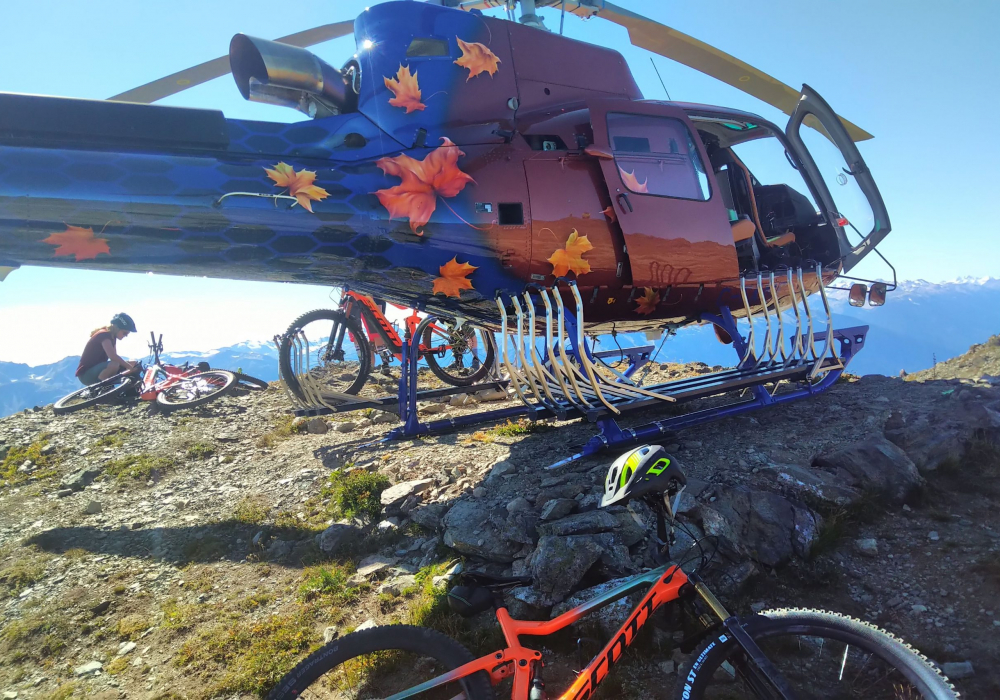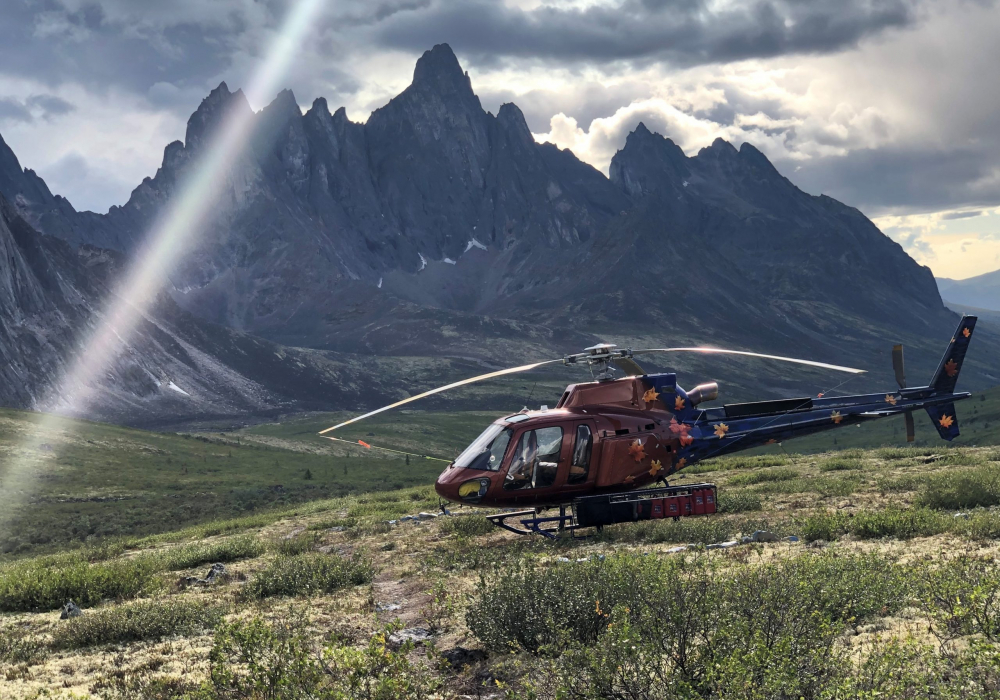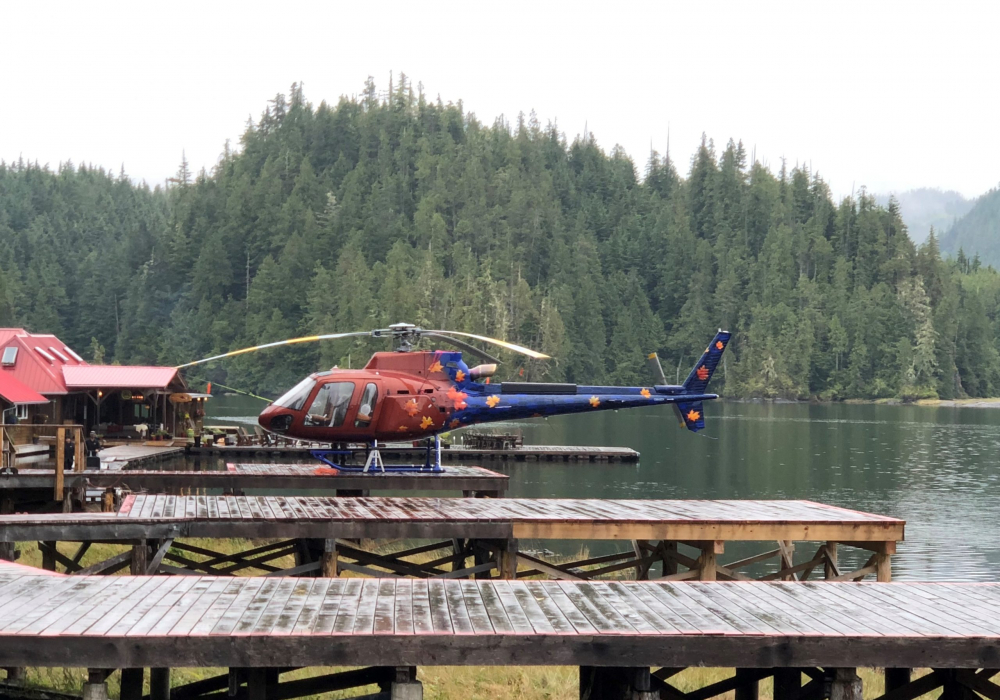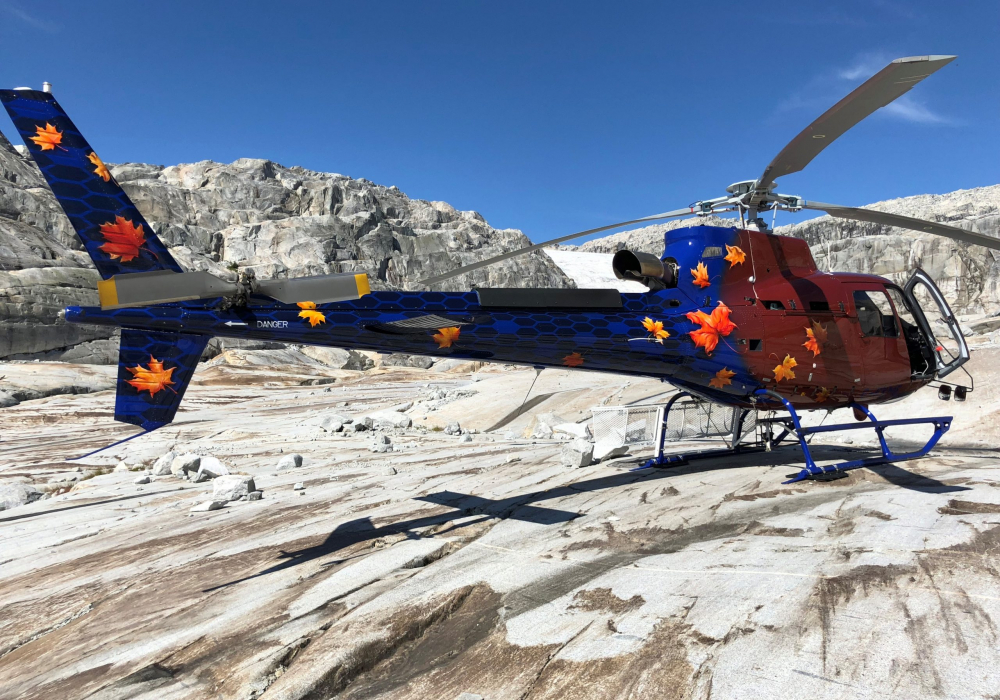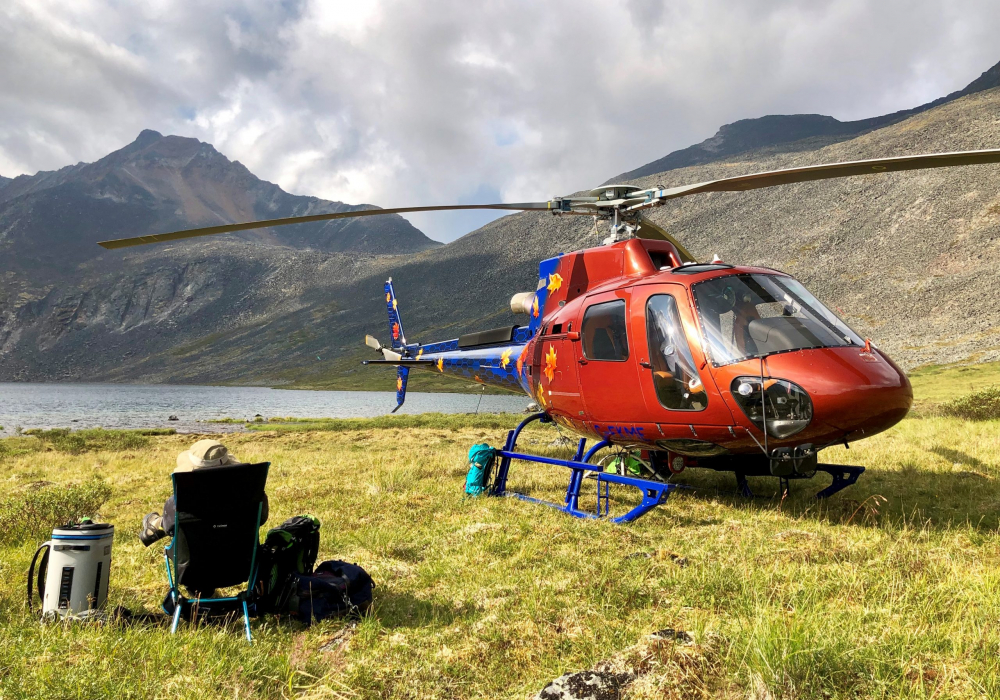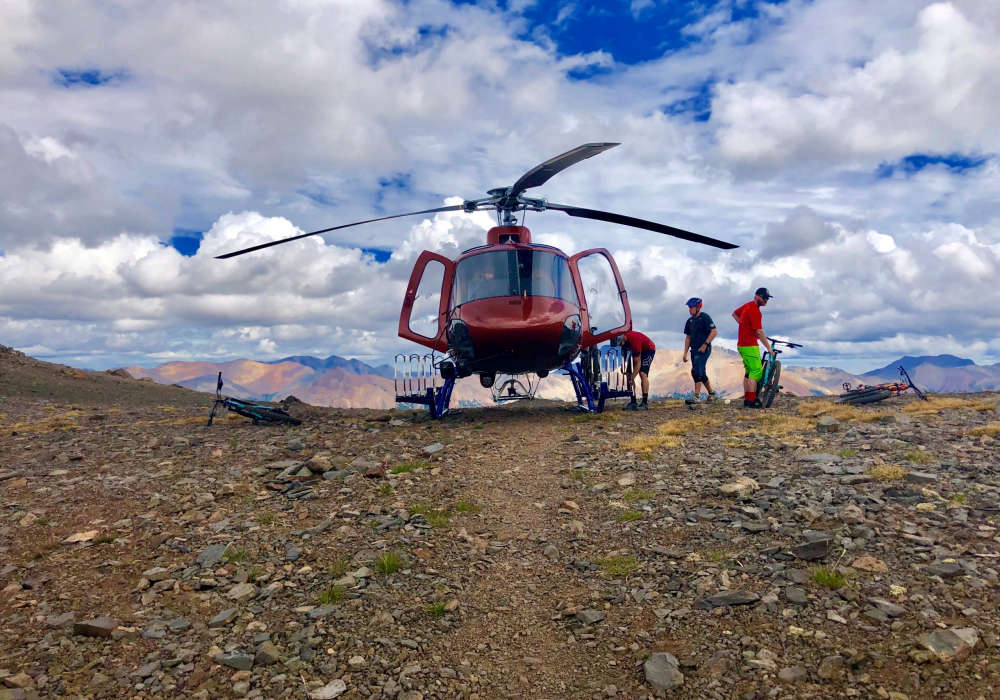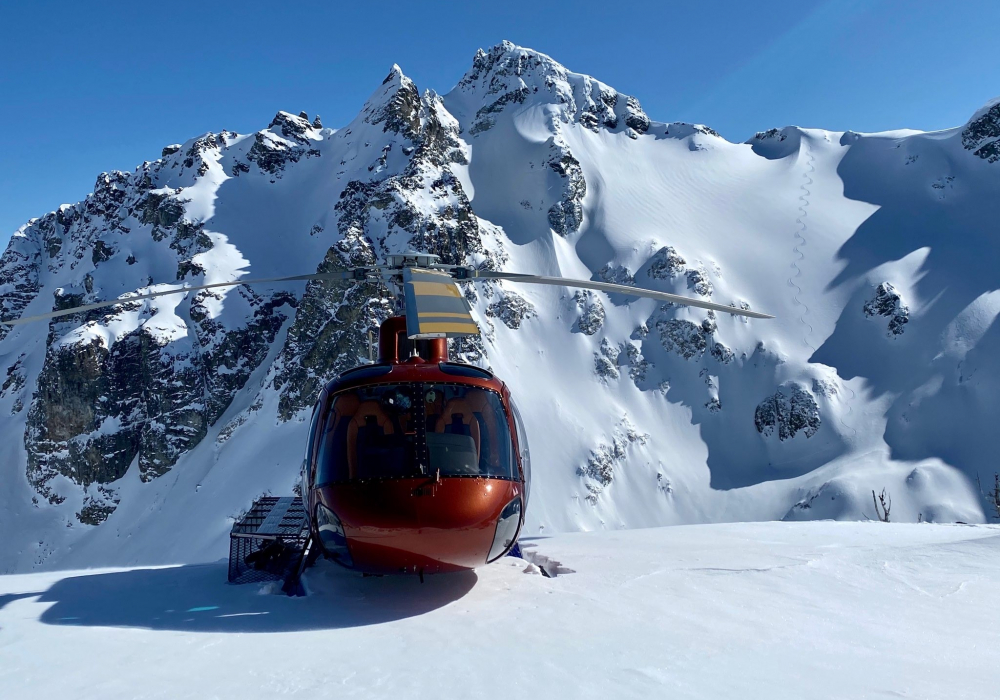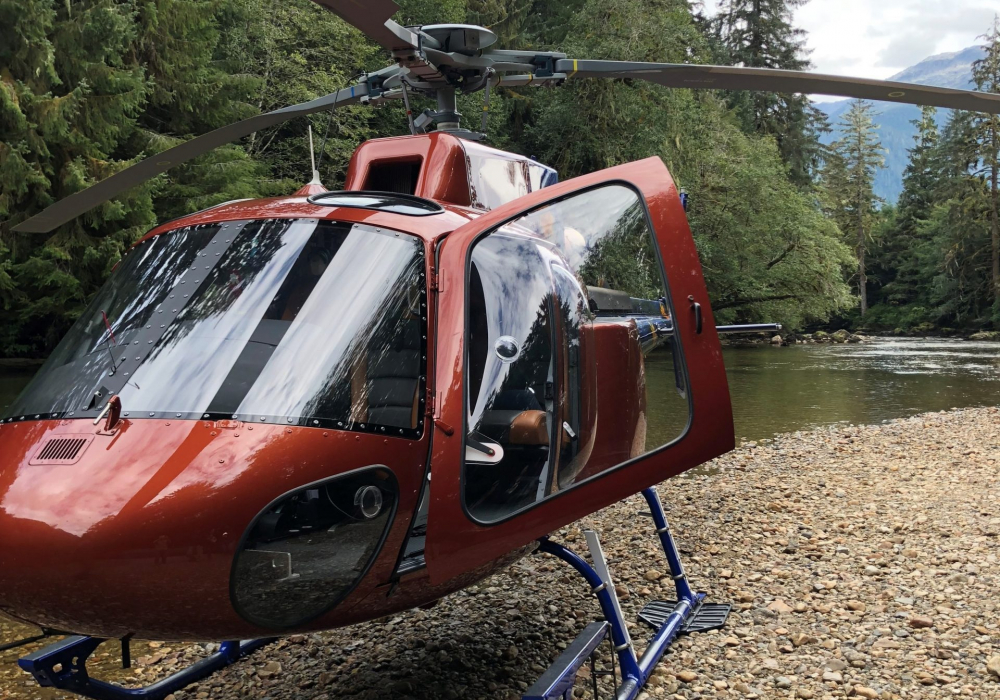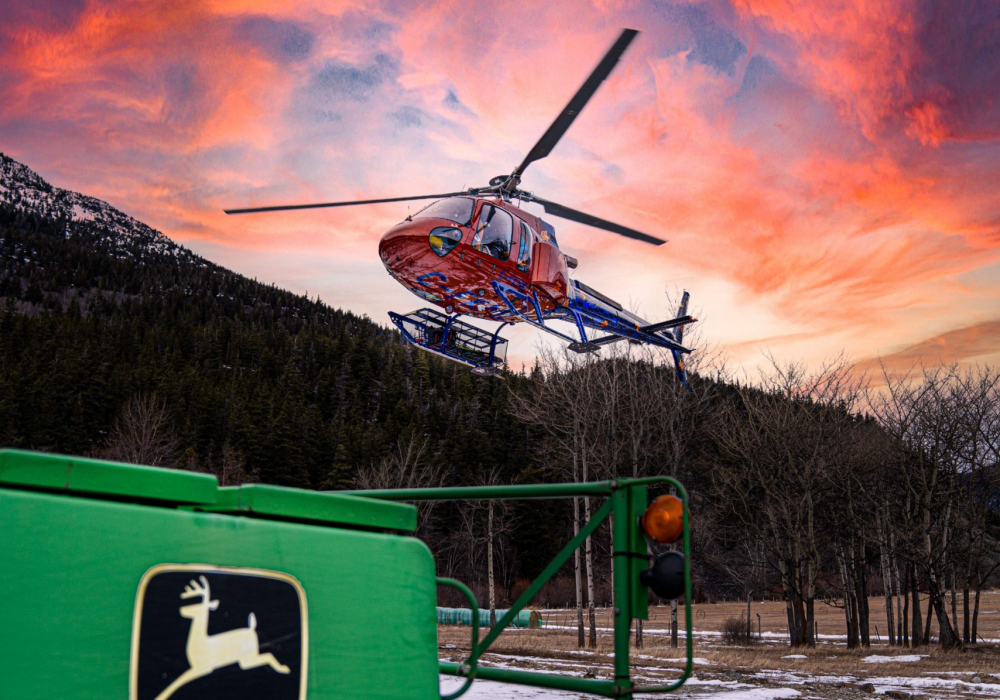 Customer Comments
"Maxcraft was completely pivotal in the specification, purchase negotiations and customization of C-FKME. Maxcraft served as "Owner's Rep" in the purchase of a new Airbus H125 and managed the specifications, pricing discussions and delivery. In addition to a seamless purchase process Maxcraft designed and oversaw the very complicated hull artwork and airbrush work, as well as custom carbon leather seating and bespoke specifications such as bubble passenger door and sliding pilot side specifications for a completely unique product.
Maxcraft also did innovative work in bringing the cockpit to state of the art for mountain flying and coordinated additional cockpit and external navigation and mapping devices to provide precise understanding of the British Columbia landscape and sensitive areas. They also introduced a first ever in Canada, with the tail rotor camera which pilots view as a vital addition. They delivered the helicopter and upgrades on schedule and on budget and were always highly professional. In after market support whenever there were any issues with perfecting the aircraft operationally, such as radio and headset function or related tweaks Maxcraft were always engaged actively and without recourse on improvements in a timely manner. As an owner, Maxcraft always felt like they were a true partner in ownership.
Together we continued to upgrade the machine with bike racks, adventure and safety gear and this year Maxcraft effectively oversaw the installation of a "Fast Fin" for additional power and continue to help keep C-FKME state of the art. West Cirque Flying Inc could not have developed a product at this level without the highly effective and efficient partnership with Maxcraft."
Tim Dattels
West Cirque Flying, Inc