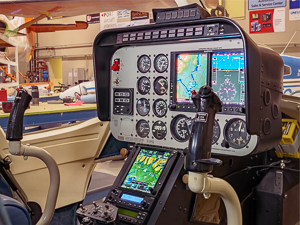 This recently purchased Bell 206B is owned by a new pilot training with our friends over at Chinook Helicopters. Following completion of said training, it is intended for private use. In its time here at Maxcraft, this 206 has received a most comprehensive avionic upgrade. In addition to the ever-desirable (and increasingly common) combination of Garmin GTN750 Navigator and G500H Primary flight display, this aircraft also received a myriad of other systems which elevate the capability of this private aircraft from good, to great. These additional systems and equipment are not all immediately obvious from a single glance at the panel, and include remote boxes, as well as a number of small extras which really complete the installation.
Beyond the G500H and GTN750, this aircraft now has a Garmin GTS800 traffic system. This is a life-saving piece of technology is a boon in busy high-density airspace, and combines data from both active surveillance and passive (ADS-B) surveillance. A natural partner for this piece of equipment is therefore the extended squitter version of the GTX330 (the GTX330ES), which includes ADS-B 'out' capability. Up next is the GSR56 SAT Comm. This box provides global weather information and text/voice communications through the Iridium satellite network and integrates directly with the GTN750. Flight Stream 210 allows for Bluetooth based wireless synchronization between the Garmin Pilot app running on iPads, and GTN 750 navigators. As we often say to clients, there's a world of difference between simply installing systems, and properly configuring them to integrate with each other. All of the equipment detailed here is fully integrated and interconnected, ensuring that our client gets maximum functionality and ease of use.
As is often the case, this project also includes a number of 'convenience and comfort' modifications which enhance the flying experience, the most significant of which is one of our custom coated and laser-engraved Maxpanels for both the main instrument and overhead circuit breaker panels. Our technicians also installed music and USB jacks with combined glove box in the centre console, a USB/Clock solution for the main panel, and panel-powered LEMO jacks for each headset position integrated to a six-place intercom.
It's worth noting that this 206 is in particularly excellent condition for it's age, and came to us with a fully functional autopilot. With the addition of our modern avionics package, it has proven to be one of the nicest and most capable 206's around, both inside and out. It performed flawlessly on its first flight test.
Summary of Equipment
G500H Flight Display System (Garmin)
GTN750 GPS/NAV/COM/MFD System (Garmin)
GNC255 NAV/COM (Garmin)
GTX330ES Transponder /w ADS-B (Garmin)
Flight Stream 210 (Garmin)
GTS800 Traffic System (Garmin)
GSR56 Sat Comm (Garmin)
MD93 Digital Clock / USB Charger (Mid-Continent Instruments)
JA72-006 Glove Box /w USB Charger & 3.5mm music jack (Jupiter Avionics)
GMA35 Remote Audio Panel (Garmin)
APS-841H/001 Autopilot (Collins — Preexisting)