Sikorsky S76C++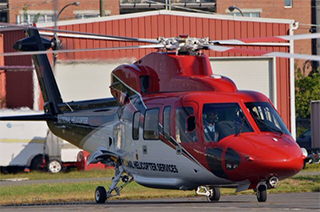 S76C++ With New Paint
Our client in this project was National Helicopter Services Limited (NHSL) — a joint venture between the government of Trinidad and Tobago, and The National Gas Company of Trinidad and Tobago. Our client's business involves providing offshore helicopter service to the Trinidadian oil and gas sector as well as to the Trinidadian government.
Maxcraft's role in this project was to take a Sikorsky S76C++ that had been configured for corporate charters, and to collaborate closely with Merlin Aviation in modifying and repurposing it for offshore personnel transport as well as compliance with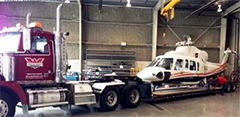 Leaving for the Paint Shop
NHSL's fleet standards. Maxcraft avionics has a close working relationship with Merlin Aviation. Merlin, like Maxcraft, is a Transport Canada Approved Maintenance Organization having extensive experience on S76 helicopters, as well as a dedicated S76 engineer. With expertise in sheet metal and composite materials, Merlin's staff handled structural and interior modifications while Maxcraft technicians worked on electronic systems.
The most complex modification of this project was the EVXP/HUMS vibration monitoring system, which involves routing of up to 112 inputs from various sensors throughout the entire airframe. Despite the complexity of this modification, Maxcraft's long history of working on the Sikorsky S76 ensured completion on time, on budget, and without incident. Over the course of 25 years in business, Maxcraft has completed more than 50 major avionic projects on commercially operated S76's. With over 75 years of combined experience on the model, our AME's consider the Sikorsky S76 a specialty. It is this unique degree of familiarity with the aircraft that makes Maxcraft Avionics the ideal choice for highly involved S76 avionic modifications such as the installation of an EVXP HUMS system. That NHSL, a company based out of South America, chose to ferry their aircraft to Vancouver for modification (and all the way back to Trinidad afterwards) speaks volumes about the wealth of aircraft-specific experience available here.
Summary of Equipment and Modifications:
Garmin GPS 500 System
EVXP (Enhanced Vibration monitoring) HUMS system
Sky Connect Satellite Tracking System
TFM-138B VHF FM radio transceiver
ADELT (Automatic Deployable ELT)
External Life Raft Deployment system
Helicopter Egress Emergency Lighting (Heels)
Water Activated Switches for Flotation Device Actuation (WAFS)
Cabin PA Speakers
Utility cabin interior
Customer Comments
"I wish to commend Merlin Aviation and Maxcraft Avionics for the refurbishment works recently completed on aircraft registration N760ST […] This aircraft is representative of a 'brand new' S76C++ aircraft. Moreover, although we had delays in receiving parts from suppliers and a tight delivery deadline to our client, your team was able to complete a vast magnitude of work in a relatively short timeframe. This clearly demonstrated the high priority and attention to detail that your personnel placed on the task at hand to provide first-class refurbishment of the aircraft."
"Once again, NHSL would like to thank you and your staff […] for a job well done
and look forward to working with you in the future."
Yours sincerely,
National Helicoper Services Limited
Joshey Mahabir, General Manager