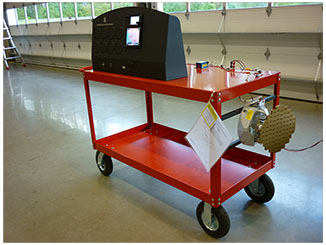 Maxcraft designs and builds Avionics Training Carts for avionics programs at University/Colleges and technical training institutes. The Avionics System Trainers are constructed by licensed technicians and wired to aircraft standards.
Our trainers are designed so that instructors have the ability to create a fault at any point of wiring. Students then have the opportunity to apply classroom knowledge to troubleshoot practical problems. The mobile-cart format also enables students to see completed wiring layouts normally hidden behind panels.
The training carts categorically feature different systems. For example, above we have a weather radar trainer which is fully functional. Each cart allows for demonstration of specific avionic systems whereas we also construct a full system cart comprised of equipment from multiple systems to show the system integration found in most aircraft. Each cart is shipped with an accompanying binder of relevant drawings, schematics, and equipment documentation.