The Aircraft and Owner
Helijet Airways operates two LearJet 31-A aircraft as EMS air ambulances based at Vancouver International Airport. These modern well equipped jets are capable of transporting patients for long distances at a fast cruising speed of 515 mph (448 knots, 829 km/h).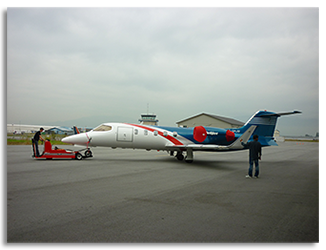 The Need
A modern FMS capable of WAAS LPV approaches
Currently installed, legacy FMS is no longer supported by the manufacturer
Maxcraft Solution
Install new Universal UNS-1Ew FMS with LPV Monitor
The Story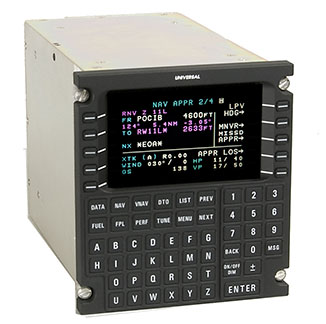 In the early fall of 2012, the first of Helijet's Learjet 31As made the short flight from YVR to Pitt Meadows Airport and taxied up to the Maxcraft hangar to begin the scheduled installation of a new Universal Avionics FMS (flight management system). We replaced the aircraft's UNS-1M system with Universal's much more modern UNS-1Ew Flight Management System. The UNS-1Ew features an all-in-one-package design which includes control/display functions and the navigation computer combined in a single unit. In order to meet the standards required for approval to fly LPV approaches (localizer performance with vertical) an additional receiver/LPV monitor box was installed in the rear of the aircraft. The SSDTU (solid state data transfer unit) was installed into a crowded lower pedestal. It enables fast easy database updates through a USB port. Two new GPS/WAAS antennas were installed on top of the pressurized fuselage by our experienced structures specialist.
We had a few anxious days when it was discovered that the FAA STC approved installation data didn't meet all of the Canadian requirements with respect to cold temperature altitude correction. Our own Design Services department worked the the FAA STC holder and with Transport Canada to make the necessary changes in order to gain Canadian approval. In less than 3 weeks, the project was complete and the customer's AME returned to re-install the medical stretcher kit which they had removed previously to enable access for our technicians. The aircraft was then re-positioned to YVR and a few days later Clarke, our service manager, accompanied the flight crew on a test flight out of YVR to Victoria and then Nanaimo. Several approaches were flown and the system performed flawlessly as expected.