Airbus (Eurocopter) Fleet upgrade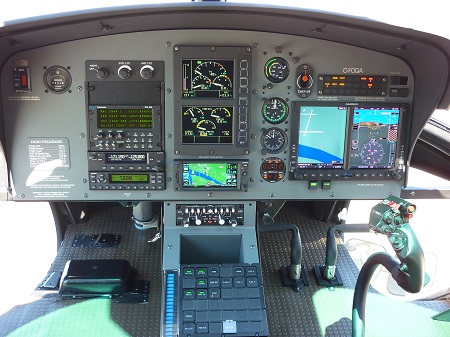 Maxcraft's involvement with this pair of Eurocopter AS350B2's is as part of our ongoing fleet-upgrade with Phoenix Heli-Flight. Headquartered in Fort McMurray, Phoenix Heli-Flight is a regional leader in light and intermediate helicopter charters with a concentration on providing exceptionally modern and technologically advanced aircraft that exceed industry standards.
Our client Paul Spring, owner of Phoenix Heli-Flight, is known in the helicopter industry as something of a technology leader. As an entrepreneur, pilot, and licensed AME, he wanted to provide cutting-edge equipment for maximum functionality and more importantly increased safety with enhanced situational awareness. Maxcraft had completed upgrades on Phoenix's TwinStar back in 2012.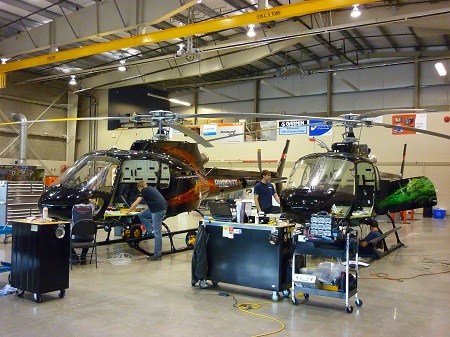 With the successful completion of that project, Maxcraft was hired to upgrade four more Eurocopters. We consulted extensively with Mr. Spring in order to best interpret the needs and requirements of his operation. This, along with pilot feedback received on our first upgrade helped us to devise a standardized fleet solution consisting of the same G500H dual flight display, GTS traffic system, and GTN 650 GPS/NAV/COMM, but in a revised layout — all to be installed in five aircraft over the course of two years.
The G500H is an excellent choice for this size of aircraft because of its space-efficient dual-screen design, which provides primary flight, and multifunction displays in one package. Despite these aircraft being destined for operation in VFR conditions, the G500's 3D Synthetic Vision display is still exceptionally useful, especially when coupled with a GTS traffic system, which allows the G500 to project TCAS data onto your 3D field of view for unrivaled situational awareness in congested airspace such as the skies above the Alberta oil patch.
The STC for these upgrades was developed last year by Maxcraft's in-house design services department for the aforementioned AS355N TwinStar. STC SR12-43 covers installation of Garmin's digital ADHRS & ADC, GNS 400W/500W Series Navigators, GTS 800 Traffic Collision Alert System, and FreeFlight RA-4500 Radar Altimeters. As the exclusive holder of this STC, Maxcraft Avionics has repeatable turnkey capability to outfit the entirety of Phoenix Heli-Flight's (or anyone's) Eurocopter fleet while minimizing the time and cost that would come with research and development on an aircraft-by-aircraft basis. Indeed, STC 12-43 covers all of the following Eurocopter models:
AS 335
AS 350
AS 130B4
AS 120B
Of the aircraft involved in this fleet upgrade, the AS-350, was the second. As mentioned, panel layout was also completely redesigned following the Twinstar project in order to maximize both ergonomics and ease of use. With simple, clean lines and our laser-engraved MaxPanel finish, it also makes for a highly professional and uncluttered appearance. Beyond that, the AS350 was interesting in that it was a left-hand drive AS350B3, which necessitated that the already revised panel layout be flipped horizontally. This ensured that primary and multifunction flight displays were present and directly visible in the pilot position. Upgrades on this aircraft were completed off-site in Fort MacMurray.
This brings us back to the B2's. These brand-new A-Star B2's flew directly from the Eurocopter factory to our facility, and are the latest of Phoenix Heli-Flight's aircraft to be upgraded by Maxcraft. Factory-standard equipment was removed from both aircraft and retrofitted with our avionics package, which just as before, consists of a Garmin G500H display system, and matched TCAS, as well as a FreeFlight RA-4500 Radar Altimeter. In addition to equipment covered by STC-12-43, Maxcraft also installed a Garmin GTR-225 VHF transceiver, a NAT AMS42 Audio Panel, and a Technisonic TFM-500 UHF transceiver.
Summary Of Systems
G500H Primary Flight Display (Garmin)
GTS Traffic Systems (Garmin)
RA-4500 Radar Altimeter (FreeFlight)
GTR-225 VHF Transceiver (Garmin)
AMS42 Audio Panel (NAT)
TFM-500 VHF/UHF/FM Transceiver (Technisonic)