Since purchasing this Piper Malibu a few years ago, the owner has brought it to Maxcraft's hangar many times, each time leaving with a little more technology than when it arrived. While it started off very capable with a Garmin G500 and GTN 750, we've continued to make improvements such as removing the standby vacuum driven instruments and replacing them with a single GI 275 electronic flight display. The KFC 230 autopilot from Bendix/King is a one-of-a-kind touchscreen autopilot, and many of the analog engine indicators were replaced with a digital engine monitor from Electronics International leaving the panel very clean and pilot friendly.
Always Improving Piper Malibu
1986 Piper Malibu PA-46-310P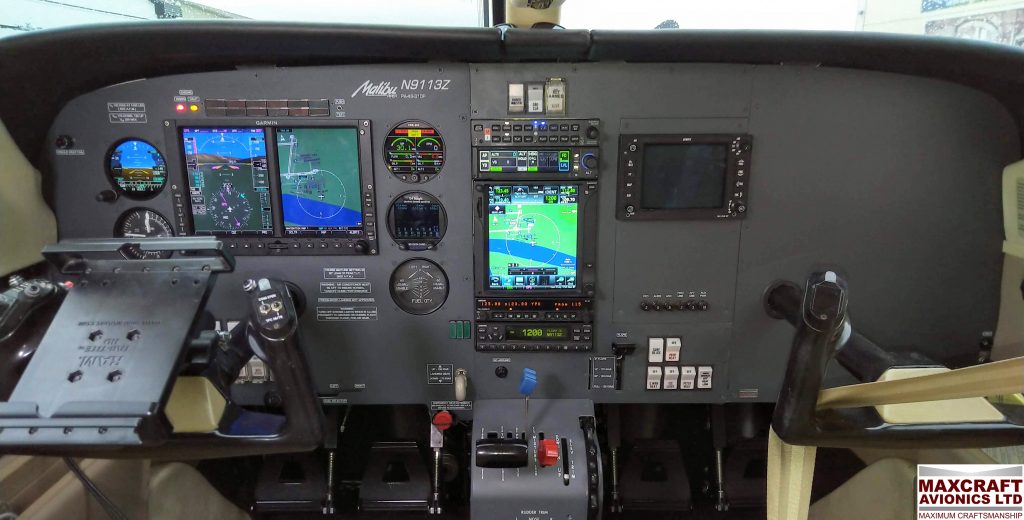 Aircraft & Owner:
The Piper Malibu is a single engine, pressurized high-performance aircraft. The PA-46-310P was the first production variant of the Malibu and obtained FAA certification in 1983. The owner and pilot purchased this aircraft in 2017 to use for pleasure flying, as well as business.
Need:
As almost every aircraft owner knows, no airplane is ever "complete". There is always an upgrade waiting, even after a complete glass panel installation. This Malibu is an excellent example of this philosophy. While it started off with very capable avionics, it has come to Maxcraft many times over the past few years, each time leaving a little more capable than when it arrived.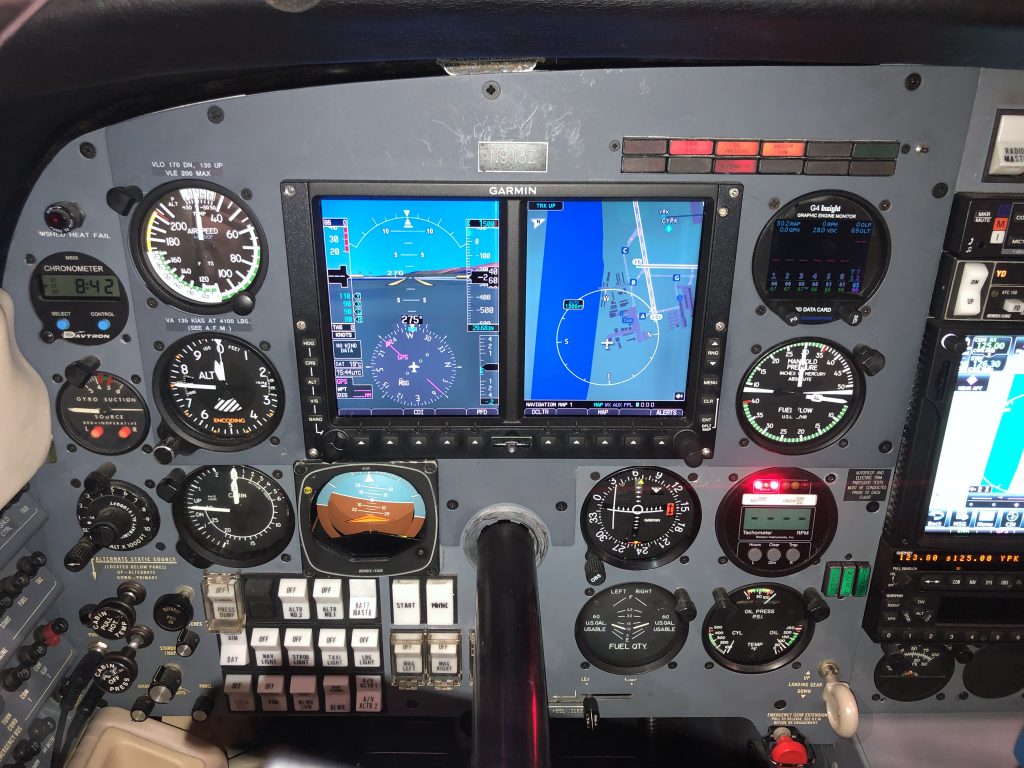 When the owner purchased this Malibu is came with quite well equipped, most notable was the Garmin G500 primary flight display, GTN 750 GPS/NAV/COM/Multifunction display, and even an Insight G4 graphic engine monitor. However, this owner has always strived to keep up with the latest technology and has continued to make small upgrades over the years.
NEW EQUIPMENT LIST
| | |
| --- | --- |
| GI 275 | Touchscreen Electronic Flight Instrument (Garmin) |
| GTN 750 Xi | GPS/NAV/COMM/MFD (Garmin) |
| GTX 330ES | ADS-B "Out" Transponder (Garmin) |
| GMA 350c | Digital Audio Panel with Bluetooth (Garmin) |
| CGR-30C | Engine Monitoring System (Electronics International) |
| KFC 230 | AeroCruze 230 Touchscreen 3-axis Autopilot (BendixKing) |
| TA 202 | Lighted Dual USB Type-A Charger (Mid-Continent) |
| MaxPanel | Custom Powder Coated Instrument Panel (Maxcraft) |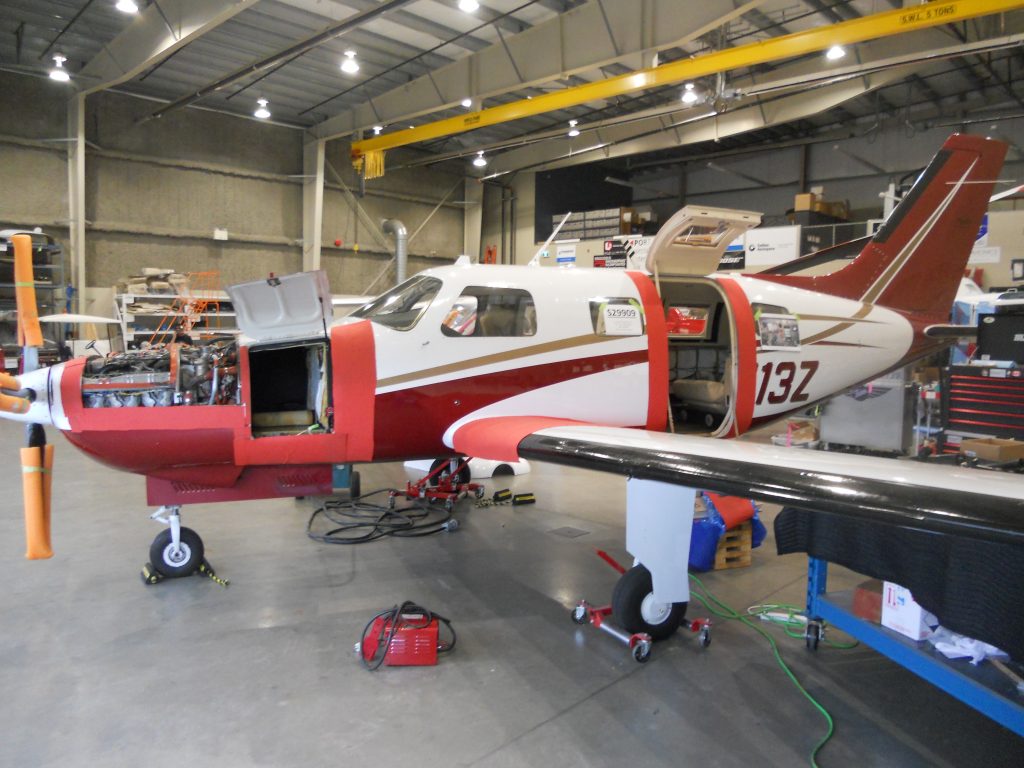 Maxcraft Solution:
This Malibu has become a well-known staple at Maxcraft. It has been to our hangar three times for major upgrades, and almost a dozen other times for small snags or simple software updates. Maxcraft has continued to provide support to this aircraft by recommending new technologies as they are released and suggesting the best option on the market as the pilot requests new features.
The Story:
Part 1:
The first major upgrade to this Malibu happened shortly after it was purchased. Although it was not the most intensive of our three upgrades so far, it was equally as important. This upgrade included installing a new ADS-B transponder which is particularly important for this aircraft as it is registered and mostly operates in the United States, where much of their airspace requires a transponder capable of ADS-B out.
The Garmin GTX 330ES was an obvious upgrade path from the already installed GTX 327. The primary difference between these two transponders is the ADS-B out capability. Swapping between these two units is a relatively simple job, and pilot operation is almost identical making this one of the best options for our customer.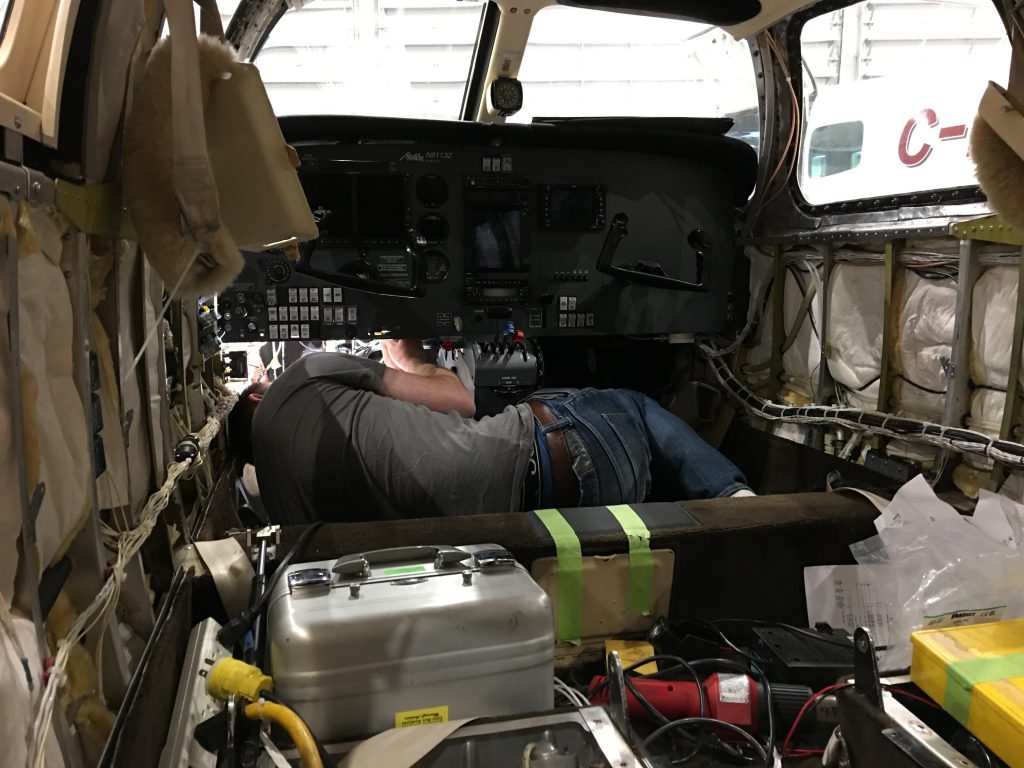 While we were installing this new transponder, we also took the opportunity to upgrade the firmware on both the G500 primary flight display, and the GTN 750 GPS/NAV/COM/MFD. Garmin continuously releases new software for many of their products. These updates can range from anything as simple as bug fixes, to even adding new features to a device already installed in the aircraft.
Part 2:
This Malibu's second visit to Maxcraft was the most significant of the three big installs. This phase included fabricating a brand new, powder coated and laser engraved instrument panel, replacing many of the analog backup instruments with a GI 275 electronic flight instrument, and adding a CGR-30C engine information system and cluster gauge replacement to complement the Insight G4 graphic engine monitor.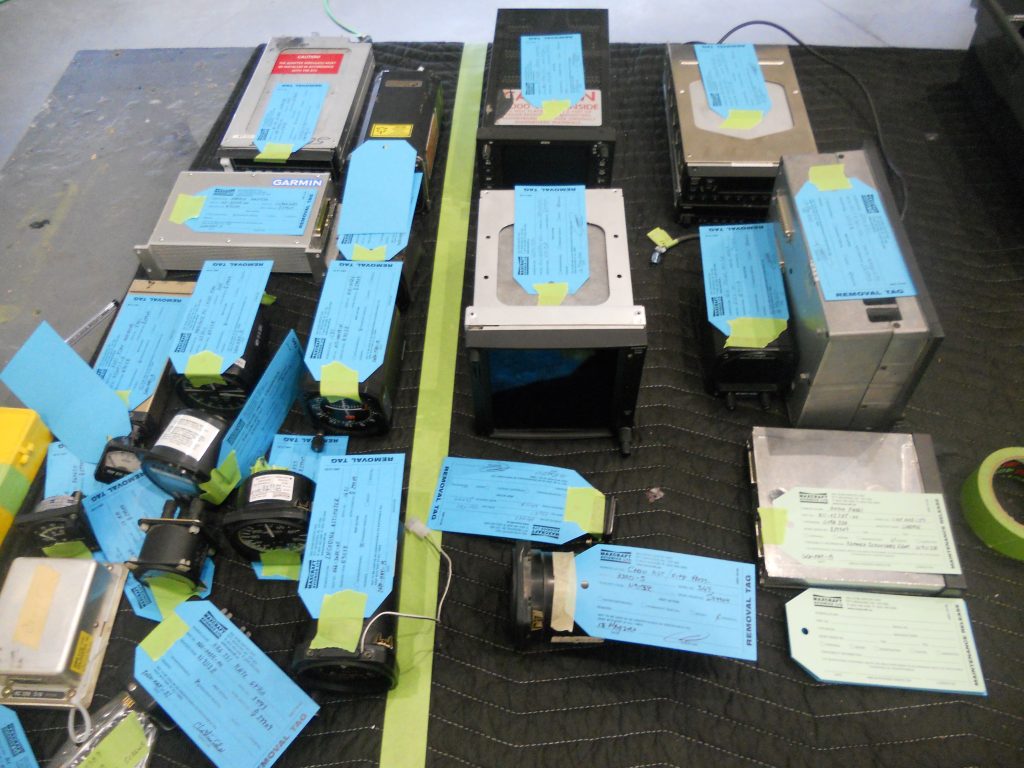 We installed a new GMA 350C audio panel from Garmin. The GMA 350C is an all-digital audio panel with all the advanced features you come to expect from a modern audio panel. Virtual 3-D sound splits up sounds from different sources and makes it seem as though they are coming through your headset from a different direction allowing you to more easily differentiate between different radios, intercoms, or other audio outputs. The GMA 350C also features Bluetooth capabilities, allowing you to wirelessly distribute music or other sounds from a compatible device such as a mobile phone.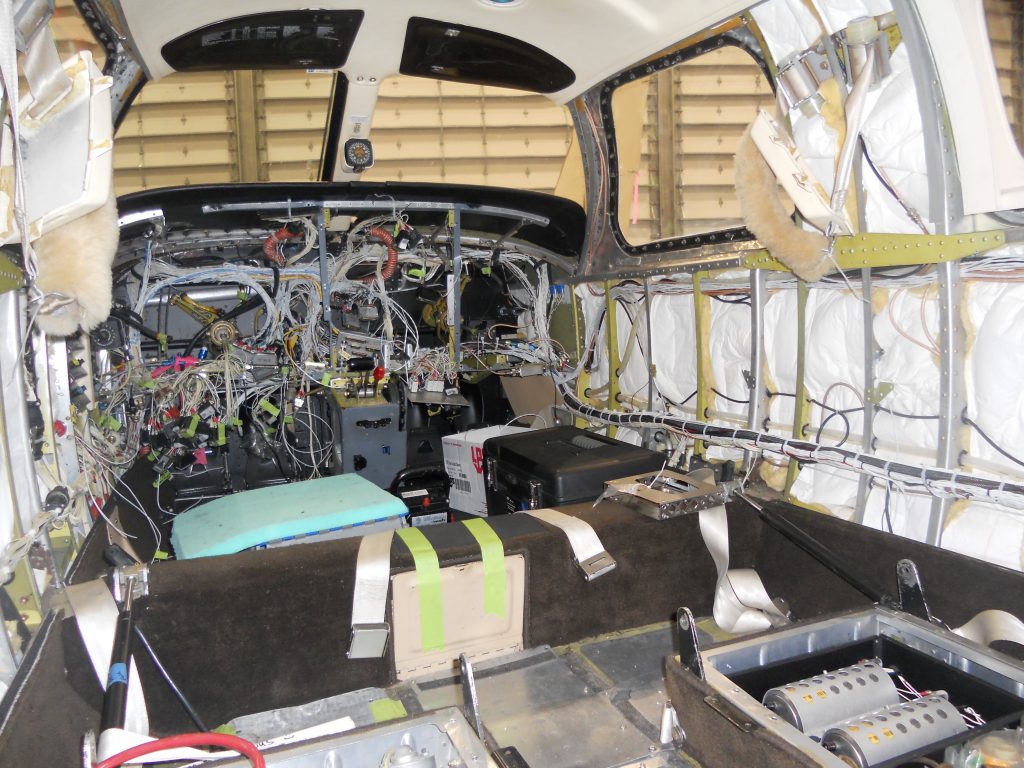 The GI-275 electronic flight instrument was selected to replace many of the standard instruments and gyroscopes.  The GI-275 will mostly act as a backup flight instrument in the rare situation the primary G500 fails. THE GI-275 provides the pilot everything they need to continue flying the plane, even in instrument meteorological conditions, such as attitude, airspeed, altitude, and it can even integrate with the autopilot to show flight direction. By being completely solid state, the GI-275 removes the costly overhaul process required when the traditional gyroscopes found in old instruments fail.
The CGR-30C is a completely digital replacement for the original engine indication gauges. Although this Malibu was already equipped with an Insight G4 graphical engine monitor, the CGR-30C from Electronics International is certified as a replacement to the factory gauges instead of an augmentation. Although the Insight G4 could be removed legally, we opted to retain it due to it having some features the CGR-30C lacked. The Insight G4 has one of the best leaning processes on the market, making the complex process of leaning your mixture easy with specialized reports.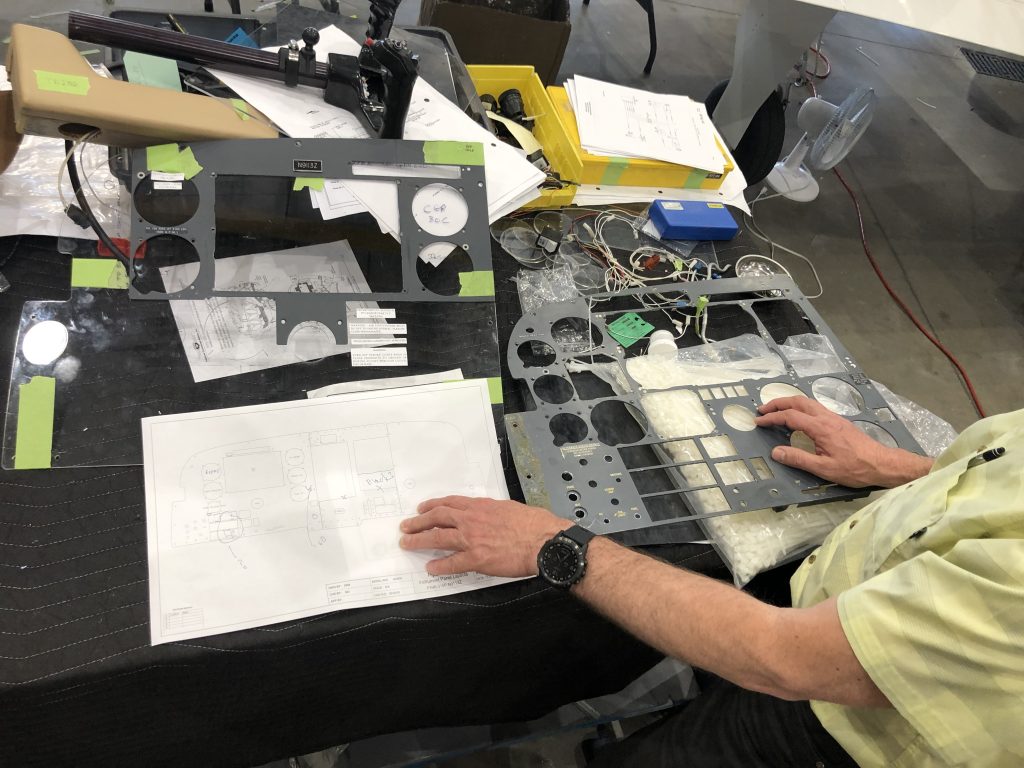 Since we were replacing or even completely removing many of the existing instruments and indicators on this panel, we decided to fabricate a new panel to give everything a clean and uniform appearance. The new panel was designed using the customers feedback and was laid out exactly how they wanted it. After the design was finalized, the panel was cut on our in-house CNC router, powder coated, then all the relevant placards were laser engraved to produce a final product better than any other.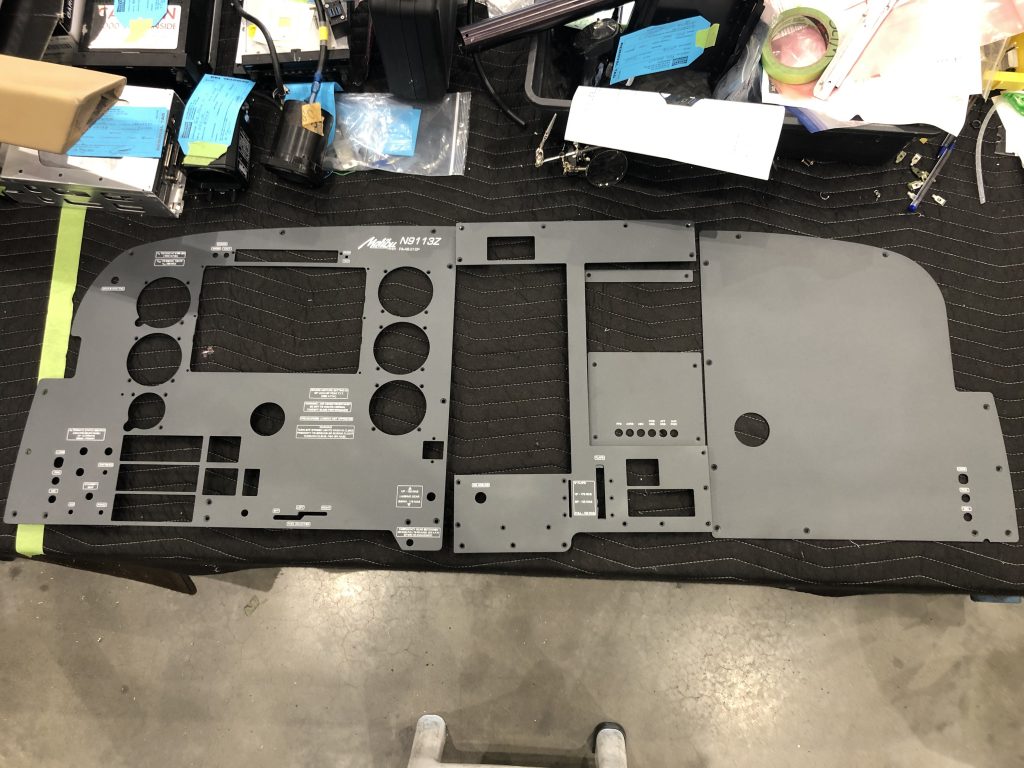 The KFC 230 AeroCruze autopilot makes it easy to upgrade older KFC 150 and 200 autopilots to a more modern and featureful model. The KFC 230 is one of the only autopilots on the market with a touchscreen control interface, but it also includes physical buttons and knobs for commonly used functions. The KFC 230 has everything you could ever want from an autopilot including complete 3-axis control, automatic wing levelling from unusual attitudes, and coupled approaches.
We also added some small quality of life items during this upgrade such as a LEMO powered headset jack on the co-pilot panel, a USB charging port in the rear passenger compartment, and a variety of yoke mounted switches. These yoke switches allow to pilot to control a wide variety of functions without needing to look away of reach over to the avionics. The pilot has access to switch between two radio frequencies, activate the push to command, or mute the traffic warning system.
Part 3:
The third, and most recent simply involved swapping out the existing GTN 750 with a GTN 750 Xi, the next generation of touchscreen flight navigators from Garmin. The 750 Xi is a simple slide in upgrade from the original 750 with no need to replace any mounting trays or electrical connectors. The 750 Xi features higher processing speeds, a higher resolution display, and an even wider set of capabilities. The 750 Xi also brought with it one of Garmin's more recent innovations, Smart Glide. Smart Glide is a tool designed to ease the pilot workload in the event of an engine failure. By automatically setting the autopilot to pitch for the best glide speed, as well as showing an always updating map of where the aircraft is able to glide to, Smart Glide will also indicate if there is a suitable runway within gliding distance. Smart Glide can be enabled in an emergency by either hitting a dedicated button, or through the GTNs touch screen.
As usual this visit also included updating firmware on all the avionics to the latest version if available. We know this won't be the last time we see this Malibu, and we are excited to update this article after our next upgrade.
Customer Comments
"We have visited Maxcraft regularly over the past three years for a variety of installations and avionics software updates. From day one the Maxcraft team has been a pleasure to work with. Steve Nunn (a pilot and aircraft owner himself) always takes time to listen to the thoughts and wishes of the owner and share his perspectives and suggestions, prior the planned installation. I want to especially thank the shop and installation team. From emergency squawks to complex installations, everyone is always friendly and accommodating and the work is always professionally done. As avionics continue to evolve Maxcraft will continue to be our avionics dealer of choice."
R Friesen
Malibu Owner