While in the process of purchasing this Cessna 185 from the United States, our customer came to us wanting to completely transform his new aircraft, while also getting a turn-key solution for the bureaucratic task of importing it into Canada. Transforming this Cessna 185 started by removing almost all the existing avionics and instruments, and replacing them with a modern stack, centered around the Garmin G3X and GTN 750 Xi. Maxcraft also coordinated the production and installation of an all-custom leather interior by Port Interiors to make this plane look and feel nicer than when it left the factory.
Amphibious Cessna 185 Import and All Glass Panel Installation
1979 Cessna A185F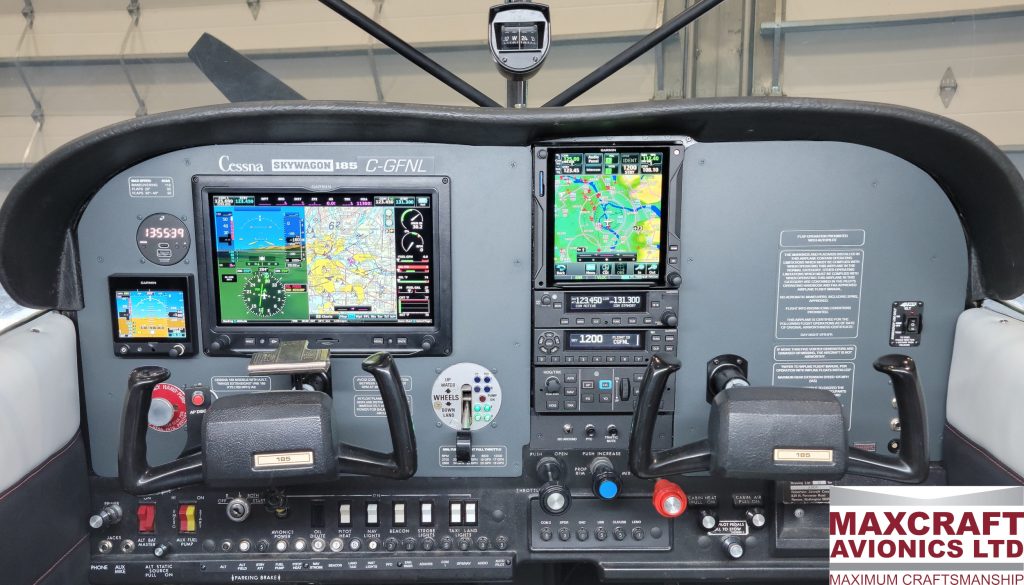 Aircraft & Owner:
The Cessna 185 is a descendant of the Cessna 180 with a more powerful engine, and a slightly longer airframe, thus giving it a higher useful load. While the Cessna 185 traditionally came in a tailwheel configuration, it was also popular to place it on either straight floats, or as we see on this 185, amphibious floats. This Cessna 185 was purchased from the United States by our customer who lives on the Atlantic coast of Canada.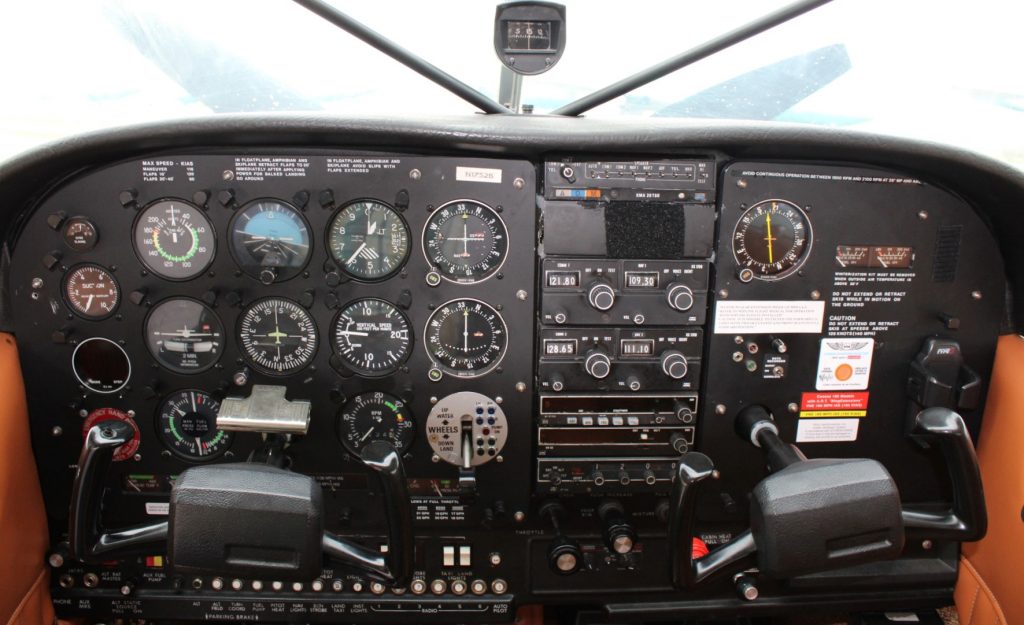 Need:
Our customer was early in the process of purchasing this aircraft from the United States when he came to us for assistance with importing the aircraft into Canada and giving the aircraft a makeover with all new avionics, and a luxurious leather interior. As a first time aircraft owner, our customer needed some guidance with both the import process, registration, as well as selecting the best avionics for his needs.
NEW EQUIPMENT LIST
| | |
| --- | --- |
| G3X Touch | 10.6" Touchscreen Primary Flight Display and Multi Function Display (Garmin) |
| G3X EIS | Integrated Engine Information System (Garmin) |
| GTN 750 Xi | GPS/NAV/COMM/MFD (Garmin) |
| Flight Stream 510 | Wireless Cockpit Connectivity (Garmin) |
| G5 | Electronic Flight Instrument (Garmin) |
| CH93 | Chronos Digital Clock / MAX Power USB Charger (Mid-Continent) |
| GMA 35C | Remote Mounted Audio Panel (Garmin) |
| GTR 225 | VHF Communications Transceiver (Garmin) |
| GTX 345 | ADS-B In/Out Transponder (Garmin) |
| GSB 15 | USB Type-A and Type-C Charging Ports (Garmin) |
| GFC 500 | Digital Autopilot (Garmin) |
| Artex 345 | 406MHz Emergency Locator Transmitter (Artex) |
| LED Lighting | LED Taxi, Landing, Nav, and Beacon Lights (Whelen Aerospace Technologies) |
| LEMO Jacks | Powered Headset Jacks |
| MaxPanel | Custom Powder Coated Instrument Panel (Maxcraft) |
| Seatbelt Kit | Inertia Reel 4-Point Shoulder Harness System Kit (B.A.S. Inc) |
| Interior | Custom Made and Fit Leather Seats and Interior (Port Interiors) |
Maxcraft Solution:
The Garmin G3X made it's first appearance in the experimental world, named G3X with the X standing for eXperimental. Garmin then got certification for the G3X to be installed in type certified airplanes and it has become a popular alternative to a full blown G500 primary flight display, primarily for the lower cost of entry. For a lower price point you still get a large, touchscreen primary flight display which integrates seamlessly with other Garmin products such as GTN navigators and engine monitoring systems. Alongside the G3X, we installed Garmin's engine indication system which will display data on the right side of the G3X display and allows the pilot to download engine data from flights via the Garmin Pilot app for review, or to send to his mechanic.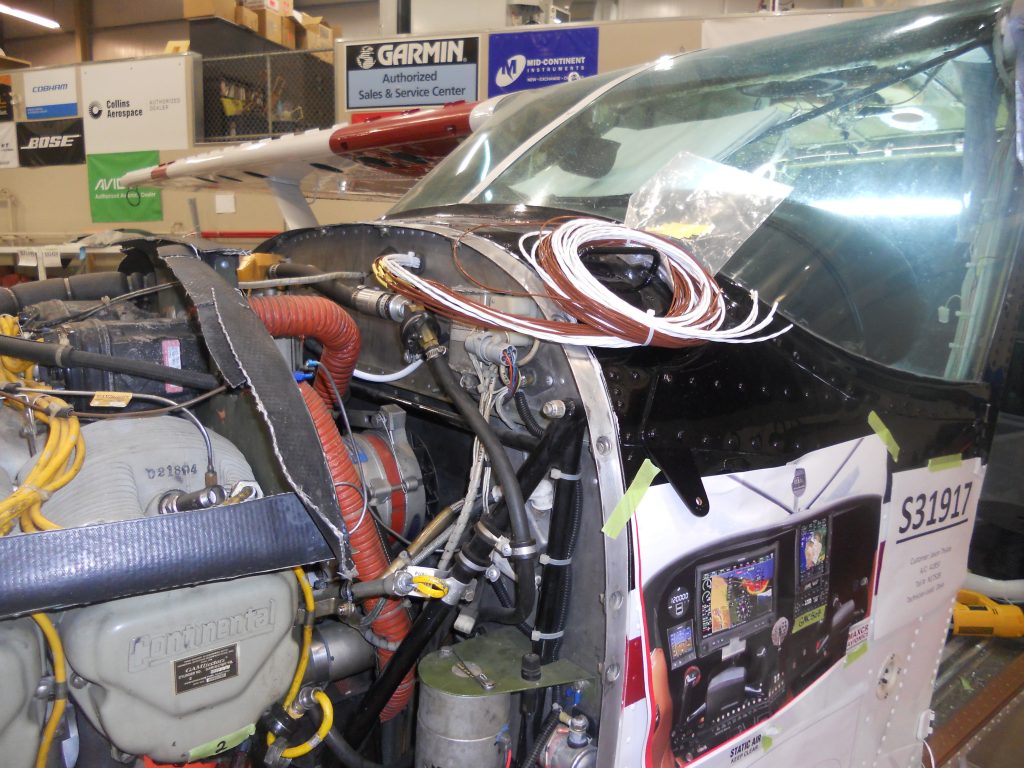 The Garmin GTN 750Xi is one of the most advanced navigators on the market. This 6.9" touchscreen takes on the role of a traditional nav/com, GPS, and multifunction display. The touchscreen interface coupled with the easy to navigate menu system which will be familiar to anyone who has used a recent Garmin product make tasks which would be time consuming, or draw attention away from more important things easy, and faster. The FlightStream 510 which is installed in the SD card expansion slot on the GTN 750Xi brings even more capabilities to the GTN 750Xi. The ability to wirelessly transfer flight plans from Garmin Pilot or Foreflight, easy updates of aeronautical charts and other databases, and even the ability to view ADS-B in traffic on a supported mobile device and app is the perfect finishing touch for an already impressive device.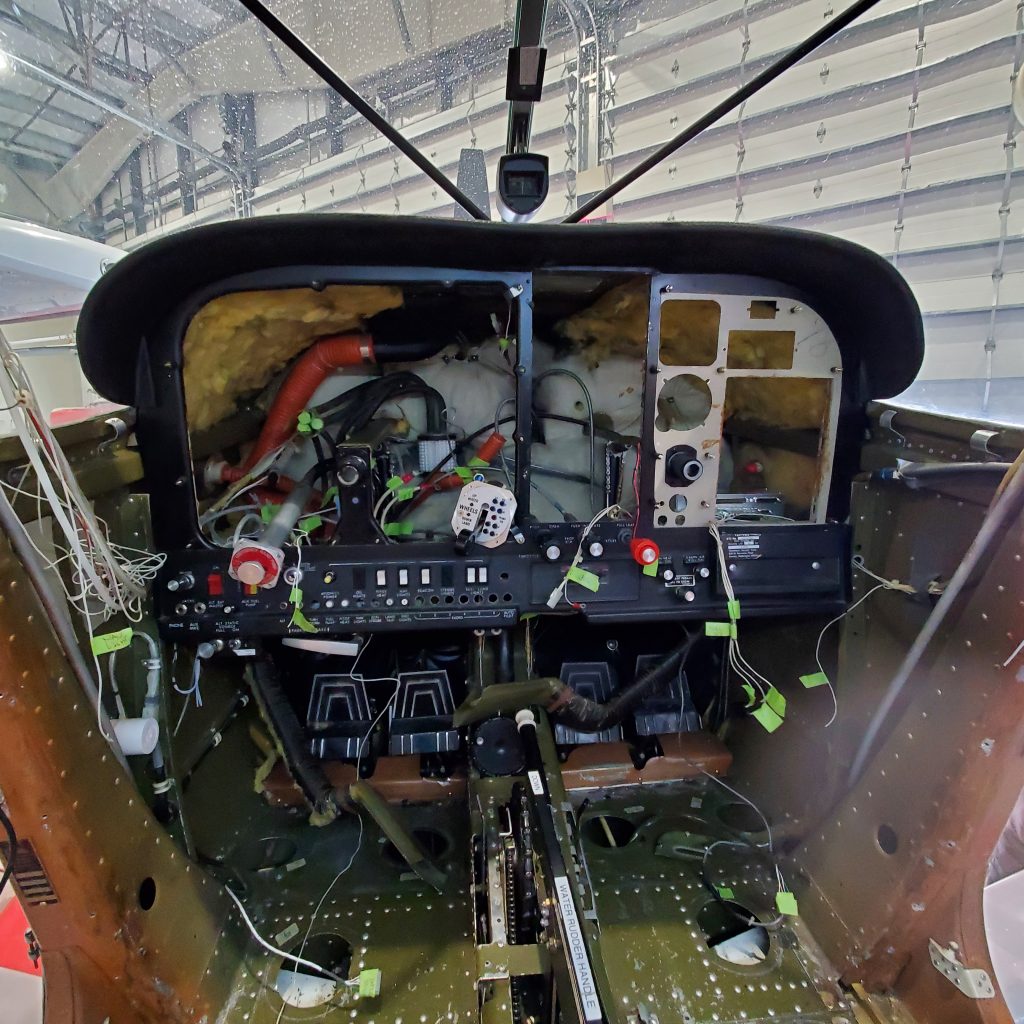 Designed specifically for use with the GTN 750Xi, the GMA 35C remote audio panel brings all the advanced features found in a digital audio panel, while saving panel space. The GMA 35C mounts on the backside of the GTN 750Xi and it controlled entirely through the touchscreen making any option just a few taps away.
With any electronic primary flight display, it is a legal requirement to add in an emergency backup flight instrument in the rare possibility a total electrical failure is experienced in flight. The Garmin G5 is the perfect option for a backup. The G5 features a built-in battery backup with up to 4-hours of power. The bright 3.5" colour display is easy to read in any conditions whether it's a bright sunny day, or deep in instrument meteorological conditions when everything else has failed.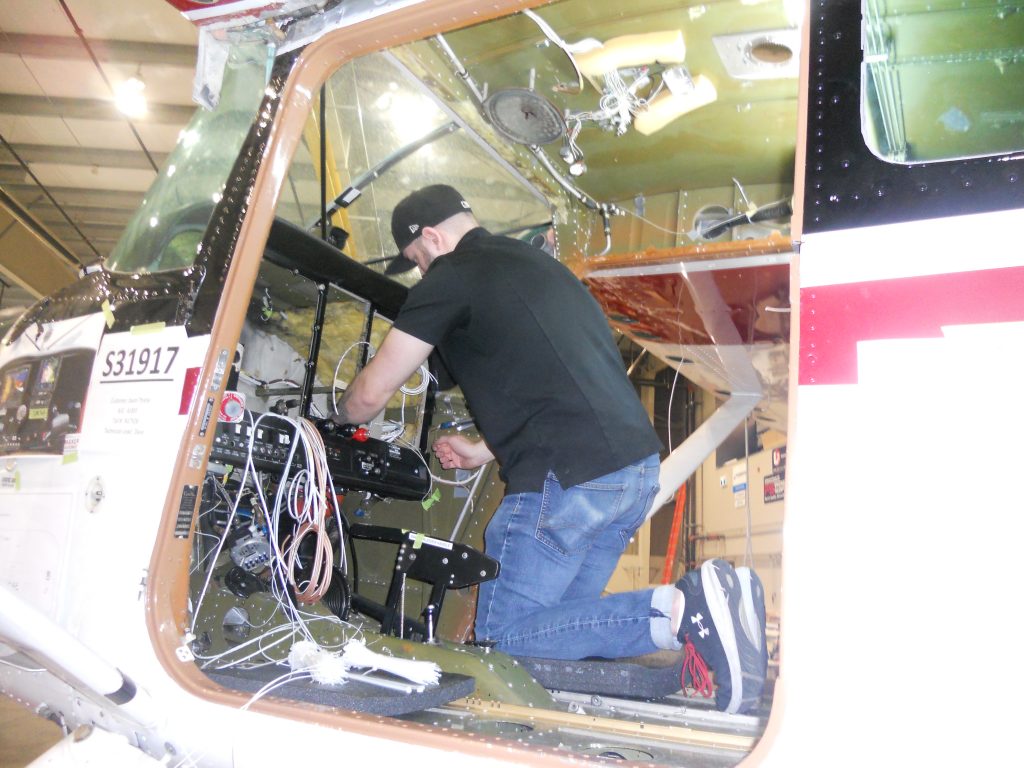 While the GTN 750Xi has a built-in VHF airband transceiver, many pilot like to have a separate radio to monitor multiple frequencies, and as a backup in case the primary radio fails. The GTR 225 is a versatile radio with a sunlight-readable display, and an easy to use frequency lookup by airport identifier. Simply enter an airport code and the GTR will automatically tune to that frequency. The GTR will also do the opposite, when a frequency is entered. The airport identifier and purpose will be displayed below the frequency, such as CYPK ATIS, or CYPK TWR.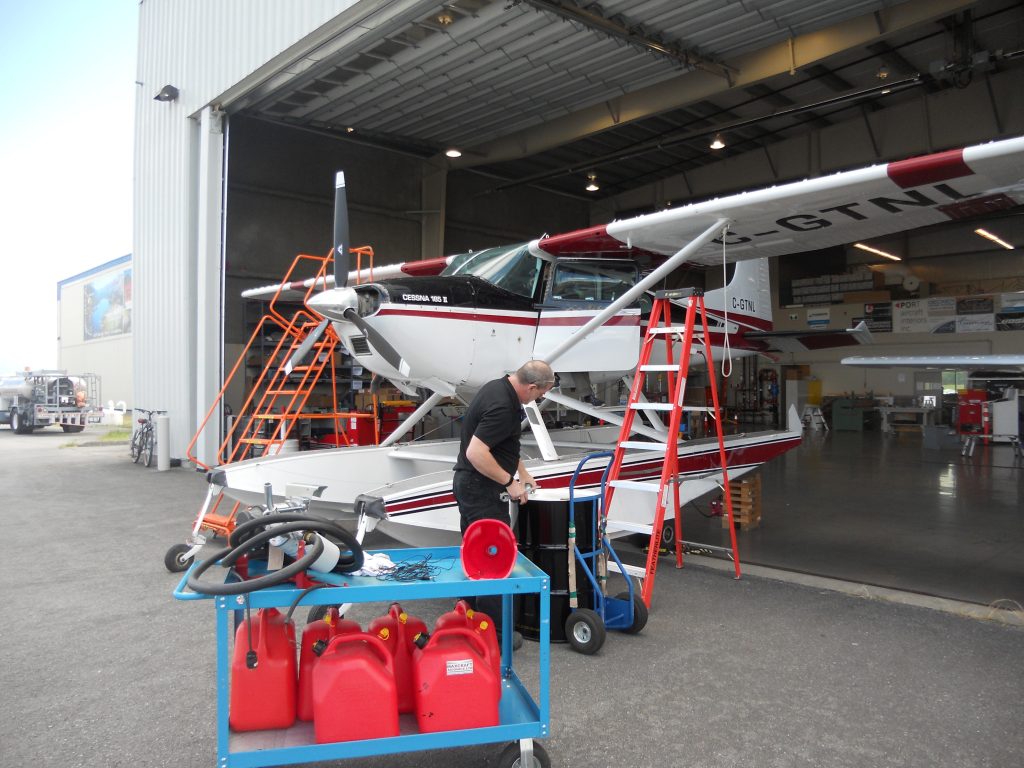 The GTX 345 from Garmin is an ADS-B in and out transponder. Meeting the requirements to fly in certain airspace in the United States where ADS-B is mandated, the GTX 345 also integrates with the GTN 750Xi to display ADS-B traffic targets, as well as allowing the pilot to adjust settings such ad mode, or squawk code, or even ident all using the GTN's touchscreen.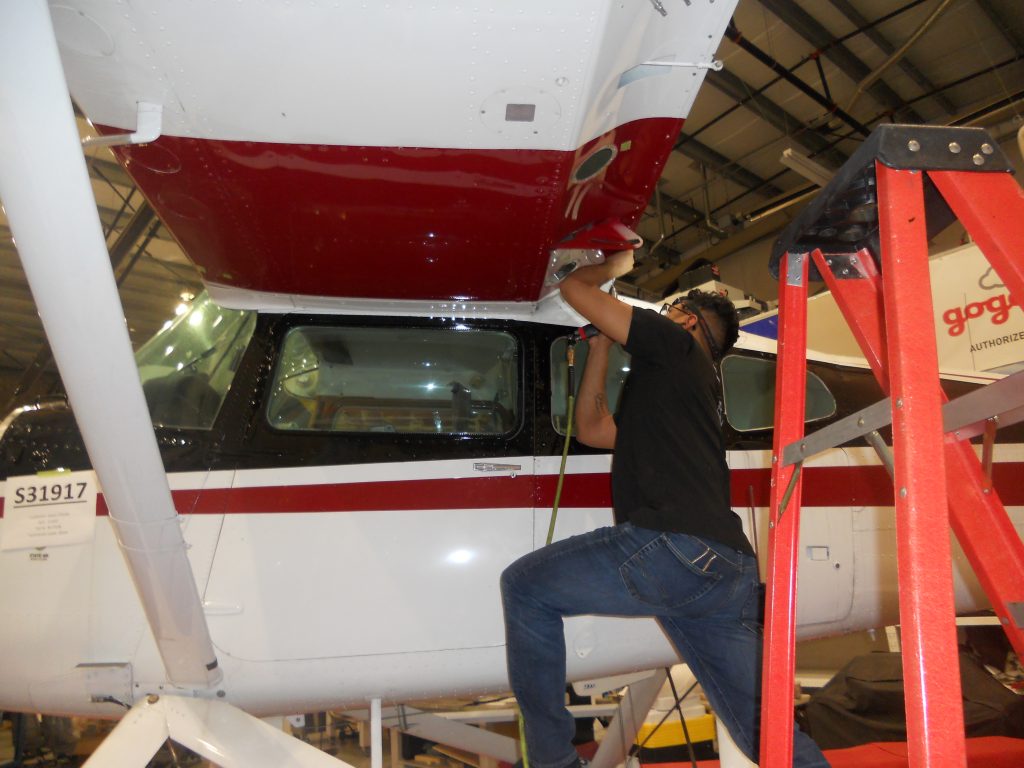 An all-digital autopilot can offer precise, and smooth flying, and can dramatically reduce pilot work load on IFR flights. Garmin has one of the best and most cost-effective digital autopilot options for general aviation aircraft. The GFC 500 offers all the capabilities you would expect from a two axis autopilot, as well as a wide range of safety features. The dedicated return to level button on the GFC 500 can make recovery from unusual attitudes as easy as pressing a button. Overspeed, underspeed, and electronic stability and protection, will gently pull the controls back towards safety if the pilot is approaching an unsafe flight condition.
As this aircraft will be operating in some remote parts of Atlantic Canada, as well as making remote water landings, a 406 MHz emergency locator transmitter is a must, both legally and logically. The Artex 345 will transmit on both the VHF emergency frequency of 121.5 MHz, as well as the satellite frequency of 406 MHz if a crash is detected, or if the panel mounted switch is set to on. This will alert emergency crews of an emergency, as well as the ELT's current location in even the most remote of areas.
While many of these upgrades were major pieces of equipment, we also installed some smaller quality of life items. Both the GSB 15 USB charger, and the CH93 digital clock and high-power USB charger will give the pilot and passengers more than enough power to keep all their devices charged, even on the longest of flights. All the exterior lights were replaced with super bright LED lights from Whelen Aerospace Technologies, which will make this Cessna 185 super visible to other aircraft both during the day and at night.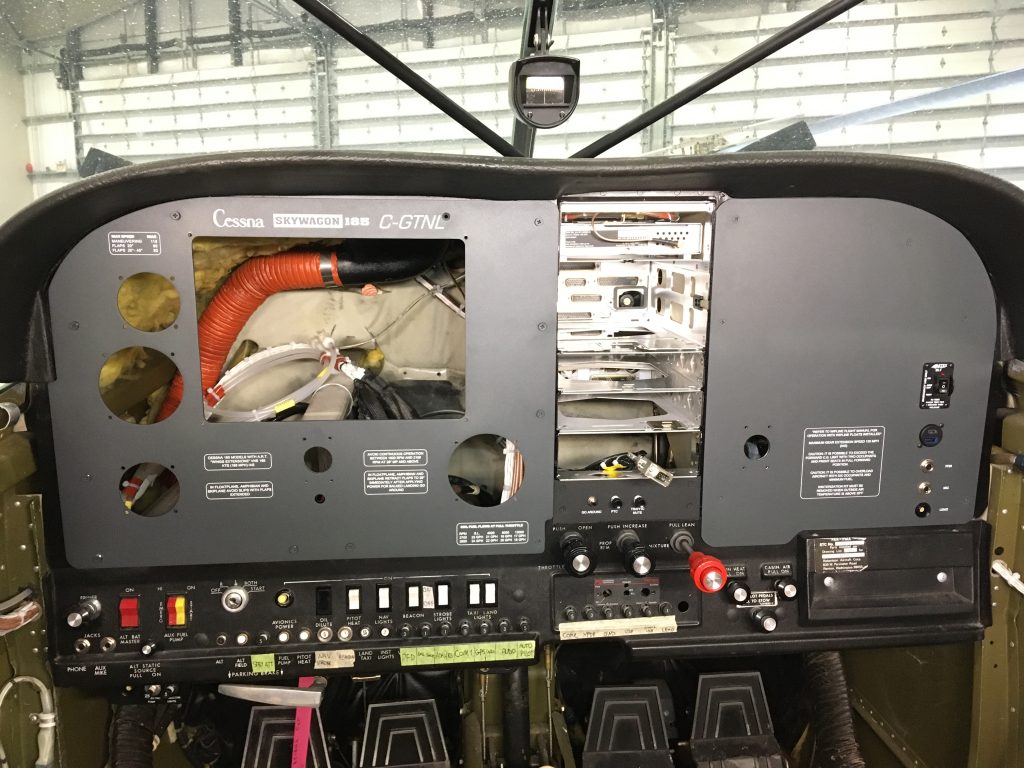 The Story:
As this aircraft came to Maxcraft with an N registration from the United States of America, we were tasked with both importing the aircraft, and completing all of our planned avionics upgrades. Maxcraft provided a turnkey solution for the import. We acted as the customers agent and completed all the paperwork required to clear the aircraft through customs, deregister it with the FAA, and import it to Canada which included completing many inspections to confirm it's airworthiness, obtain a new C tail number, and certificates of airworthiness and registration from Transport Canada.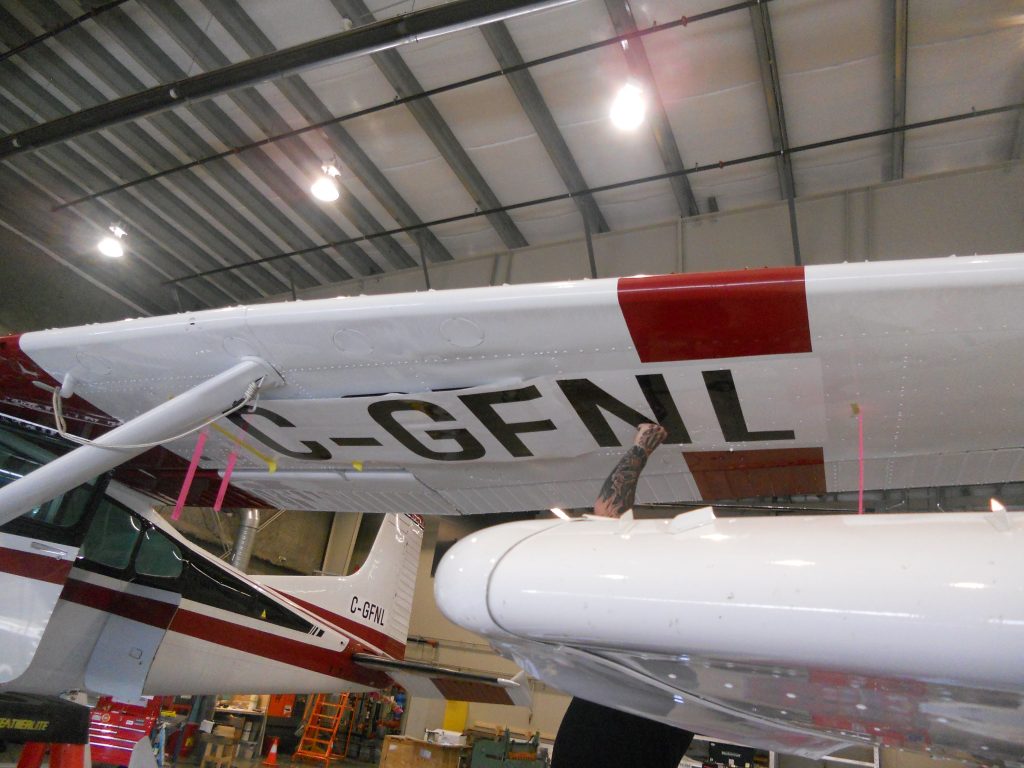 Along with the importation and avionics upgrades, we teamed up with one of our Trusted Affiliates, Port Interiors. Port Interiors specializes in custom interiors for aircraft of all sizes. They design, manufacture, interiors with meticulous precision and give every job a high level of attention to detail, and their work speaks for itself. The beautiful leather seats and panels make this 1979 Cessna feel more luxurious than a brand-new Cessna coming out of the factory.
Interior:








Customer Comments
"As a new entrant to aviation the task of purchasing a plane , import and avionics upgrades can be overwhelming. But after making a connection with Steve Nunn and Maxcraft the process became much easier. I wanted a one stop shop and somebody to guide me through the process of upgrading without being oversold. Steve helped me with selecting my 185 and after reviewing the electronic log books, pricing and airframe then we finalized the deal. Maxcraft helped in the complete process of importing, customs, registration and the annual inspection. Once my 185 Amphibious arrived at Maxcraft things started moving fast. Steve established my needs and we configured the aircraft to modern day standards and beyond. Maxcraft's recommendation of having Port Interiors do the complete interior upgrade was a home run. Since taking delivery I couldn't have been more satisfied with my final product. My Cessna 185 Amphibious is a keeper and it turns heads at every stop when people look inside and look at the dream panel! Thks to Steve, David and Daryl and the fine people at Maxcraft for making my dream a reality."
Jason Thistle