Cessna 182 L3 Lynx
It's been just four months since L3 unveiled its new low-cost ADS-B solution, the L3 'Lynx'. Today, Maxcraft has the privilege of performing the very first Lynx installation in Canada (and one of the first few in the world). The L3 Lynx NGT-9000 is an ADS-B touchscreen transponder and multi-function display. With ADS-B in, FIS-B, and an internal WAAS GPS receiver, it can display traffic, weather, and moving maps… all within the form-factor of a legacy transponder with no remote boxes. As an added benefit the Lynx has the option to enable the built-in L-3 NextGen ActiveTraffic system, which blends ADS-B with active traffic data, providing an uninterrupted display of aircraft equipped with Mode A, C and S transponders. This is especially useful in Canada, where ADS-B traffic is not available.
The benefits of a traditional panel footprint are especially apparent on an aircraft like this. With only 560 hours logged, this Cessna 182P 'Skylane II comes to us completely stock, and equipped with all its original Cessna avionics from the 1970's. Despite this (or perhaps because of this) the Lynx NGT-9000 feels right at home in the center avionics stack with no structural modification necessary.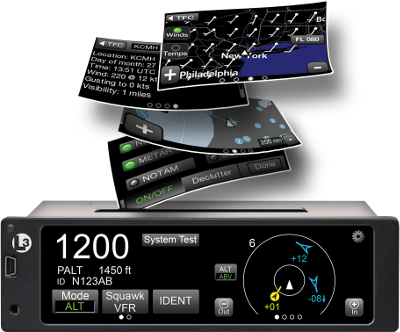 This installation is now complete. We have final panel pictures to share, as well as a short video showing the L3 Lynx in action.
Summary Of Final Installed Systems
NGT-9000 "Lynx" MuliLink Surveilence System(L3)
GTN750 GPS/NAV/COM (Garmin)
GNC225 Nav Com System(Garmin)
Flight Stream 210 (Garmin)
406AF Compact ELT (Kannad)
GMA 340 Audio System – four place intercom (Garmin)