New Products
We like to keep you current on the newest technology. Here you can find significant new product announcements.
Give us a call to hear about specific products applicable to your aircraft!
---
July 2016
Pilots aren't the only people who work 12-hour shifts with noisy heavy machinery — so why are they the only ones with decent headsets?
The Maxcraft RHCS-100 brings aviation-grade noise cancellation to jobsites on land and at sea.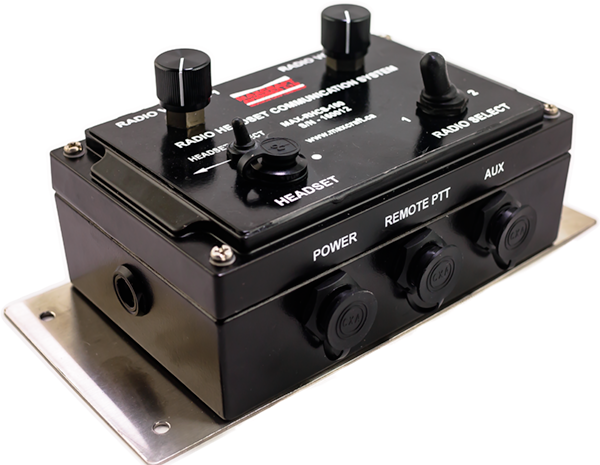 The RHCS-100 Radio Headset Communication System is a high-quality radio and intercom system that allows the use of an aviation-grade Active Noise Reduction headset alongside non-aviation industrial radios. (For those unfamiliar with ANR technology, it reduces unwanted sound by the addition of a second sound specifically designed to cancel the first.) Widespread adoption of ANR technology in aviation is due to communication-critical, high-noise working environments being so ubiquitous throughout the industry. This means that the best active noise-cancelling headsets available are designed primarily with aviation in-mind. For those outside our industry, this is a problem. While there are many work environments and industries in which aviation-grade noise cancellation is needed, the unfortunate truth is that none of the currently available commercial or industrial headset systems come anywhere near the level of quality or effectiveness that is available in a similar aviation product. The Maxcraft RHCS-100 is an attempt to fill this capability gap and bring better noise cancellation down to earth.
The RHCS-100 was originally commissioned as a custom solution for a major heavy civil construction contractor here in BC. Our client, who often deals with heavy earth-moving equipment, had long searched for adequate noise cancellation solutions and always been disappointed – nothing worked. One day, a short helicopter flight revealed that aviators had long been using equipment that out-classed everything he had tried. Our client's story is not unique. The demand for better noise cancellation among non-pilots has led many to consider re-purposing aviation headsets outside of the cockpit. Until now, there have been no off-the-shelf products which integrate aviation headsets with non-aviation industrial radios, leaving only unreliable jury-rigged solutions.
The RHCS-100 takes the idea of using aviation headsets on the ground, and runs with it. It is a complete all-inclusive solution with headset, radios and intercom. It ensures reliable all-day operation of premium ANR, but without the use of batteries. Instead, the headset receives power through the same jack it receives audio. The intercom features crystal-clear selectable audio and heavy-duty construction, while being fully compatible with its matching industrial radio. Taken together as a complete system, the RHCS-100 it is the ideal solution for any working environment that requires the high standards of reliability, comfort, and noise reduction that a modern aviation headset can offer.
For more information, or to purchase an RHCS-100, please contact sales@maxcraft.ca or call 604-465-3080.
---
February 2016
The new Aera 660 with feature-rich navigation, stunning display and streamlined database updating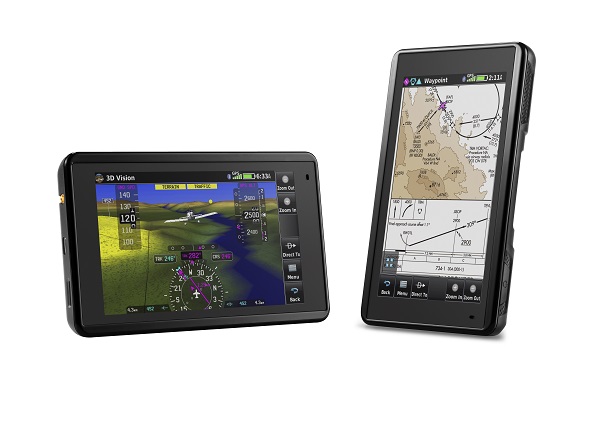 We're very excited to announce the coming availability of Garmin's new Aera 660 handheld GPS. In comparison to Garmin's previous Aera 796, the Aera 660 will be more affordable, feature current-generation technology, and include options for low-cost database subscriptions. While Maxcraft will be bringing in several units as soon as they are available (Garmin says, around the end of the month) these ones are going to go fast, so give us a call to reserve yours now. Garmin has provided a summary of the new features are specs on the Aera 600, so if you're not sure what the fuss is about, have a read below.
The compact 5-inch capacitive touchscreen boasts a bright, sunlight readable display complete with rich, interactive maps and a built-in GPS/GLONASS receiver that can be viewed in portrait or landscape modes for optimum customization. The aera 660 encompasses many of the features of the renowned aera® and GPSMAP® aviation portable series, adding new Connext® wireless capabilities, Garmin WireAware™ wire-strike avoidance technology and more. New cost-effective database options along with built-in Wi-Fi® database updating capabilities allow customers to more easily access the most up-to-date data, including daily U.S. fuel prices. Bluetooth® supports the display of ADS-B "In" traffic and weather1 from a variety of sources, including the GDL® 39/GDL 39 3D, Flight Stream and the GTX 345 ADS-B transponder.
---
February 2016
GTX 335/345 provide a simple upgrade path for thousands of aircraft worldwide

Here at Maxcraft, we're very excited about Garmin's new All-in-one ADS-B transponders. GTX 335/345 transponders include Extended Squitter (ES) ADS-B "Out" with an option for a built-in WAAS position source as well as dual-link ADS-B "In." With the most compatibility options in the industry, these new transponders display on a wide variety of current and legacy Garmin displays, including select G1000 integrated flight decks. Regardless of the existing avionics configuration, the GTX 345 enables more capabilities for pilots by displaying ADS-B traffic, subscription-free weather, GPS position data and back-up attitude information within the popular Garmin Pilot and ForeFlight Mobile apps via Bluetooth and Connext technology. The GTX 335/345 come in an attractive size and form factor, making it easy to replace the most popular transponders in the industry, like the Garmin GTX 320, GTX 327 and many others. Remote options are also available for compatibility with the GTN™ 650/750 series and for select G1000-equipped aircraft.
---
August 2014
Garmin Flightstream 110/210
Part of the Garmin Connext™ family of flight connectivity solutions, the Flight Stream 110/210 is a small wireless gateway that is easily installed in your aircraft, enabling a combination of up to 4 compatible tablets or phones to stream information to and from your avionics system via Bluetooth®.The Flight Stream 110 offers GPS, attitude, weather and traffic streaming from the GDL 88 ADS-B datalink and GDL 69 SiriusXM datalink, while the Flight Stream 210 adds the capability for flight plan syncing with the GTN 750/650 series and GNS 430W/530W series navigators as well as the ability to display attitude information using an on-board AHRS.
As a result, you're able to use your mobile device's touchscreen as a true cockpit interface – capable of transferring flight plans, streaming high quality GPS and AHRS attitude information to Garmin Pilot's 3-D synthetic vision display, graphically depicting subscription-free weather and traffic with the patent-pending TargetTrend™ traffic and SURF technology display, controlling your SiriusXM system's audio entertainment channels and much more¹.

Wirelessly Link your iPad® to Your Avionics
Simplifies and streamlines your cockpit management
Works with the Garmin Pilot app on your compatible Apple® device and select Android tablets or phones
Enables traffic and weather from your avionics to be viewed within Garmin Pilot on your tablet
Easily load flight plans – including airways – from Garmin Pilot to your GTN 750/650 series or GNS 430W/530W series navigator (Flight Stream 210 only)
Provides rock-solid GPS location and AHRS attitude information to your tablet's Garmin Pilot navigation display
---
April 2014 (updated July 2014)
The New G3X Touch Flight Display
When we first heard about the G3X touch, many members of our staff were admittedly excited. Hyped even. By opening up some very advanced and previously exclusive avionics technology to the homebuilt and experimental aircraft market, the G3X touch promises to be a real game-changer. Never before has this kind of capability been available at this price, or in this category. And because Garmin's Team-X group of engineers are homebuilders and pilots themselves, the G3X touch caters specifically to the needs of builders in the experimental aircraft category.
Built from the ground up with a native touchscreen interface – but retaining all of the tried and true capabilities of the G3X – the new G3X Touch is the smartest, most advanced large-format flight display designed and priced specifically for experimental/amateur-built aircraft.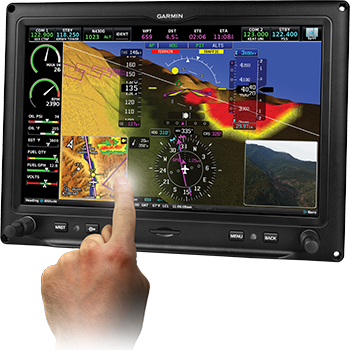 With up to three large, high-resolution 10 or 7 inch displays, the G3X Touch offers incredible installation flexibility. Add the optional GTR 20 remote comm to tune frequencies with only a few touches and gain powerful features like 3D Audio that are typically only found in audio panels. Consider the GTX 23 ES remote transponder to free up even more valuable panel space for your displays, as well. Terrain/obstacles alerting, worldwide geo-referenced FliteCharts® and SafeTaxi® airport diagrams SiriusXM® weather, ADS-B "In" traffic and weather and angle of attack sensor can all be added easily. Advanced touchscreen flight displays, at a price within reach. Available from $5,499 USD
---
March 2014
New GRA 55 Radar Altimeter and GI 205 Indicator
This comprehensive radar altimeter solution expands upon Garmin's high-performance, all digital GRA 5500 radar altimeter to include the GRA 55, a best-in-class and cost-effective radar altimeter designed specifically for helicopters and general aviation aircraft. The GRA 55 leverages Garmin's patent-pending digital signal processing technology that works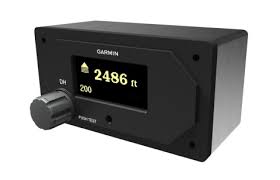 Patent-pending technology in the GRA 55 incorporates built-in self-test monitors that continuously cross check the data and system integrity, assuring the pilot of an accurate measurement of the height above ground, even over challenging ground conditions. This technology also provides for a simpler installation, with easy calibration, and eliminates the requirement for long antenna cables that are traditionally required for the installation of radar altimeters.
The GI 205 stand-alone indicator features a vibrant OLED display with full 180-degree viewing angle, allowing radar altimeter indications to be seen easily in all types of flight conditions, day or night. Visual and audible alerts are available to ensure all altitude indications are clearly presented in-flight. Pilot-selectable decision height (DH) is easy to select using a knob, and upon arrival at the DH, a "minimums, minimums" voice callout or traditional audible tone is available. Adding to situational awareness, an intuitive graphical trend indicator displays vertical velocity information, so that altitude trend can be monitored at a glance and corrections can be made promptly to avoid inadvertent climbs or descents.
For Part 135 helicopter operators, the GRA 55 fulfills the radar altimeter equipage requirement recently established by the FAA, and the GRA 55 paired with the GI 205 provides the best-in-class solution to meet these new requirements. Coupled with the GI 205 stand-alone indicator, operators can incorporate a complete, cost-effective radar altimeter solution into their flight decks without the need to purchase an entire flight display system.
---
February 2014
Garmin® now offers TCAS II Change 7.1 Package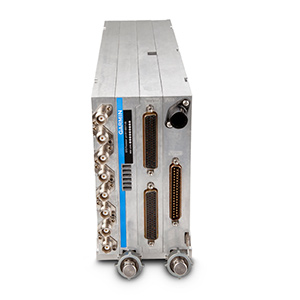 Garmin expands its portfolio of business aviation solutions with its new TCAS II package, including the GTS 8000 traffic processor and a pair of GTX 3000 transponders. The GTS 8000 and GTX 3000 incorporate the latest TCAS II Change 7.1, are FAA TSO and EASA ETSO authorized and available for installation and airworthiness approval.
The GTS 8000 enhances situational awareness by maintaining constant surveillance, identifying potential traffic conflicts, and issuing traffic alerts and maneuver commands to clear the aircraft of traffic conflicts. The GTS 8000 meets the most recent TCAS II/ACAS II standardization requirements, including Change 7.1 compliance, which will be mandated in many countries worldwide as early as 2014.
---
October 2013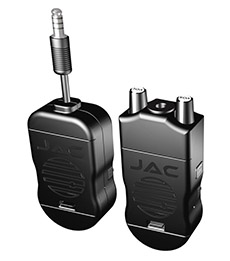 wiJAC™ Wireless Headset / Intercom Adapter
wiJAC™ is a great new wireless product for the commercial helicopter operator. The wiJAC™ Wireless Aircraft Headset / Intercom Adapter system consists of two components which provide a wireless full-duplex audio link between the aircraft's intercom system and the user's headset.
Adapters are available for different headset connector styles. The JA61 component plugs directly into the aircraft audio system via a standard headset jack and the JA60 component connects to a standard aircraft headset and attaches to the user's belt. Together the two separate components allow aircraft personnel free movement both inside and outside the aircraft. (Typical range 100 metres)
The headset adapter features only essential controls to ensure ease of operation.
(VOX and ICS volume control knobs, and on/off and PTT buttons.)
A light on each unit indicates when the RF communication link is established, and a micro USB charging port is provided for connection to a USB charging source.
Charging cable and rechargeable batteries are included with each system.
Multiple paired adapters can be co-located in the same aircraft without interference
The RF communication is encrypted to provide a secure link.
UPDATE MARCH 2014 The new wiJAC-D01 wireless dropcord is now available. The wiJAC-D01 provides the added freedom of a wireless system using a standard aircraft headset and the existing aircraft equipment via JA69 and JA68 component plugs. Controls on the headset adapter have been kept to a minimum to ensure ease of operation. As well as VOX and Volume controls there are two buttons, one for ICS PTT and one for TX (radio) PTT. When TX PTT is activated, the microphone audio is transmitted to the aircraft audio controller and then to the selected aircraft radio.
---
G4 Engine Monitor from Insight
Insight Instruments Corp. is now shipping the new G4 Single and the G4 Twin color engine monitors. This new product, with its larger 3 1/8 " form factor, addresses the need for a larger display to easily read the wealth of data presented. Using the latest computer technology, the G4 presents a clear, concise, graphic picture of all engine temperatures simultaneously for interpretation at a glance.
The new G4 offers all of the same features as the previously released G3 such as:
Colour-coded bargraph and digital values may be Primary for CHT, EGT and TIT.
Will operate stand alone but will also interface with other data sources and report information to other instruments like MFD's (multi function display).
The data-log files stored on the SD card can be easily retrieved by the pilot, in-flight or post-flight, for instant viewing or permanent record-keeping.
A vastly improved screen with special functionality for lean of peak operation.
Plug-compatible replacement for all previous GEMs. Insight offers a generous GEM trade-in to make upgrades easy.
---
August 2013
Garmin GTR200 COMM Radio
Designed specifically for light sport (LSA) and experimental aircraft, the GTR 200 combines powerful Comm capabilities with advanced workload-reducing features formerly only found in high-end certified systems.
Powerful Features in a Small Package
Best-in-class, all-in-1 radio and stereo intercom solution
Powerful 10 W Comm with a slim 1.35″ tall design and large sunlight-readable display
Displays facility name and type when tuned to user-defined presets or supplied by compatible portables/G3X™
Advanced audio panel features including 3D Audio and auto-squelch
Advanced standby monitoring, crystal clear stereo input and input for system alerts
---
June 2013
SANDIA STX165 Transponder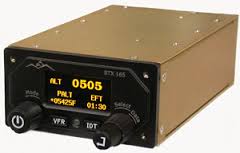 The new STX 165 Mode C transponder with built-in encoder by Sandia Aerospace is ideal for tight places. Designed to occupy a minimum of panel space, the transponder can slide into a one-half 3-ATI opening, and measures seven inches deep.
Its bright OLED display is readable in virtually all lighting conditions and automatically dims for night time operations. Check out just a few of the STX 165 features.
Built-in Encoder Simplifies installations and lowers cost
Three Timer Functions Elapsed Flight Time, Up Timer, Down Timer
Pressure Altitude Display See what altitude your transponder is reporting to Center
Optional OAT Probe Input Displays Outside Air Temp.,Density Altitude, Icing Alert
Small and Light Weight 7.4″ behind the panel depth, 1.3 lbs.
Low Current Requirements Ideal for LSA – Glider – UAV Operations Sandia has also introduced a remote version of the transponder, the STX 165R, designed to interface with onboard nav management.
Sandia has also introduced a remote version of the transponder, the STX 165R, designed to interface with onboard nav management.
---
April 2013
G3X – New avionics for the homebuilt market
The G3X price has been reduced and many new sub products have been added – ADHARS, Angle of Attack, Engine interface modules, and most importantly a digital autopilot at an amazingly low price
Jupiter JA95-001 Audio Controller
Jupiter -The JA95-001 is no ordinary audio controller. The unit's Windows™ based Product Configuration Software (ProCS™), is used to define or change all adjustable parameters in the audio controller. Also, units can be cloned or adjusted in the field without removal from the aircraft. This means that only one unit needs to be ordered to cover many different mission configurations. This feature mean no more waiting (or paying) for customized audio units. Formal qualification testing has been successfully completed and CAN-TSO C-139 (technical standard order) has been granted by Transport Canada. The JA95-001 uses newer technology, has more features and is lighter and less expensive than any comparable product on the market!
GRA5500 – All-digital radar altimeter by Garmin
The new high performance, all digital GRA 5500 radar altimeter for helicopters general aviation and more. The GRA 5500 works to provide smooth altitude tracking resulting in consistent and high accurate altitude above ground indication.
---
February 2013
A new series of VHF NAV/COM radios from Garmin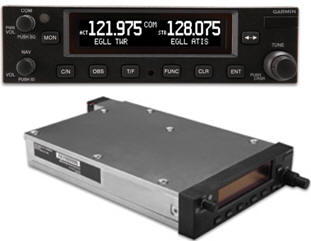 Garmin has announced a new series of aviation VHF COM and NAV/COM radios, the GTR and GNC series. As the replacement products for the popular SL 30 and SL 40 models, the GTR series COM transceivers and GNC series NAV/COM radios include a breadth of new features designed to reduce pilot workload.
"These products have truly reinvented the stand-alone COM and NAV/COM radios with novel features like reverse database look-up and the COM monitor function, which bring new efficiencies to cockpit radio management," says Garmin. The radios offer either COM only with all the features or adding Navigation capability with VOR/ILS with Glideslope. Read more….
Maxcraft Avionics Announces STC for Class A TAWS with Enhanced Altitude Accuracy for Hawker Beechcraft 1900C and 1900D Regional Airliners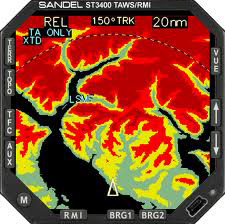 Maxcraft received Transport Canada Supplemental Type Certificate (STC) SA12-78 for installation of a Class A Terrain Awareness Warning System (TAWS) into the Hawker Beechcraft 1900C and 1900D aircraft.
The Maxcraft solution also meets the new Transport Canada requirements for Enhanced Altitude Accuracy (EAA ) as referenced in the Transport Canada Advisory Circular for (TAWS) AC 600-003.
This approved solution offers the Sandel ST3400 TAWS Class A display, integrated with existing compatible GPS receivers such as the Garmin GNS400()/500() and GTN6XX/7XX Series Navigators, or can provide a new dedicated WAAS/GPS Sensor, if required. Existing dedicated and compatible Air Data Sensors from existing GPWS systems may be retained when viable, or replaced with a dedicated Sandia Aerospace SAC 7-35.
This STC offeres two approved configurations: RMI replacement and TCAS control display replacement.
Maxcraft president, Daryl MacIntosh, stated "this is an ideal cost effective solution for Canadian 1900C/D operators which not only meets current regulatory requirements, but also eliminates the risk/expense of future compliance costs for enhanced altitude accuracy by 2017".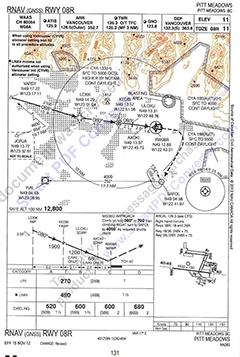 New Pitt Meadows Approach
At long last we finally have a new RNAV approach at our home airport Pitt Meadows (CYPK).
This allows aircraft landing on 08R to fly the LPV minimums down to 259 ft (AGL). Getting below 300 ft was significant as bad weather often hovers around 300 foot ceilings.
The new GNSS approach requires a WAAS enabled GPS receiver with which we can of course help you.
---
December 2012
SAM – Standby Attitude Module – MD302
Mid-Continent Instruments and Avionics introduced an advanced, 2 x 5 – inch standby display at the NBAA convention last month. The MD302 Standby Attitude Module (SAM™) is an entirely self-contained, solid-state instrument that provides attitude, altitude, airspeed and slip information to the pilot during normal operation or in the case of primary instrument failure.
SAM is a compact device specifically designed to fit in less panel space than a standard set of 2-inch mechanical attitude, altitude and airspeed indicators. Its unique, two-screen display features selectable horizontal and vertical orientation. SAM is a unique and simple-to-use product that is an impressive addition to today's high-tech glass cockpits. SAMs two-screen display is extremely easy for pilots to read, even at a glance. It provides a separate screen for aircraft attitude, with airspeed and altitude on another."
The MD302 Standby Attitude Module is designed to interface seamlessly with most primary avionics systems and is capable of synchronizing data, such as barometric pressures from standard ARINC outputs.
The unit is now TSO approved and AML STCs are anticipated during the first quarter of 2013.
---
November 2012
Honeywell Releases new Sky Connect Tracker III
Honeywell's new Sky Connect Tracker III series satellite communications device has recently obtained STC and PMA, enabling immediate delivery of this latest addition to the Sky Connect family.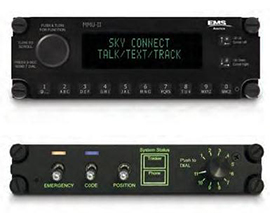 The system consists of a transceiver, an L-band antenna, and dialing/audio/data interface devices. The remote mounted transceiver is the heart of the system, and contains the Iridium satellite LBT (L-Band Transceiver(s)). The LBT can be thought of as the "phone" in the satellite phone system and the modem in the data system, as it is the connection used to gain access to the Iridium network. The LBT allows the two way transfer of voice and data.
Each Sky Connect telephone system also has the ability for data transfer, allowing the user to interface a laptop for in-flight email capability.
The Tracker portion of the system offers an optional internal 12 channel GPS module, providing GPS-location transmissions at a frequency rate between 30 seconds and 30 minutes, selected by the operator.
Safetaxi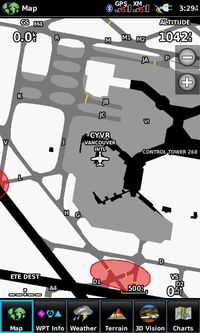 Garmin has expanded its Canadian database!
Whether it's an aera 500, our popular 796, a G500/G600 or G1000 that you fly with, you can download the new SafeTaxi database which now includes Canadian airports.
SafeTaxi shows you runways, taxiways, hangars and where you are on the field. It also helps you navigate in unfamiliar airports. SafeTaxi is also integrated with existing basemap data and the airport information automatically appears. SafeTaxi is geo referenced, so that you can see your aircraft icon move across the navigation screen.
SafeTaxi is now available for over 266 airports across Canada.
For a full list click here: SafeTaxi Coverage
---
October 2012
Pointer Avionics
Baron Services, Inc., a leading weather technology company, announced July 16, 2012 that its popular Mobile Link device will provide up to four mobile devices with the ability to simultaneously connect to and receive XM WX graphical weather data. This upgrade is the main feature in the free Firmware 2.2 update, which is available immediately for current subscribers.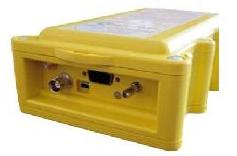 SkyHunter 406 ELT now shipping Pointer Avionics announced that they are now shipping their newest ELT kits with the latest technology.
The SkyHunter 406 ELT kit includes:
ALL kits include:
Remote Switch Kit
2 M coaxial cable assembly
5 year Lithium Batteries
Internal GPS receiver on ALL models
Internal GPS antenna in ALL models (Acts as a PLB when removed from aircraft)
No aircraft power required
Fleet dongle capable on ALL models
Mil spec temperature range -40 C to + 55 C (tested to -55C)
internal buzzer w/ remote connector
Only weighing 1.5kgs
New Dynon D1 Pocket Panel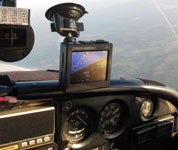 Dynon Avionics recently introduced a portable true attitude indicator that can be used by pilots. The D1 utilizes the same Dynon MEMS-based AHRS technology that Dynon uses in thier EFIS (Electronic Flight Information Systems) in experimental and Light Sport Aircraft.
This new D1 Pocket Panel can be used by all GA pilots, and is priced at $1,425.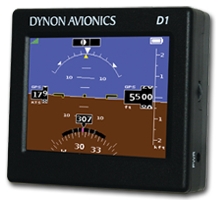 The D1 is a true artificial horizon with accurate pitch and roll, and can find the horizon even if turned on in flight. It maintains the horizon during extended duration turns. The AHRS sensors also drive a turn rate indicator and slip/skid ball. Included is an internal GPS receiver to display GPS ground speed, altitude, vertical speed, and ground track.
At only 3½" wide, 3¼" high, and 1″ thick, the D1 is truly portable. It features a battery that will last at least four hours on a charge, and comes with two portable mounting options. The first is a RAM® suction cup mount, and the second is portable 3 ⅛" hole "pinch" mount.
---
September 2012
L-3 GH-3900

L-3 announced the FAA has granted its Avionics Systems business a TSO for the GH-3900
electronic standby instrument system.
The GH-3900 has been selected by several OEMs as standard equipment aboard such aircraft as the LearJet 70/75 series, the Cessna Citation Ten and the Embraer KC-390.
Additionally, Rockwell Collins has selected the GH-3900 ESIS for its Pro Line Fusion Flight Deck, which will be supplied to multiple new aircraft platforms and customers.
Baron Mobile Link Now Supports Up To Four Simultaneous XM WX Connections
July 16, 2012, Huntsville, AL. Baron Services, Inc., a leading weather technology company, announced today that its popular Mobile Link device will now provide up to four mobile devices with the ability to simultaneously connect to and receive XM WX graphical weather data. This upgrade is the main feature in the free Firmware 2.2 update, which is available immediately for current subscribers.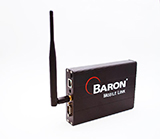 The Mobile Link allows XM WX Satellite Weather subscribers to display onboard weather data by running compatible apps on their mobile devices, including the iPhone® and iPad®. The new firmware update will provide up to four connections for pilots, co-pilots, captains, crew, owners and passengers to view XM WX weather data with different apps on different devices at the same time, and not interfere with each other.
Bob Baron, President and CEO of Baron Services stated, "Our customers have asked for a way to run multiple devices from one Mobile Link unit. We believe that we have exceeded their expectations with the current capacity for four connections. As a pilot, I know what an advantage it will be for our customers to be able to view XM WX Satellite Weather data products on more than one app at a time."
---
August 2012
Cobham N301AM audio controller
Cobham's N301A single-user audio controller now has a removable legend panel that enables installers to change control names on the N301A-3xx without removing it from the cockpit panel or returning to an authorized dealership. Available with multiple text options, including international languages, legends are customizable to suit any operator specification.
Cobham RT-5000P Transceiver
Cobham's RT-5000P Transceiver is capable of communicating P-25 on ALL frequency bands. It's the only radio that covers frequencies 29.7 through 960 MHz, and it supports AM/FM/P25.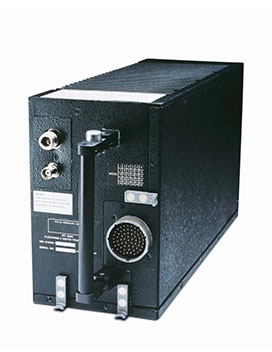 The RT-5000P Transceiver incorporates a scanning function, allowing users to listen to their primary channel while at the same time monitoring up to 10 other channels via the dual-priority SCAN function. Scan groups, up to 50 total, may be created in-flight using the simple front panel programming capability – no computer necessary.
Features:
All-band P-25 Common Air Interface (CAI) on ALL public service frequencies: 138 – 174 MHz; 380 – 512 MHz; 760 – 870 MHz
Existing RT-5000 models may be upgraded without wiring, antenna, or part number changes
AES encryption, 16 encryption keys
OTAR – Over The Air Rekey
Scans ANY frequency, from 29.7 – 960 MHz
Cobham C-5000 Control Head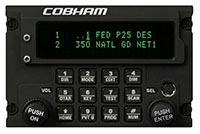 The C-5000 Control Head controls both analog and digital radios for maximum operator flexibility. Its simplified user interface ensures ease-of use.
Aspen Avionics – CG100 Connected Pilot
Aspen Avionics has received FAA AML-STC approval for the Connected Pilot/ CG100 wireless gateway. This is a remote mounted LRU that provides wireless connectivity (WiFi) and is configured and maintained via Aspen's Flight Connect iPad app, available via iTunes.
The Connected Pilot can be integrated with Aspen 1500, 2000 or 2500 systems (requiring at least one MFD) and synchronizes aviation data from portable devices with the certified avionics installed in an aircraft's panel.
"We think this is just the start of tighter integration from the industry
between the instrument panel and portable devices."
– Steve Nunn, Director of Business Development
Avidyne Corporation's IFD440 FMS/GPS/NAV/COM
Avidyne Corporation, a leading provider of integrated avionics and safety systems for general aviation aircraft, introduced the IFD440 FMS/GPS/NAV/COM system with Hybrid Touch user interface, adding to their full line of plug-and-play avionics.
As a plug-and-play replacement for legacy GNS430-series navigators, the IFD440 can reduce installation cost and downtime for customers looking to add touch screen, or who are upgrading their aircraft to meet the higher-precision requirements for Satellite-Based Augmentation Systems/Localizer Performance Vertical Guidance (SBAS/LPV) and Automatic Dependent Surveillance-Broadcast (ADS-B).
Avidyne previously announced a full stack of plug-and-play panel-mounted avionics including the larger-screen IFD540 FMS/GPS/NAV/COM, the AMX240 Audio Panel, the AXP340 Mode S ADS-B Transponder, and the DFC90 digital Autopilot with Envelope Protection and Envelope Alerting.
The IFD440 is scheduled for initial deliveries in late 2013, and the IFD540 will be available early next year.
Bendix/King KMA 30 Audio Panel
Bendix/King used the 60th annual EAA AirVenture tradeshow in Oshkosh, Wis., to announce its first new product since it became an independent operation within Honeywell Aerospace.

The new KMA 30 is a Bluetooth-enabled audio panel that improves pilots' flexibility and control of radio and audio systems in the cockpit. By providing a single, easy-to-use interface, the KMA 30 simplifies the use and delegation of aircraft radios, entertainment audio and cell phone communications while de-cluttering the cockpit with wireless interfaces for portable electronics.
Now headquartered in Albuquerque, N.M., Bendix/King's focus is on designing, building and supporting the best-performing, most innovative and cost-effective avionics products available for general aviation.
---
July 2012
Garmin Introduces the GWX 70 Weather Radar
Garmin states "The GWX 70 is a technologically advanced weather radar that collects real-time precipitation intensity to provide the pilot with the tactical weather information needed to help avoid severe weather."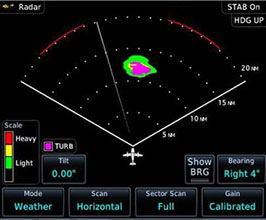 Turbulence Detection
Ground Clutter Suppression
Ground Mapping Mode
Altitude Compensated Tilt
Garmin's exclusive WATCH feature
Display Compatibility
40 Watt Transmitter output
Garmin Unveils the GDL 88 Series
The GDL 88 Series is the first dual- link solution that provides a path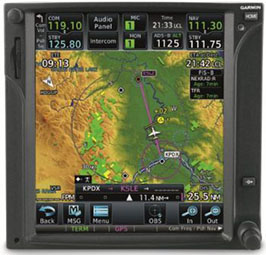 to meet the ADS-B Out requirements and brings subscription free weather and advanced traffic to the cockpit.
satisfy the ADS-B Mandate
subscription free aviation weather
spot potential traffic threats
receive audible alerts
separate control panel not required
enhance your reception
availability/ provisioning for the GDL 88
a turnkey solution for many aircraft
---
June 2012
Maxcraft awarded STC for Garmin G500H into Eurocopter AS355 Rotorcraft
Maxcraft Avionics Ltd. Has received Transport Canada STC SH12-43 for installation of the Garmin G500H Flight Display System for the Eurocopter model AS355 Twinstar Helicopter. Installation of the popular G500(H) system replaces the traditional 6-pack of analog instruments with the a single LRU PFD/MFD glass display.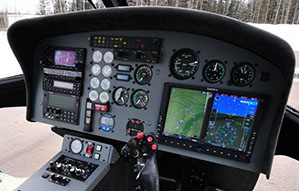 The approval also includes installation of interfaced systems including Garmin's Digital AHRS & ADC, GNS 400W/500W Series Navigator, GTS 800 Traffic Alerting system, and FreeFlight RA-4500 Radar Altimeter, and can interface to existing Garmin GTX Transponders and on-board NTSC or PAL video systems. Read more about our STC here!
Future developments for this STC include:
Garmin GTN 6XX/7XX Touch Screen Navigator integration
additional airframes including AS350/ EC130, EC120 series
FAA and EASA familiarization
Maxcraft's president, Daryl MacIntosh, stated:
"This installation provides significant safety enhancements
and superb situational awareness at a practical cost."
---
Jan 2012
AEM AMS42U Audio Panel
Anodyne Electronics Manufacturing Corp. is releasing a new variant of the AMS42 series Audio Controller. The AMS42U offers a 5th RX switch to the dedicated Dual Channel Audio Controller with VOX ICS operation.

The idea of launching the AMS42U was actually driven by comments AEM received from the US Forest Service (USFS) Avionics group last year, specific to contract requirements regarding the need for five comm radios and a duel channel audio panel to fully manage those radios. The AMS42 has been the 'incumbent' audio panel for many helicopter operators for years. With the increased demand for comm radio support,

the AMS42 does not fully satisfy the requirement. With the AMS42U, the operators are now compliant with five full comm operations. Upgrading from the AMS42 to the AMS42A is simple 'plug and play'.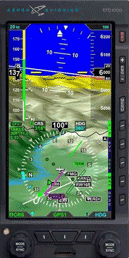 Aspen Announces New, Higher Resolution Terrain Database for Evolution Flight Displays
Aspen Avionics is pleased to announce the availability of a new terrain database from Jeppesen for Aspen's Evolution Flight Display product line. This new database improves the resolution of the terrain data used in the Evolution System and offers an improved customer experience for the Evolution MFD, notably in markets outside of the United States. Canadian Aspen Evolution Synthetic Vision (ESV) customers will be happy to note the higher resolution (3 arc seconds) for the U.S. also applies to lower half of B.C.!
In addition this expands the ESV operation area beyond the borders of the continental United States to provide full worldwide ESV coverage.
---
Dec 2011
Latitude Technologies recently received a STC for the installation of the SkyNode ® S200 for the Dash 8 series of aircraft
The SkyNode® S200 is the world's lightest and most versatile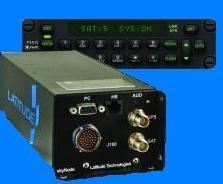 integrated aeronautical communications device. The S200 provides security and crew safety for air/ground logistics applications. Phone, flight tracking and data access is available everywhere you operate. The S200 interfaces to multiple mapping and data management systems. This system has the toughest environmental standards in the industry. Network from anywhere.
The SkyNode S200 supports narrow band networking for aircraft requiring text messaging, email, FTP, and Internet access.
Oct 2011
Rockwell Collins' new Ascend Aircraft Information Manager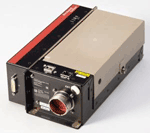 Rockwell Collins' new Ascend Aircraft Information Manager (AIM), gives operators of aircraft equipped with Pro Line 4 or Pro Line 21 the ability to securely, automatically and wirelessly transfer data to and from their aircraft.
The hardware installation includes Rockwell Collins IMS-3500 Information Management Server and DBU-5010E Data Base Unit. Through the Ascend Aircraft Information Manager subscription service, these systems create a wireless link between the aircraft and ground stations around the world to automatically transfer information to and from the Ascend Data Center.
"AIM brings tremendous value to flight operators by assuring that the latest databases are up to date and available regardless of where their mission takes them,"said Steve Timm, vice president and general manager, Flight Information Solutions for Rockwell Collins.
Timm explained that the AIM data transfer process is much more simplified and streamlined than traditional manual methods, which include transferring information from laptops or USB sticks.
Mountain High Portable Electronic Oxygen Systems
Maxcraft is now your Canadian source for Mountain High oxygen systems. Why does Maxcraft suddenly carry an oxygen product? At Maxcraft we strive to understand and adapt to pilot needs. As many may have experienced, inclement weather, poor visibility, and mountain obstacles can prevent safe decent when flying flight legs above 10 000 feet in unpressurized aircraft.
The electronic controller lets pilots utilize an oxygen delivery system offering economical use of oxygen. It offers unimpeded flight, overcoming the 30 minutes of at-altitude hypoxic risk factor. The Mountain High device's simplicity and effectiveness make it a great product!
Mountain High's two-person "pulse demand" electronic delivery system (EDS) allows pilot and passenger to breathe at pressure altitudes up to 30,000 feet in safety and comfort. The pulse demand system adapts to consumption needs of both the pilot and passenger individually, delivering a tailored flow of oxygen. With cannula or mask type accessories readily available, and no adjustment necessary, pilot comfort, convenience, and reduced workload is of the highest priority. In addition, MH oxygen cylinders are available constructed from different materials, including seamless aluminum, and Kevlar/Carbon Fiber wraps.
Far superior to the "constant flow" systems, the O2D2 allows most users a fourfold increase of duration at same tank capacities. The O2D2 is small and easy to use; no longer necessary is it to monitor flow indicators, or make manual adjustments for altitude. Whether you already have a bottle, on-board system, or nothing at all, it is worth dropping in and checking out our demo unit.
Sept 2011
Garmin Unveils the aera 796 and 795 Portable Touchscreen Aviation Navigators with 3D Vision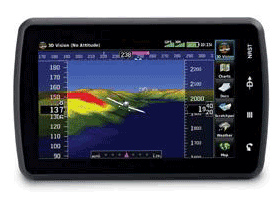 Garmin is now introducing the new aera 796 and aera 795; a new portable aviation navigation device. As Garmin's new product, the aera 796 has the popular features of the GPSMAP696, and then added new capabilities such as touchscreen user interface, pilot-selectable screen orientation and 3D vision! Simply slide your finger across the touchscreen to rotate view, show land and water, obstacles, runways and airport signposts!
Fit it on the yoke or use it as a knee-mounted device. No need to rely on paper charts and with a built in scratch pad, you are now paperless in the cockpit. See our blog for a more detailed description of this amazing product or come in and talk to our team about ordering one now! Maxcraft has the first shipment to Canada!