2002 Cessna Skyhawk 172 SP
Aircraft:
The Cessna 172 Skyhawk was first flown in 1955 and since then, over 43,000 have been built, more than any other aircraft. In 1986 production of the piston-engine aircraft was discontinued due to liability costs and, after passage of the General Aviation Revitalization Act of 1994, Cessna resumed production.
This Cessna 172SP Skyhawk aircraft was one of the "restarts" for Cessna built in 2002. It came with a modern metal panel but now dated avionics and is an ideal candidate for a "Glass Panel" upgrade.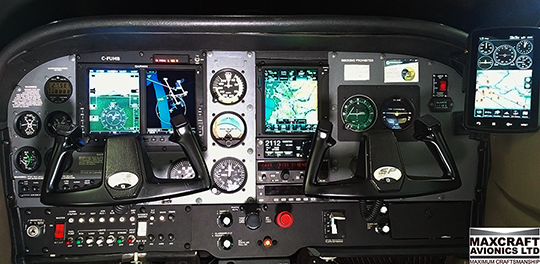 Owner:
This aircraft is locally owned and flown by family members for training and get to their summer vacation spot
Summary of Equipment:
G500 Primary Dual-Screen Flight Display System (Garmin )
HSVT™ helicopter synthetic vision technology on the G500H (Garmin)
Flight stream 510 Wireless Connext card
GTN750 GPS/NAV/COM/MFD System (Garmin)
GMA 35C Audio Panel with Bluetooth (Garmin)
Lynx 9000+ ADS Transponder with active traffic (L3)
Custom laser engraved, powder coated sub panels (Maxcraft)
Flight Stream 510
Partial panel modification
Radar Altimeter enablement for G500H (Garmin)
The Story:
We first met the owner when he came in with his pilot looking to modify his aircraft to be used as an IFR trainer. They needed a reliable modern IFR platform to train family members in this aircraft. After an informative dialogue with our sales team (who are also IFR pilots), the configuration was finalized. As is typical in the spring, Maxcraft was fully booked working on other aircraft, but a confirmed production slot guaranteed the customer had a spot on our hangar floor with a short wait.
After the job was completed, we had our test pilot come in and complete a test flight with the customer. We consider these test flights mandatory to not only familiarize the pilot with the new equipment but more importantly, test both that both the new and existing equipment is functioning properly before releasing this back to our customer. To make our point on the value of this, some snags were identified by our test pilot. The aircraft was brought back into the hangar, things were tweaked, and the customer left with a smile and a safe airplane.