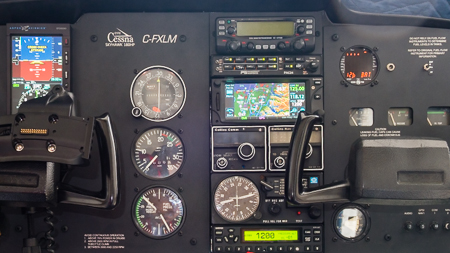 Our client for this install was one Mr. Fred Carey, a volunteer with CASARA, the Civilian Air Search and Rescue Association: a national volunteer organization funded by the Department of National Defence. Its volunteers provide air search assistance to the Royal Canadian Air Force, and promote flight safety for general aviation as a means to reduce overall SAR incidents. This is the second time that we've had a CASARA volunteer bring their aircraft in to Maxcraft. Typically, CASARA volunteers are highly active and experienced pilots with many flight hours logged. This puts many of them in the market for a capable and reliable 'workhorse' avionics package, though some will opt for equipment that goes beyond even that.
The kind of highly active pilots that you find among the ranks of CASARA tend to benefit from rugged durability. More hours logged means more opportunities for accidental damage, and owners looking to avoid such damage can't do much better than one of our coated aluminum Maxpanels. Available in a variety of colours, they're both lightweight and nearly bomb-proof — resisting scuffs, scratches, and dents. Even better, they'll never become brittle or cracked like so many plastic panels.
The flight display for this install was an Aspen EFD-1000: one of the most cost-effective systems that we offer here at Maxcraft. It's marketed by Aspen as the most affordable glass flight display on the GA market, and we agree to that assessment without reservation. Moreover, combining the EFD-1000 with Garmin's GTN 650 GPS/NAV/COM, results in a truly powerful set of tools. Together, they form a highly reliable, thoroughly modern and professional-grade avionics package that is great for IFR and a definite upgrade over any of the kind of legacy systems you are likely to find in a run-of-the-mill 172. While it was interest in the GTN 650 and IFR that brought our client into Maxcraft initially, the sheer value offered by the Aspen EFD-1000 made it hard to pass up. Between these two systems you'd be hard-pressed to find similar functionality in any other package at this price point — especially for a certified GA aircraft like this Cessna 172.
Completed: ~ April, 2014
Summary of Installed Avionic Systems
EFD-1000 Primary Flight Display (Aspen)
GTN-650 GPS/NAV/COM (Garmin)
Laser-engraved and coated custom panel (Maxcraft)