The Aircraft and Owner
The aircraft is a 6 seat twin engine Cessna 340A. Owned by a private businessman, the aircraft often flies Calgary-Kelowna routes for business. The aircraft was a prime candidate for numerous upgrades as it had stock 'steam gauges' and old avionics.
The Need
The main benefit was fulfilling a need of improved reliability and situational awareness for single pilot IFR flights over the mountains.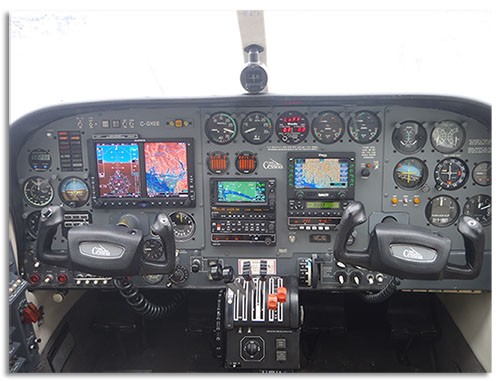 The Maxcraft Solution
Based upon owner usages of the aircraft, Maxcraft recommended the following equipment solutions:
Garmin G500 Flight Display
GTS800 Traffic System
GTN650 GPS/NAV/COM
ADF
DME
Low Thrust Detector System
New instrument panel with Maxpanel Duracoat finish
The Story
The owner went with a number of equipment upgrades forming a relatively large task list in comparison to most general aviation installs. One of benefits of doing a comprehensive upgrade like this is that the layout is planned for all the equipment going in. With this level of planning we are able to maximize use of panel space, allowing for optimal placement of equipment while at the same time accommodating any input received on pilot/owner preferences.
In a night and day comparison between old and new layouts the impeccable attention to detail is clearly evident, as is a modern fit and finish which cannot normally be achieved through incremental upgrades.
Before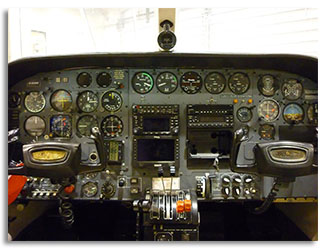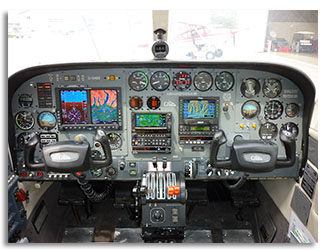 After
Overall the upgrade / installation went as expected in accordance with good planning, professional workmanship, and excellent teamwork. However, there were a few unexpected issues which did crop up with each needing to be identified,
There were some latent autopilot issues discovered during system integration with some of the problems being far more systemic than anticipated. However, the autopilot was eventually trouble-shot, repaired, fine-tuned, and integrated with new systems for full GPS Steering capability.
A few loose ends were tied up when the intermittent prop sync was found to be caused by the wiring at the R/H engine prop governor chafing with cowling/baffling, with the wiring broken at the prop governor connector. For the final touch, a glare shield mounting screw on the copilot side was installed to match a pilot side screw beside the standby altimeter
At the end of the day, the completed aircraft left Maxcraft with an exemplary panel decked in top notch equipment and a fine-tuned autopilot configured with full GPS Steering capabilities.