This trio of partners decided to expand their Baron's capabilities by replacing their standard "6 pack" instruments with two Garmin G5 electronic flight instruments which interface with the highly advanced GFC 600 digital autopilot, along with Garmin's TXi engine information system.
Beech Baron Dual G5 with Multi Engine Monitoring and Advanced Autopilot
1964 Beech B55 Baron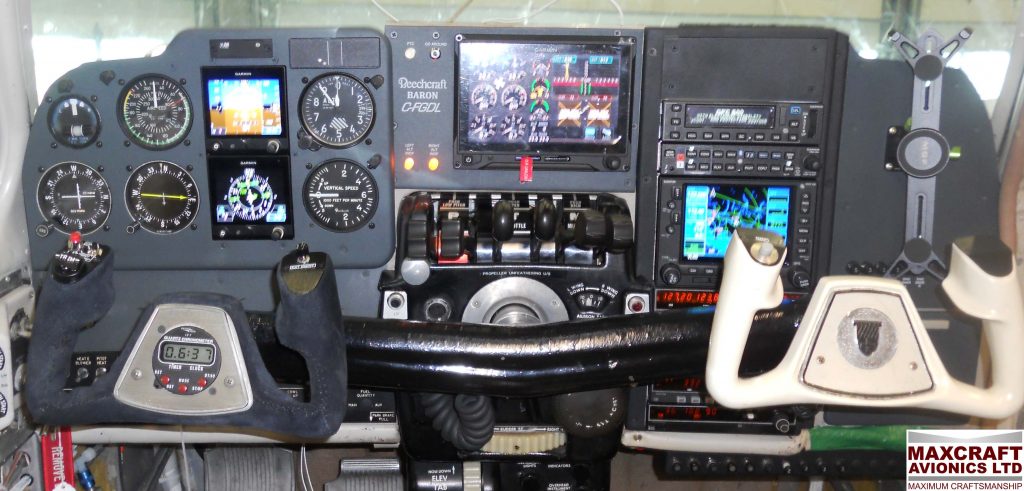 Aircraft & Owner:
The Beechcraft Baron was first introduced in 1961 as the predecessor of the Travel Air which was a twin engine aircraft based on the Bonanza airframe. The Baron is still in production today with the G58 model being introduced in 2005. This B55 variant was built in the early days of the Baron in 1964 and is owned by a partnership of three pilots who came together to purchase a highly capable aircraft they all use for personal travel and pleasure flying.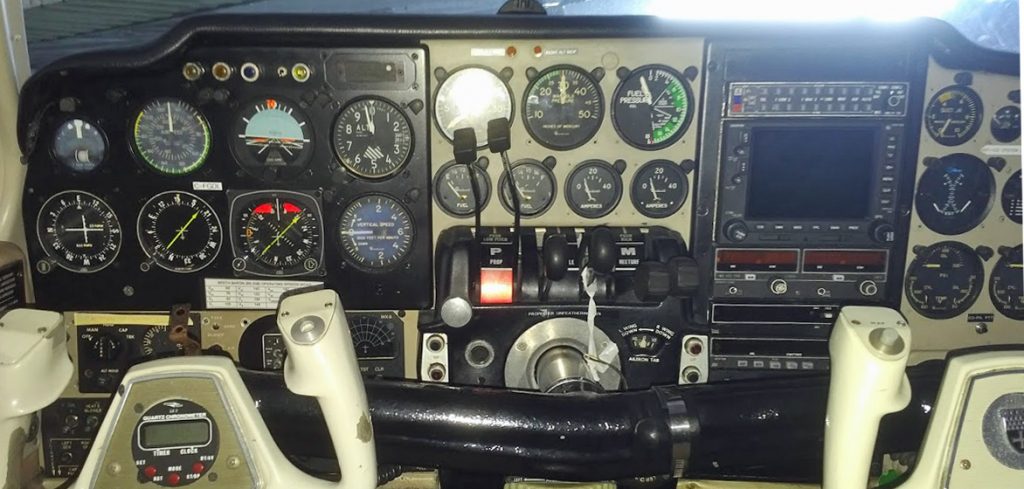 Need:
This Baron came to us with a mostly factory panel. Although it had a GNS 530 GPS, it still had all analog flight instruments and engine monitoring gauges. The owners wanted a capable IFR platform without breaking the bank. They also wanted to upgrade their engine monitoring capabilities. With only basic gauges, it can be hard to identify what your engines are trying to tell you. With the many digital engine monitoring systems released in the past decade, this was a must for a complex twin engine aircraft. The addition of a capable autopilot system to reduce workload when flying in difficult instrument flight rules (IFR) conditions was near the top of their list. The owners also wanted to replace their mismatching panels with our signature MaxPanel to give the entire instrument panel a uniform look and colour.
NEW EQUIPMENT LIST
| | |
| --- | --- |
| G5 | Attitude Indicator Electronic Flight Instrument (Garmin) |
| G5 | Directional/Horizontal Situation Indicator Electronic Flight Instrument (Garmin) |
| GFC 600 | 3 Axis Digital Autopilot with Pitch Trim (Garmin) |
| G500 TXi EIS | 7" Digital Engine Monitoring System Display (Garmin) |
| GTX 345 | ADS-B Transponder (Garmin) |
| GMA 350C | Digital Audio Panel with Bluetooth Connectivity (Garmin) |
| MNT-2030 & MNT-1610 | Panel Mounted iPad Cradle (MyGoFlight) |
| MaxPanel | Fabrication of Various Custom Instrument Panel Pieces (Maxcraft) |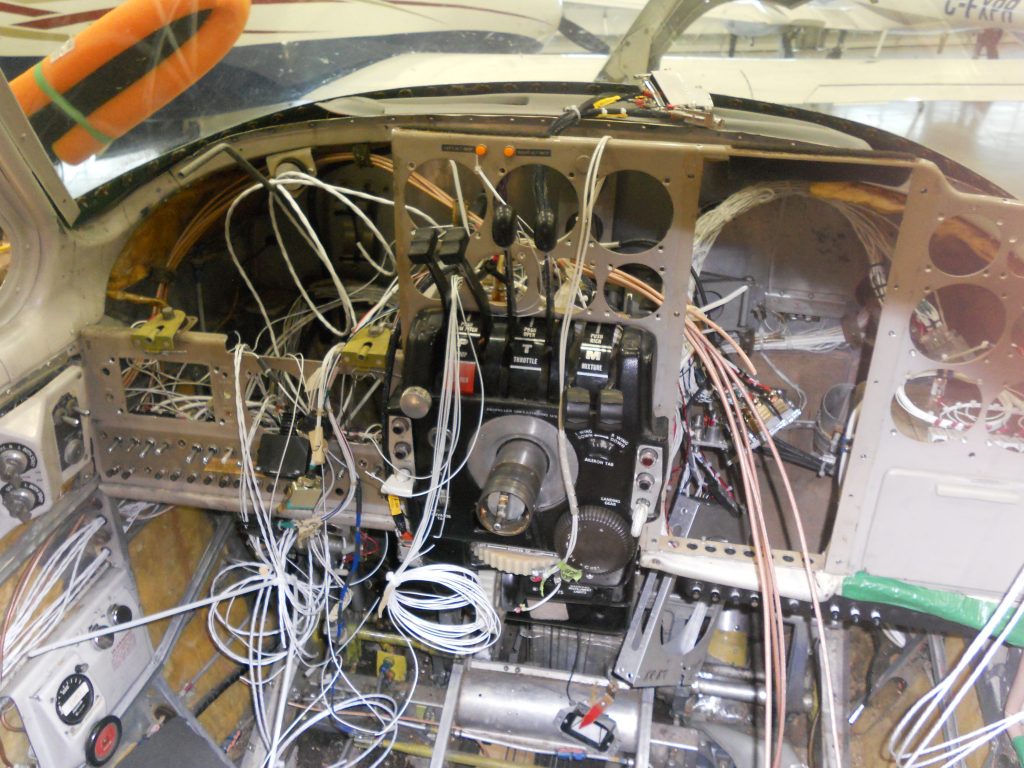 Maxcraft Solution:
The Garmin G5 is an electronic flight instrument designed to be a drop in replacement for traditional analog instruments. Fitting in standard 3-1/8" instrument cutouts, the G5 allows aircraft owners to gain the benefits of a glass panel, without the major costs associated with an installation of that size. Increased reliability and near elimination of overhaul/maintenance costs found with gyro based instruments, the G5 offers owners long term cost reduction. With a built in 4-hour long backup battery the G5 can continue to provide the pilot with vital flight information even in the event of a complete electrical failure, ensuring you'll make it back to the ground safely.
As this is a more complex, multi-engine aircraft, the GFC 500 autopilot is not approved for installation so we had to install the GFC 600 digital autopilot from Garmin. The GFC 600 is specifically designed with multiengine aircraft in mind. With a robust set of features like overspeed and underspeed protection, and Garmin's Electronic Stability and Protection (ESP), the autopilot will constantly monitor the aircrafts flight conditions and offer a gentle push in the right direction for the pilot. If the aircraft is approaching a stall the ESP system can begin to push the nose down to avoid stalling the wing.
The large 7" colour TXi engine monitoring system (EIS) display from Garmin puts all the vital engine parameters within easy view of the pilot at all times with more information available through the easy to navigate touchscreen interface. The EIS will also alert the pilot immediately in the event an engine limit is exceeded or a fuel imbalance or similar issue is detected. All EIS data is also automatically logged and can be reviewed post flight, or sent to a mechanic via the Garmin Pilot app.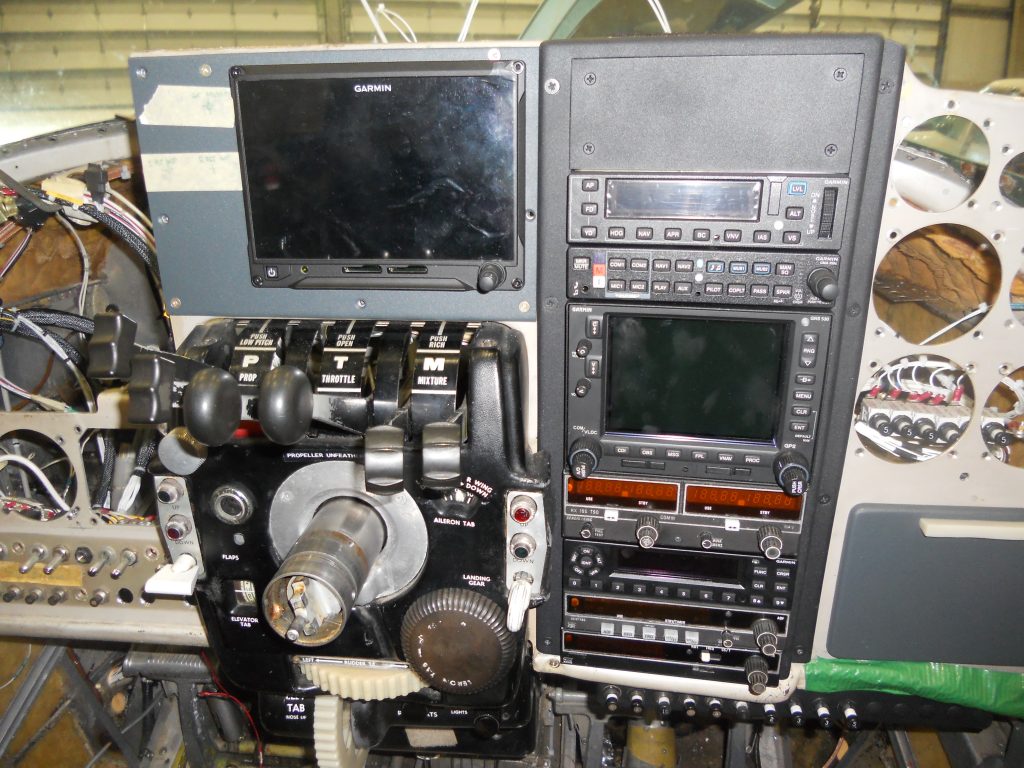 Garmin's GTX 345 transponder enables ADS-B in and out allowing detected ADS-B traffic to be displayed on the existing GNS 530 bringing greater situational awareness. The GTX 345 can also wirelessly stream ADS-B in data to a compatible app such as Garmin Pilot. The GMA 350C audio panel provides superior sound and squelch. With virtual 3-D sound with a stereo headset, different audio sources can come from different directions allowing you to more easily comprehend both audio sources at the same time. With a built in 3.5mm audio input port and Bluetooth connectivity, passengers can listen to music in flight directly through their headsets.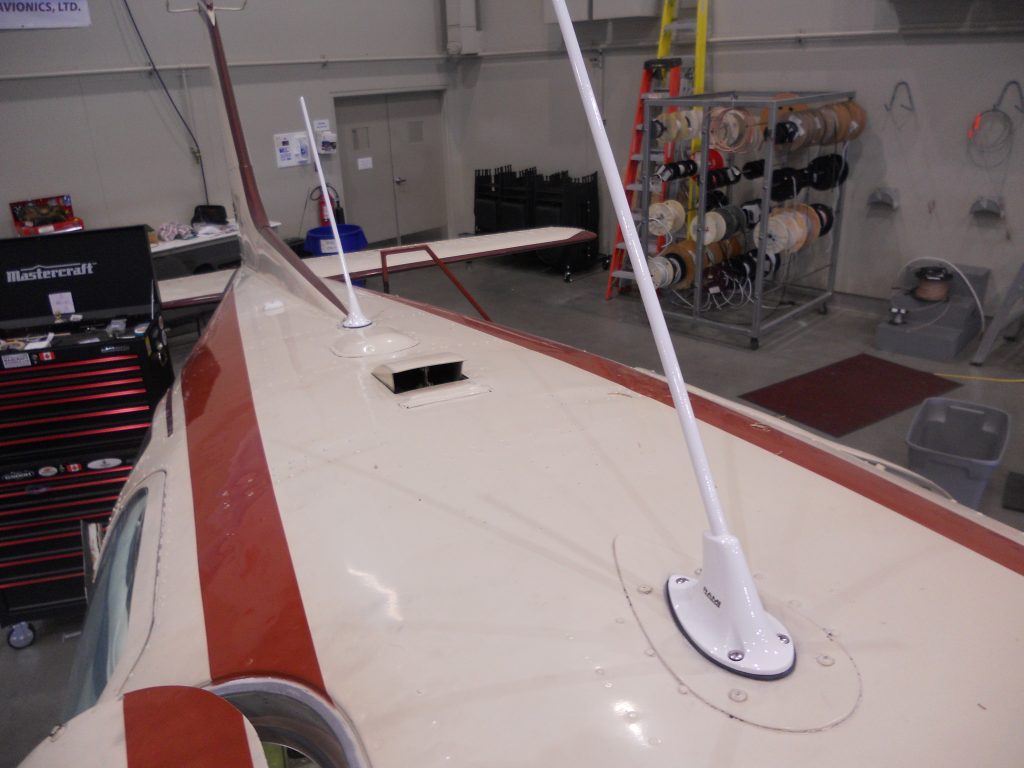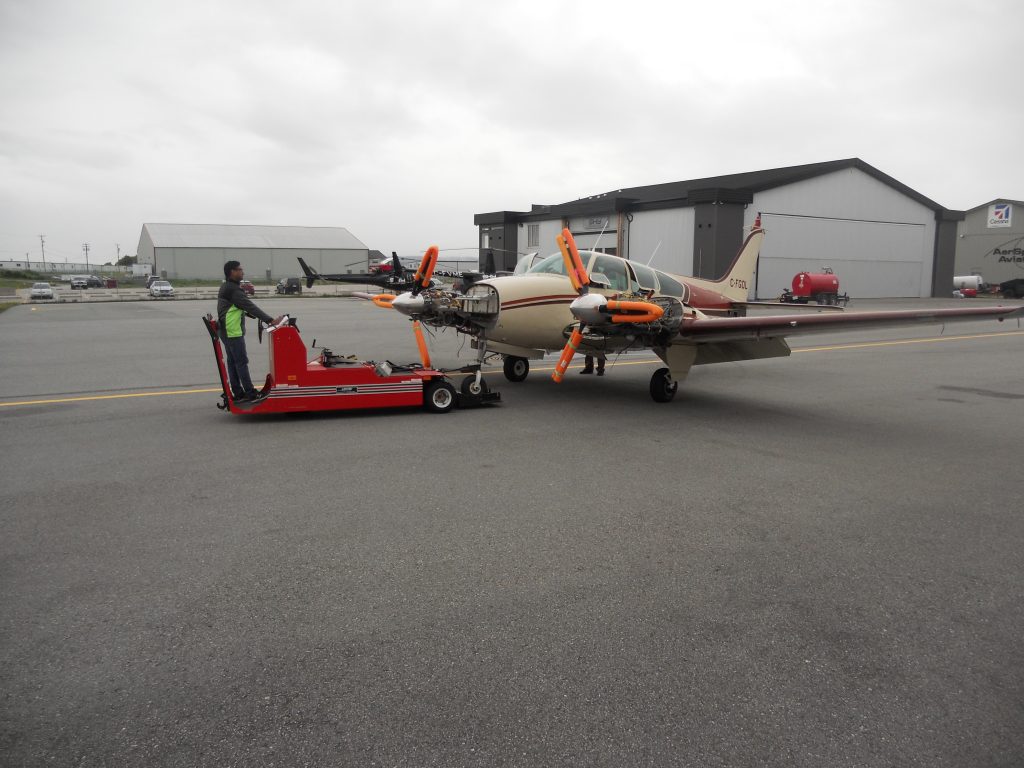 The Story:
This Baron came to our hangar shortly after it was grounded due to engine problems. While the engines were already open and being worked on Maxcraft coordinated with the engine maintenance shop to install the fuel flow transducer, exhaust gas temperature (EGT), and cylinder head temperature (CHT) probes decreasing downtime and overall cost. While the engine work was being finished up the Baron was moved into the Maxcraft hangar so we could begin the avionics work while the maintenance shop finished up their work.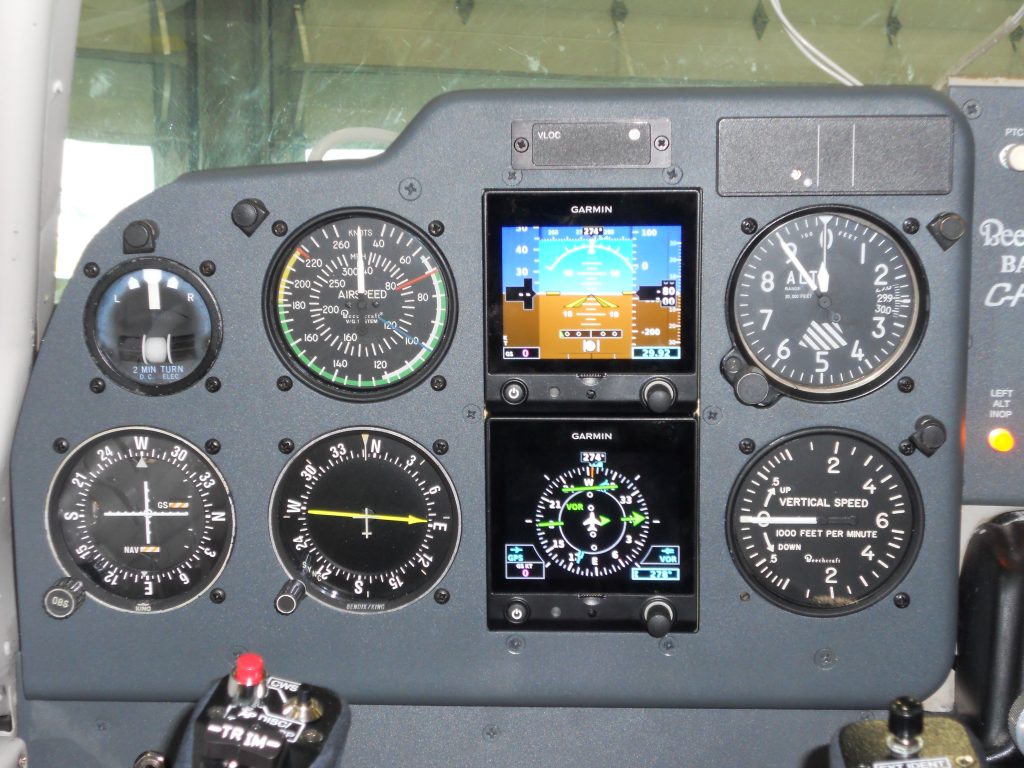 With multiple panels with completely different colours, one of the most noticeable upgrades we made to this Baron is the installation of a custom made MaxPanel, which was then powder coated to produce a clean and uniform looking panel, along with laser engraved placards including the aircraft registration and the Beechcraft logo.
One of the yokes was removed while we did our installation to be wrapped in leather for pilot comfort. However, this wasn't the only addition to the yokes. We also installed multiple switches and buttons on the yoke thumb plates to operate frequently used functions such as adjusting the trim, disconnecting the autopilot, and activating the transponder IDENT function.