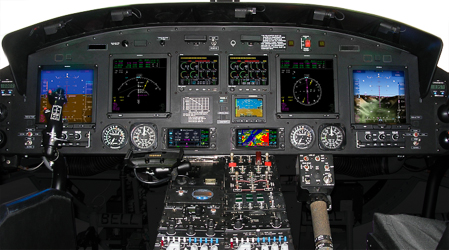 This Bell 212's flight deck was upgraded as part of a complete overhaul for Servicio Nacional Aeronaval of Panama, also known as SENAN. In this overhaul, Maxcraft functioned as the principle organization behind Avionics design and implementation. This involved not only installation, but also initial equipment selection and proposal, as well countless hours of design engineering. For comprehensive overhauls like the one seen here, Maxcraft often takes a collaborative role, working alongside other maintenance organizations as well equipment manufacturers.
SENAN, the operator and end user of this aircraft is a Panamanian public safety service, with varied missions of law enforcement, humanitarian assistance and promoting conditions for the social and economic development of Panama. Essentially, the purpose of the overhaul was to repurpose a run-of-the-mill civilian Bell 212 for special mission roles in a hot and humid environment with zero tolerance for maintenance downtime. The goal is to never miss a sortie due to equipment shortfalls.
Maxcraft's full-glass avionics package for this aircraft was built around four 8.9 inch Universal EFI-890H flat panel displays, providing increased situational awareness to the flight crew, allowing them to concentrate on the mission at hand. These displays feature Vision-1 + Synthetic Vision, and are capable of supporting just about everything from TAS, TCAS, and EGPWS to VOR/ILS, Radar, and Mission Computer Video. In this installation, the EFI-890H's were fed GPS, traffic, and terrain data from a pair of touchscreen Garmin GTN-650 GPS/NAV/COMs.
Installed Systems
Four Universal Avionics EFI-890H 8.9″ Flat Panel Displays
Two Garmin GTN 650 GPS/NAV/COM
Archangel ADHRS
Rockwell Collins DME 4000