AS350B3 Glass Panel Upgrade
Aircraft:
Airbus (Eurocopter) AS350 B3 Helicopter (known as the A-Star) Single Engine, high performance, turbo shaft engine first ever to land on the summit of Mount Everest.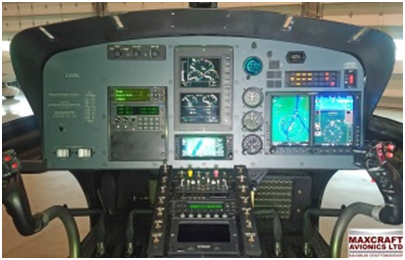 Owner:
HeliOps Alberta Ltd.  was established in 2006 by founder and owner Frank Peters. HeliOps is based out of Alberta, Canada and is a company that does everything from delivering crew and equipment to chartered and executive travel.
Need:
Frank recently purchased the AS350 helicopter to expand his fleet for his business. This aircraft needed to have a modern avionics package installed for both operational and safety enhancing requirements.
Summary of Equipment:
G500H Primary Dual-Screen Flight Display System (Garmin )
HSVT™ helicopter synthetic vision technology on the G500H (Garmin)
Radar Altimeter enablement for G500H (Garmin)
GTN650HGPS/NAV/COM/MFD System (Garmin)
Flight Stream 510 Wireless Connext (Garmin)
GTS800 TAS Traffic System (Garmin)
STC SH12-43 – STC approval installation of Garmin Integrated Avionics (Maxcraft)
Custom laser engraved, powder coated panel (Maxcraft)
Wiring provisions for secondary TDFM-136B Digital FM Radio (Technisonic)
JA72 Glove box storage and USB charging ports (Jupiter)
Re-paint tail boom with new company logo, decal for Canadian registration (Brian Bottem – Paint)
The Story:
Frank called us this winter and said he was looking at a US based aircraft but it had an unreliable EFIS system. He was recommended by a long term helicopter customer of ours who said we had a solution for all his needs. He saw that we had an STC for his airframe to install the Garmin G500H and that we had installed many of these. Frank went ahead and purchased helicopter out of Texas and he and Steve (our Director of Business Development) met at HAI helicopter show in Dallas to finalize the deal. Frank then had a long series of flights from Dallas direct to Maxcraft in Pitt Meadows.
Driving the deal was the need to replace the old EFIS with the G500H but HeliOps needed a modern panel with the operational and enhanced situational awareness that the new avionics provides. Maxcraft was able to advise Frank on what technology would work best for his type of operation. In the busy airspace environment he often works in, the GTS800 active traffic system lowers the stress level for pilots helping advise them of the traffic location. The GTN650Hwith a WAAS GPS/Nav/Com and the FlightStream 510 allows HeliOps' pilots to upload complex flight plans wirelessly via their iPad direct to the G500H glass panel. We enjoyed working with Frank and his team outfitting his aircraft. At the end of the day, we believe that Maxcraft's skill and expertise helped create a safer and easier aircraft to operate.











Customer Comments: 
I will say that Maxcraft did a great job with my radio package upgrade, Your technicians are very competent and knowledgeable; they know what they are doing. They always gave me options to consider along with very good advice. This project cost me more than expected but you get what you pay for and that is top quality.Regards,
Frank Peters
President
HeliOps Alberta Ltd.