Maxcraft transformed this 1982 private jet into a modern workhorse. We removed much of the older era instruments and avionics to replace them with solid state reliable electronic flight displays. Owned by a rapidly growing Alberta oil company, this jet is ready to be their "pride and joy" flying their executives and employees between jobsites and important business meetings with incredible capability for the crew, and comfort items such as high-power USB ports, and satellite communications for the passengers.
Citation Full Glass Panel Upgrade
1982 Cessna Citation II 550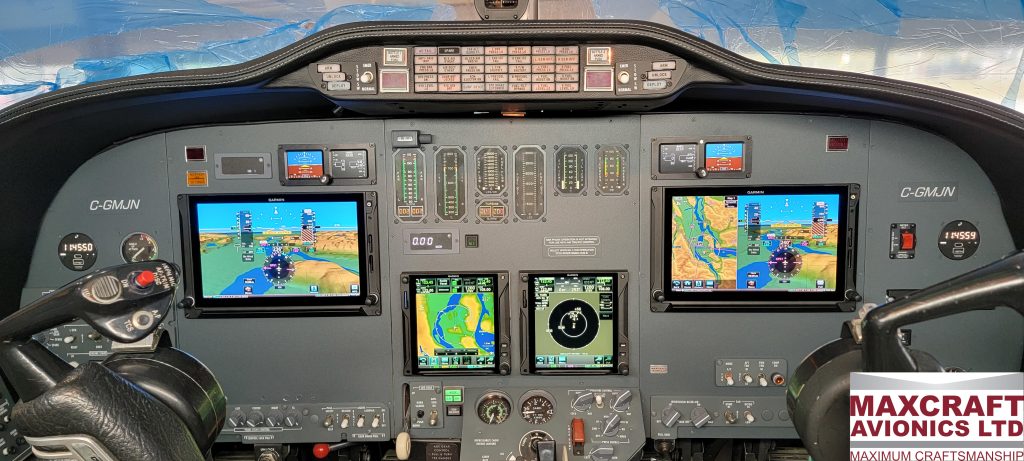 Aircraft & Owner:
The Cessna Citation 550, also known as the Citation II, is a popular light business and private jet. The Citation has been a classic small jet since they were first certified in 1971. The Citation II was an improvement on the original Citation bringing improved speeds, and increased size. This Citation is owned by Avenge Energy Services, a fast-growing company supporting the oil industry in Alberta. This Citation will be used to transport employees between job sites and other business requirements.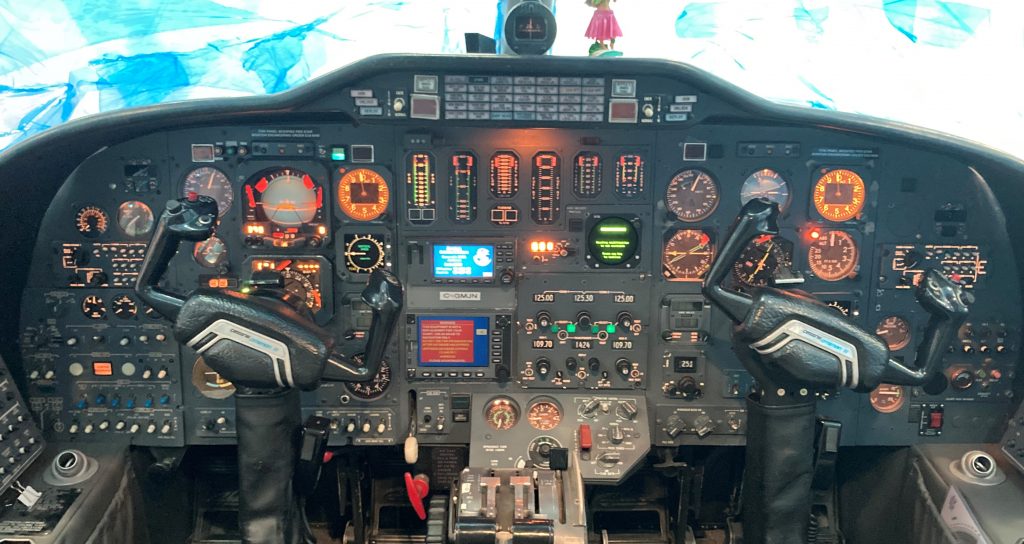 Need:
Avenge has seen rapid growth. Starting their private aircraft fleet with a Cessna 182, they quickly outgrew that and upgraded to a Cessna 340 twin piston engine, and most recently this Cessna Citation. This aircraft was imported to Canada where it then sat in a hangar for ten years before Avenge added it to their fleet. Shortly after the purchase was finalized, Avenge reached out to Garmin for a quick upgrade path, planning to fly the Citation to a shop in the United States to receive the upgrades. The Garmin representative they spoke to was quick to put them in touch with Maxcraft where we were able to quickly provide them a quote, along with some guidance on equipment selection.
This Citation was an older model, and had very common avionics for what you would find in any twin aircraft from the time frame. With analog instruments and basic GPS equipment, the owner wanted modern electronic flight displays and upgraded GPS units. Look and feel was incredibly important to this customer as this jet is going to be their pride and joy flagship company aircraft.
NEW EQUIPMENT LIST
| | |
| --- | --- |
| Dual G700 TXi  | Integrated Primary Flight Display (Garmin) |
| GCU 485 | Dedicated Primary Flight Display Controller (Garmin) |
| GAD 43e | Enhanced Legacy Autopilot Interface (Garmin) |
| GAD 42 | Enhanced Legacy Autopilot Interface (Garmin) |
| Dual GTN 750Xi | GPS/NAV/COMM (Garmin) |
| FlightStream 510 | Wireless Cockpit Connectivity (Garmin) |
| GMA35C | Remote Mounted Audio Panel (Garmin) |
| GTX345DR | Remote Mounted ADS-B In/Out Diversity Transponder (Garmin) |
| GTX335R | Remote Mounted ADS-B Out Transponder (Garmin) |
| GWX75 | Weather Radar System (Garmin) |
| GDL69A | SiriusXM Satellite Weather and Music System (Garmin) |
| GSR56 | Satellite Data and Communication Transceiver (Garmin) |
| Dual MD302 | Standby Attitude Module (Mid-Continent Instruments) |
| Dual CH93 | Digital Clock with High Power USB Charging Ports (Mid-Continent Instruments) |
| 3x TA202 | High Power USB Charging Ports (Mid-Continent Instruments) |
| Kapture CVR | Cockpit Voice Recorder with Recorder Independent Power Supply (RIPS) (Universal Avionics) |
| MaxPanel | Custom Cut and Powder Coated Instrument Panel (Maxcraft) |
Maxcraft Solution:
Maxcraft worked with this customer to quickly provide them with an upgrade path. Our solution involved removing basically all the avionics except for the autopilot as no other autopilot system has been approved for this specific model Citation. Most of this upgrade is centered around the G700 TXi touchscreen flight displays. The large 10.6-inch primary flight displays are each customizable to display a large amount of information in a small, and easy to read form factor. The LCD screens allow the pilot to split their PFD in half to add a multifunction display next to their PFD displaying approach plates, moving maps, and dozens of other pieces of information. The G700 TXi paired with the rest of the installed equipment is certifiable for reduced vertical separation minimum (RVSM) operations. We also installed a GCU 485 dedicated PFD controller. This module adds physical control knobs for a number of commonly used functions. The G700 TXi pairs with the dual GTN 750Xi GPS/Nav/Comm units providing the pilots with a streamlined flight management system. With the FlightStream 510 installed in one of the GTN750s the pilots will be able to transfer their flight plans seamlessly and wirelessly from an electronic flight bag such as ForeFlight or Garmin Pilot directly into the flight management system saving time on manually entering waypoints into a GPS.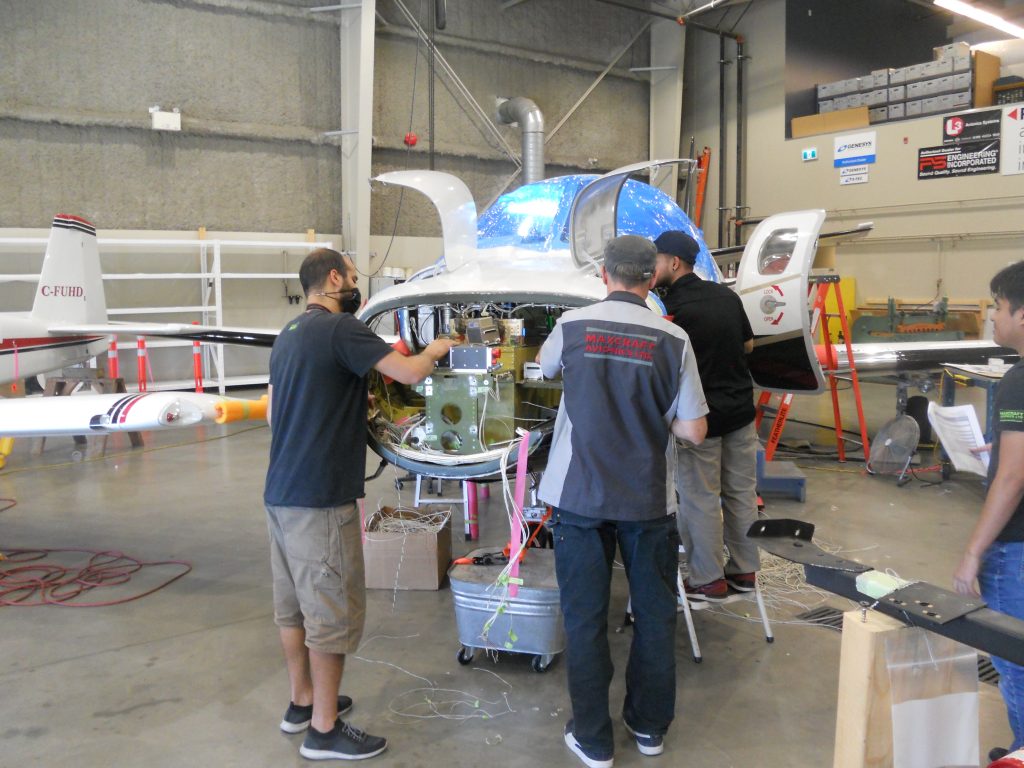 The dual GTN 750Xi GPS/Nav/Comm/MFD provides a redundant WAAS GPS and Nav source to all the avionics systems. The GTN 750Xi supports approaches from visual glidepaths when the weather is nice, to highly precise LPV, RNAV, or ILS when flying in even the harshest of conditions. The GAD 43e and GAD 42 convert the digital signal outputted by the GTN 750Xi into an analog signal which is then fed into the existing autopilot which allows the dated autopilot to fly highly precise flight paths and approaches using a modern WAAS GPS. Along with this, the GTN 750Xi will become a hub to the pilots controlling many aspects of the integrated avionics system. The GTN 750Xi acts as a control hub for the remote mounted GMA 35C audio panel, and the two GTX transponders.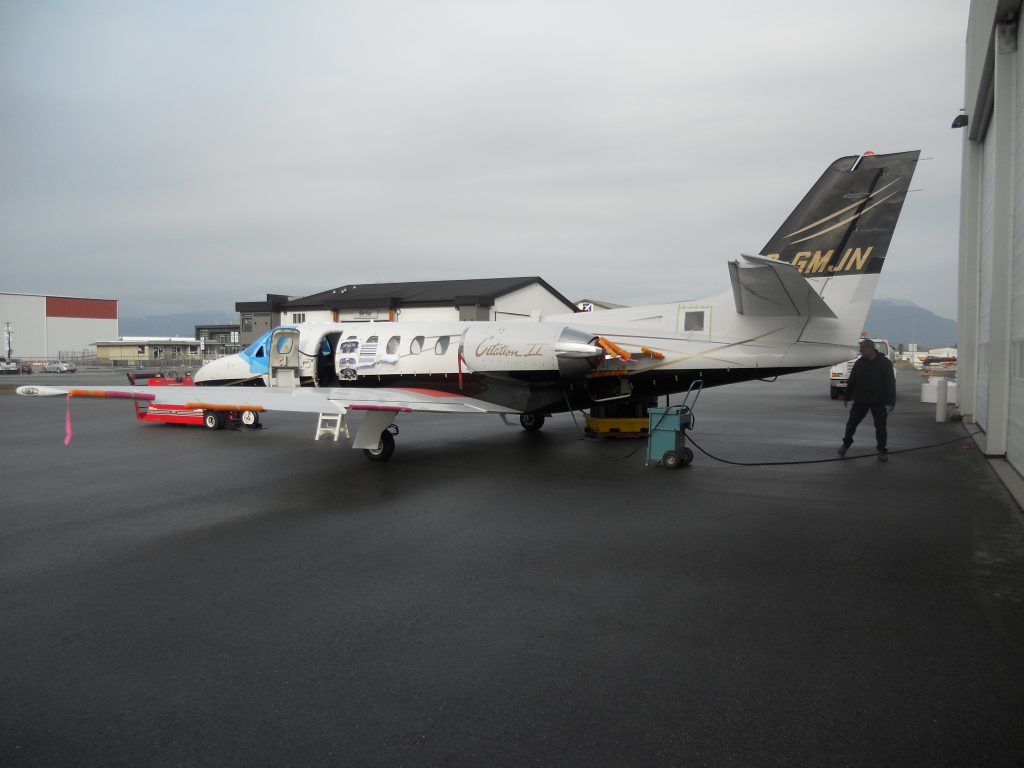 To provide redundancy two transponders were installed. A GTX 345DR and a GTX 335R. Both remote mounted and controlled by the GTN navigators, the GTX 345DR will act as the primary transponder providing both ADS-B in and out support, as well as meeting the diversity requirement to utilize satellite based ADS-B solutions by transmitting through both a bottom mounted and top mounted antenna. The GTX 335R will act as a fallback transponder providing ADS-B out only.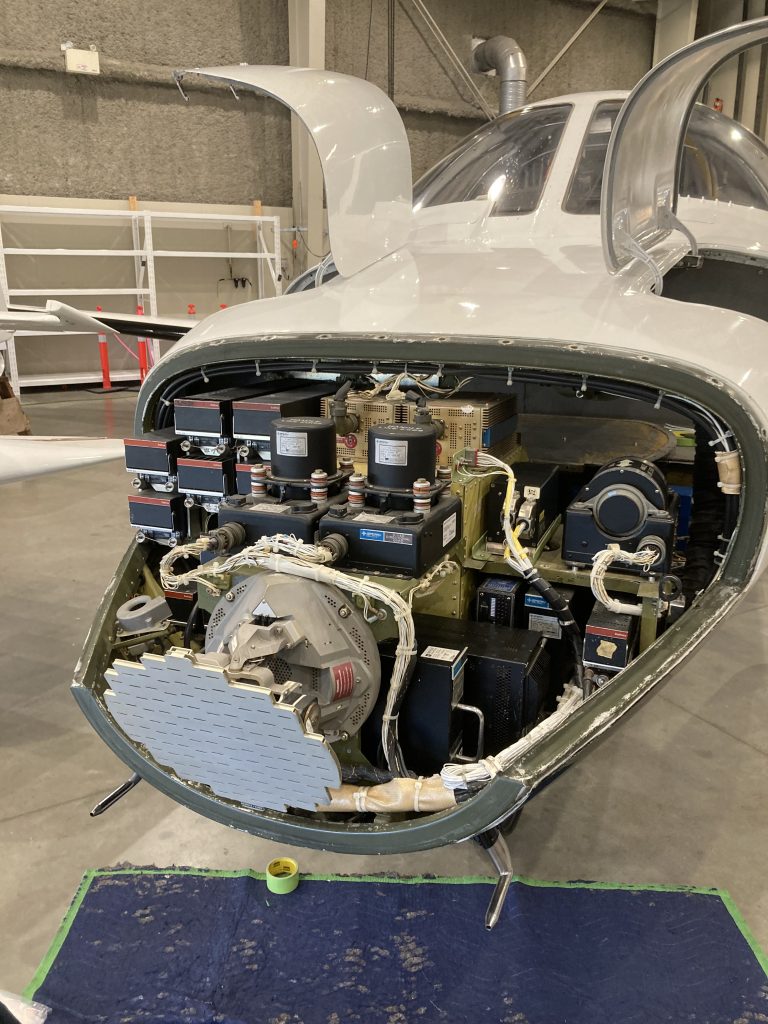 Jets of this size are often required to stay on schedule and have less flexibility when it comes to deferring flights to keep their passengers happy and on time. This can sometimes mean flying through difficult weather conditions and may require making constant small course corrections to avoid major storm cells. We upgraded the weather radar system to a Garmin GWX 75. The all-digital doppler enabled weather radar allows the crew to see a real-time view of the weather ahead of them allowing them to avoid dangerous situations. The information provided by the GWX 75 is complimented by SiriusXM satellite weather to give the crew a big picture view of the weather in a certain area. The GDL69A SiriusXM receiver can display detailed weather on the GTN 750Xi helping pilots make informed decisions while in the air. Additionally, the GSR 56 satellite data and communication transceiver will provide access to internet based weather services while in the air. METARs, TAFs, and graphical radar imagery is available for viewing through the GTN 750Xi, or a compatible mobile device through the FlightStream 510. The GSR 56 also allows the crew and passengers to keep in touch with people on the ground via phone call or SMS messaging through their mobile devices.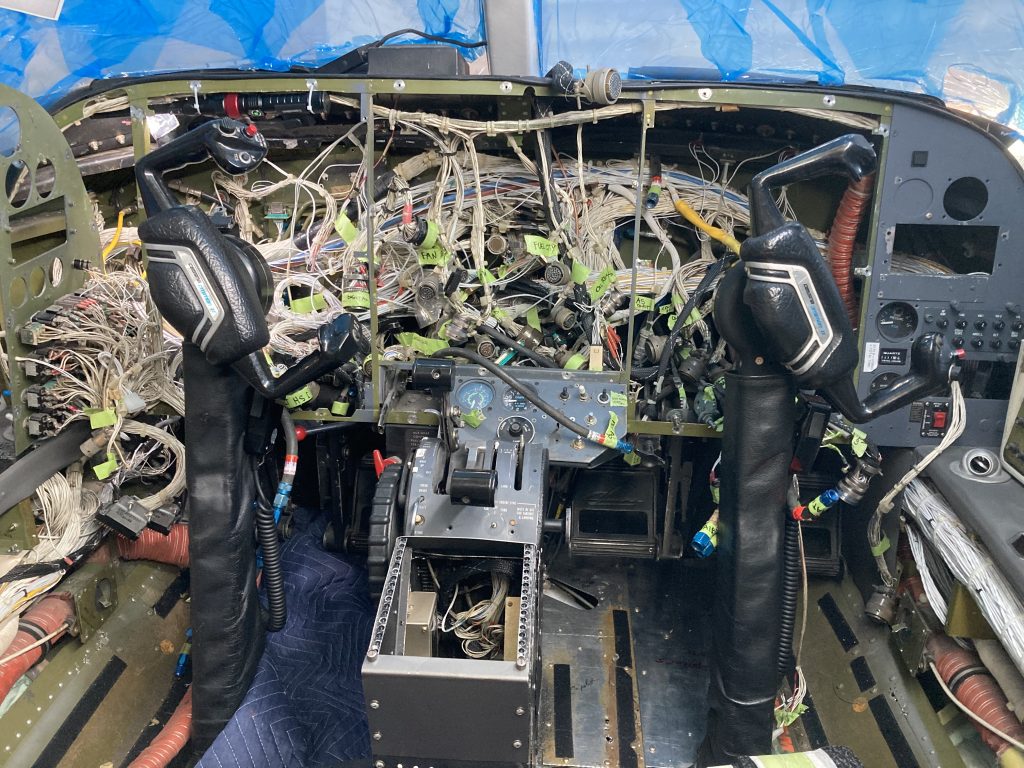 Redundancy is always important for aircraft of any size. While the G700 TXi flight displays are incredibly reliable, we still plan for the worst case scenario. The MD302 Standby Attitude Module from Mid-Continent Instruments provides the pilots vital information to continue flying the aircraft in the unlikely situation the encounter a PFD or electrical failure. The MD302 displays attitude, altitude, airspeed, slip, and vertical speed, while also having an available backup battery allowing the MD302 to continue displaying flight information even during a complete electrical failure.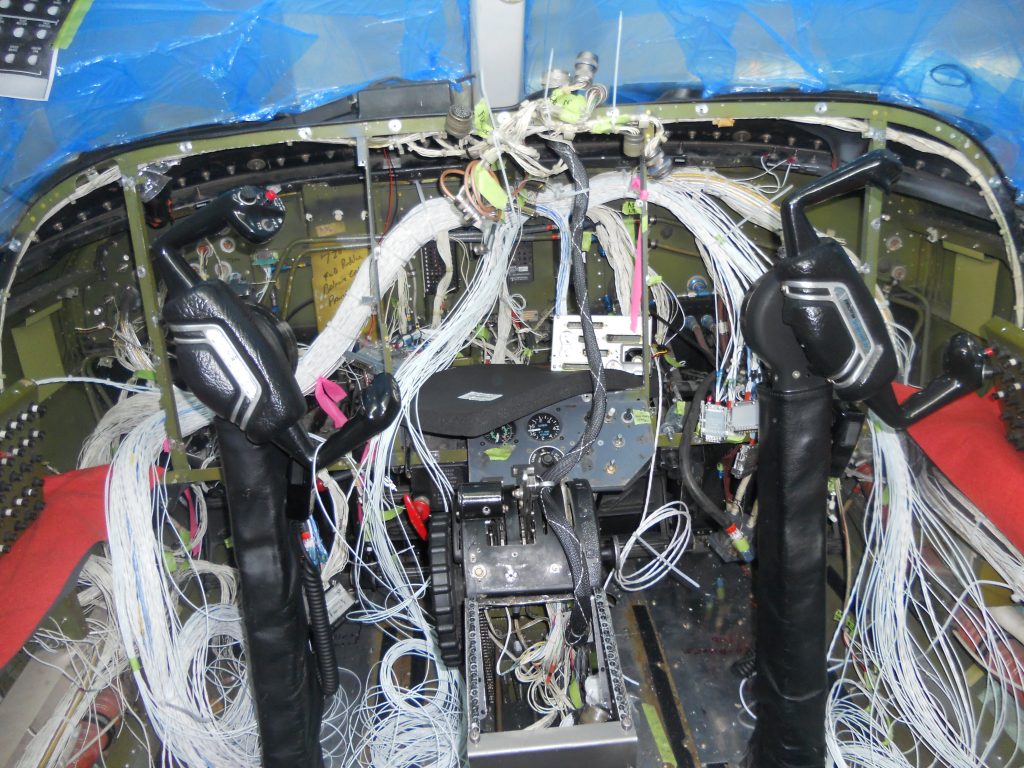 With electronic flight bags becoming a staple in every pilot's toolkit, we included two CH93 combination digital clock and high-power USB chargers. The clock can display local and UTC/zulu time, flight time, countdowns and stopwatches, as well as system voltage, and outside air temperature. The high-power USB charging ports have one USB type-A port, and one USB Type-C port making them compatible with a wide variety of devices and ensuring they'll remain compatible for years to come as more and more devices adopt the USB Type-C standard. For the passengers in the back, we installed 3 TA202 high-power USB chargers throughout the cabin. The TA202 features the same split Type-A and Type-C ports as the CH93, allowing passengers to keep their devices charged throughout the flight and ready when they land at their destination.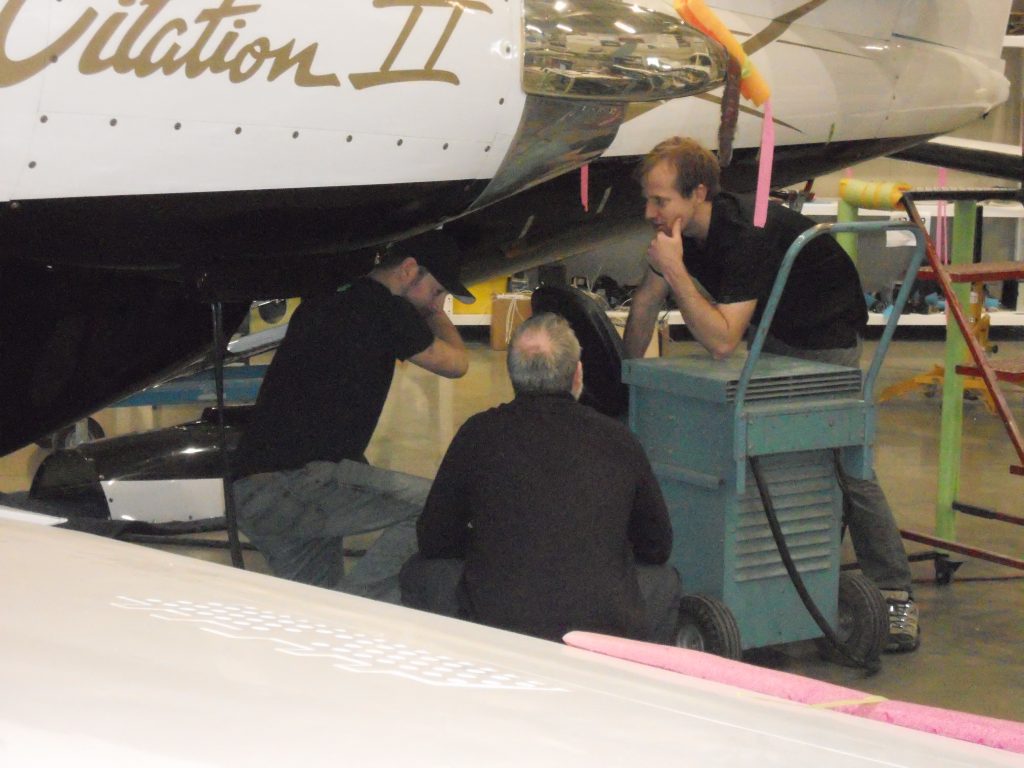 We also took this opportunity to install a new cockpit voice recorder with a recorder independent power supply to comply with the upcoming mandate coming into effect in May of 2023. You can read more about the mandate here. We installed the Kapture CVR from Universal Avionics. This CVR has an embedded recorder independent power supply (RIPS) making it fully compliant with the mandate in one single unit. The Kapture CVR can record at least 25 hours of flight data, and 25 hours of cockpit audio to solid-state flash memory.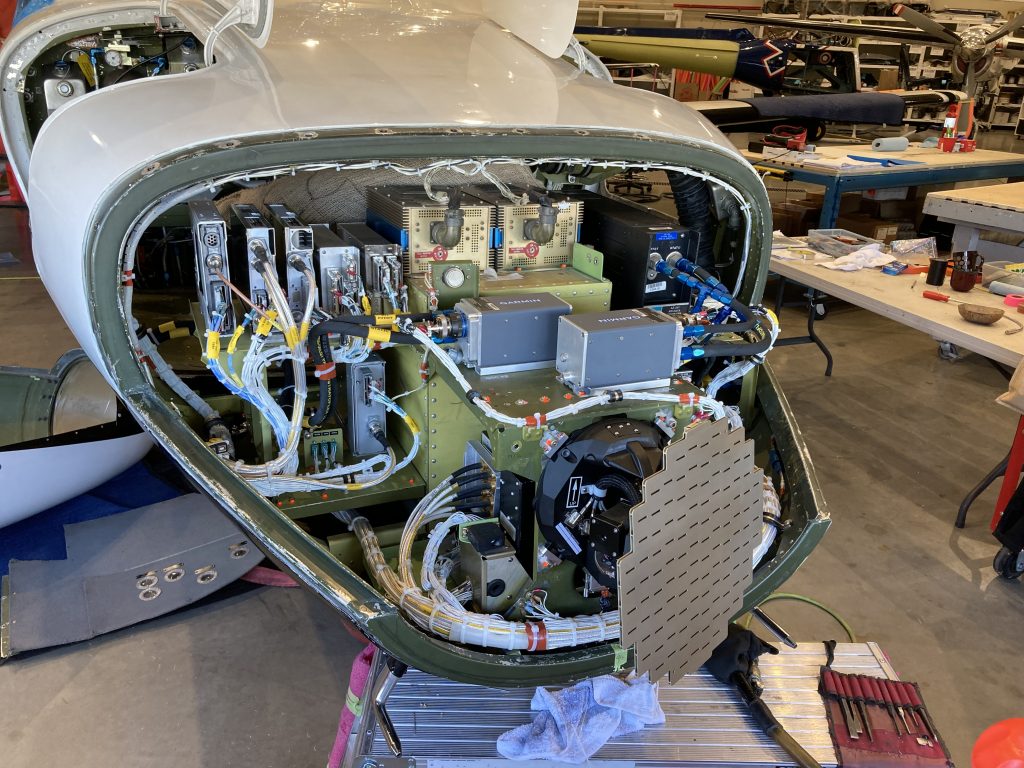 The Story:
This aircraft was flown from the customer's home airport in Calgary to our hangar in Pitt Meadows where we quickly got to work removing the old avionics systems to make room for the new and improved systems. On the flight over we had a technician on board to assess the current systems, specifically the autopilot to ensure there weren't any existing faults we would end up fighting during the process of integrating it with the new navigation equipment.
The interior was removed to receive several upgrades from one of the customer's vendors. Completing this work concurrently with the avionics upgrades allowed for the customer to save both time and money, by reducing downtime, and only needing to pay for the labour to remove and reinstall the interior once. After the upgrades were completed, the interior was returned to our hangar where it was reinstalled after all the avionics wiring had been run under the interior. As this aircraft is going to be the company's flagship and "pride and joy", they wanted it to look and feel luxurious, and this interior does a fantastic job at doing just that.
Interior:



















As we replaced and installed several new antennas, we arranged for an aircraft painter to come in and touch up the paint around the antennas to make them look factory installed. To protect the rest of the aircraft, as well as our other customer's aircraft we masked off everything except for the areas to be painted to avoid the possibility of overspray getting on anything it shouldn't.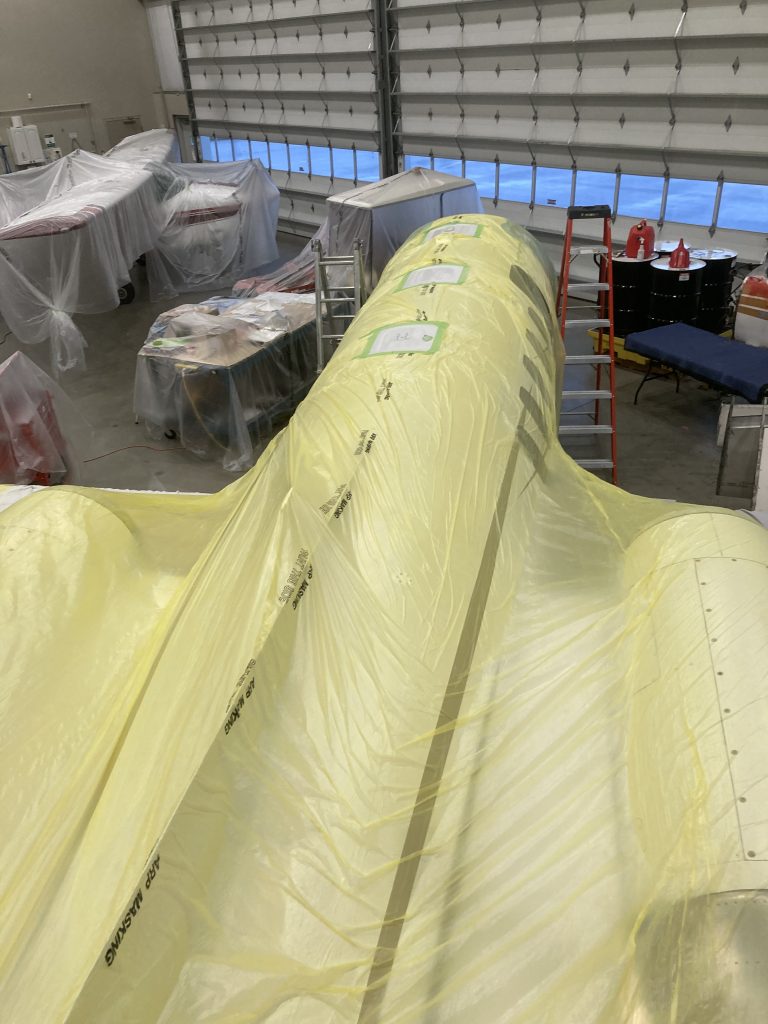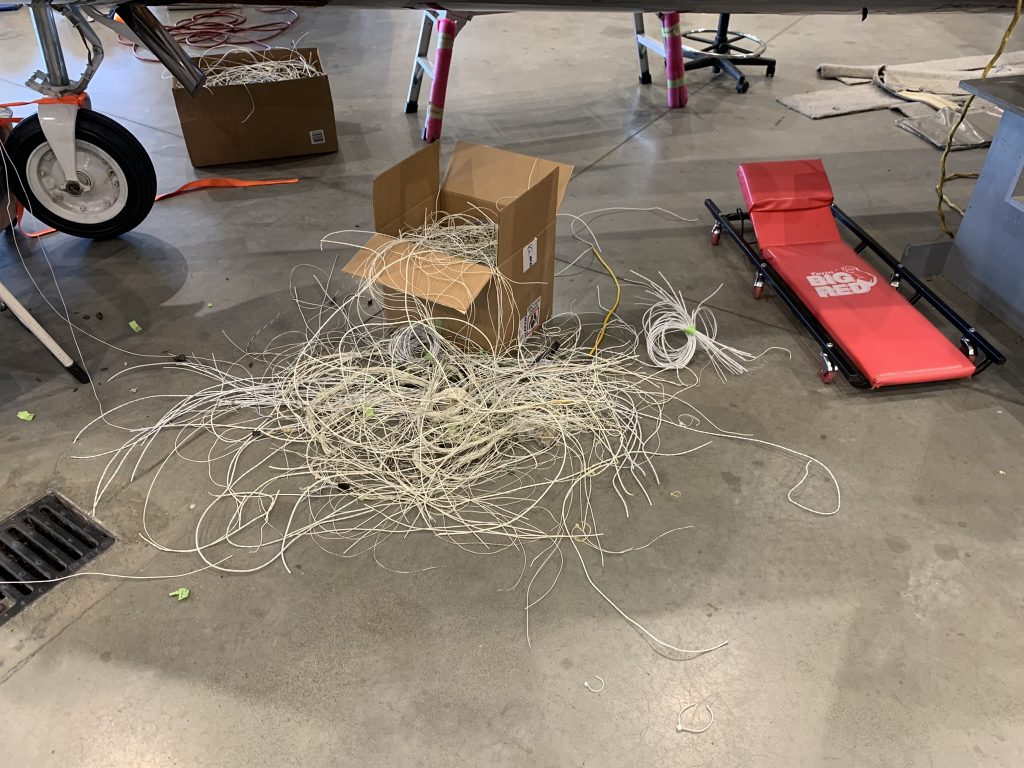 One thing not many people consider when completing and avionics job of this size is how much weight is removed. Old wiring, heavy gyros, and redundant systems are replaced by lighter wiring and solid-state electronics. We often times see an increase in an aircraft's useful load when completing a full glass panel upgrade. In the case of this Citation, we ended up removing so much weight from the forward avionics bay that we had to add lead ballast plates to bring the aircraft back into its weight and balance limits. Although we had to add "extra" weight in the form of lead blocks, we still ended up gaining more than 250lbs in useful load.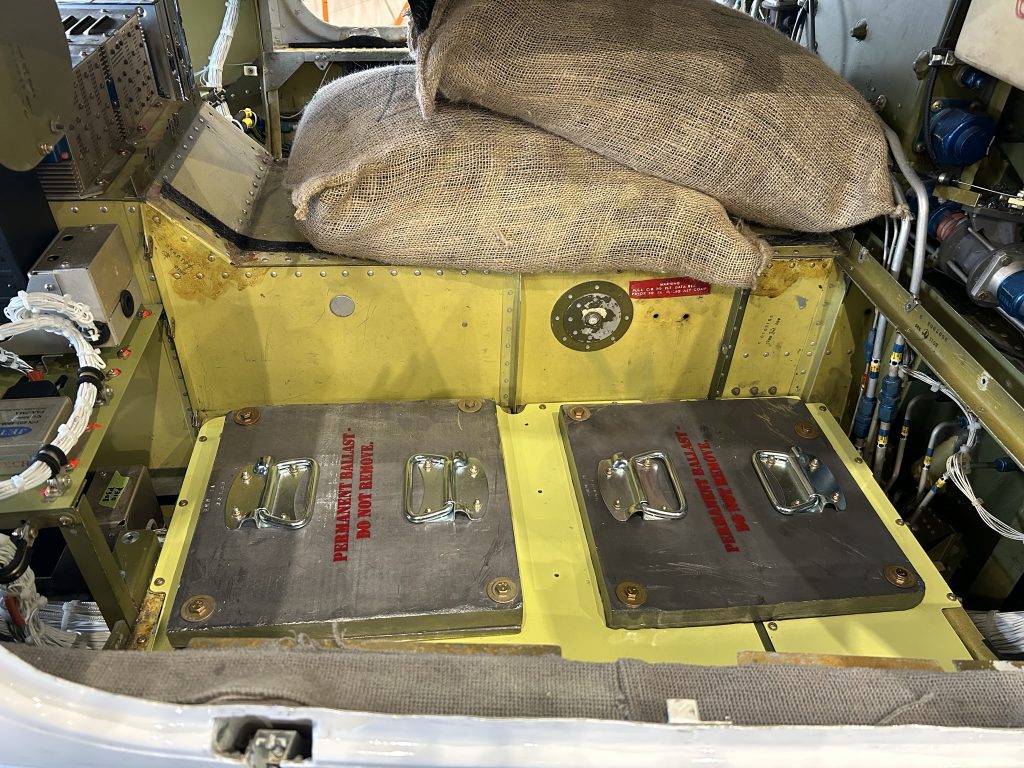 Customer Comments
"Maxcraft has been great to deal with on this avionics upgrade. Finding solutions to upgrade old components and adding new state-of-the-art technologies in an older aircraft is a large task that requires comprehensive project planning – Maxcraft has been a successful partner in tackling this job. From providing weekly updates, to the friendly and consistent communication from the project managers, to the detailed methodology and craftsmanship putting together and installing components, and to the ability to develop and engineer approved STC designs, Maxcraft has done its part to handle this mammoth job."
Jeremy Hand
CEO, Avenge Energy Services Inc.