The Aircraft and Owner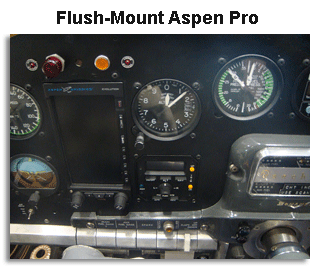 Coming to Maxcraft, long-time V-tail Bonanza owner Rick Johnson brought us an aircraft that has already had some IFR upgrades throughout the years. Flying for both business and pleasure, Rick takes pride in maintaining the 1960 airframe. Paying particular attention to the aircraft's highly polished prop (of which Rick had specified no one was to touch), a multi-phase Maxcraft upgrade now ensures the prop is not the only thing shining on the aircraft. A modernized panel adds youth and expanded capability to the timeless aircraft.
The Need
As already mentioned, Rick's aircraft has had some prior upgrades. An old King KCS-55A HSI allowed basic IFR capability. The panel also harbored a Century 1 autopilot. Eventually, crowding of the instrument panel limited the options available for different IFR avionics configurations to be installed. The panel was unable to completely fulfill the needs demanded by single-pilot IFR flight.
The Maxcraft Solution
Replacing the KCS-55A, Maxcraft installed a fully integrated Aspen EFD1000 Pro Primary Flight Display. Rick's new Aspen provides key information such as attitude, airspeed, altitude, and moving map. Its main feature, a fully electronic dual-bearing pointer EHSI, allows selection of both VOR's and/or GPS navigation.
In addition to the Aspen Pro installation, the aircraft owner decided on two further upgrades: First, Maxcraft enabled the aircraft to have a fully WAAS capable GNS430W. Second, replacement of the Century 1 autopilot with an S-Tec 50 autopilot allows for full integration with the Aspen for GPS steering. Rick's integrated system can fly GPS flight plan legs, course changes, and even along curved flight paths such as IFR course reversals and holding patterns.
With its expanded capabilities and glass instrumentation, the aircraft has become an advanced IFR aircraft. Rick's panel now has an excellent layout with a bright colour display. The panel – at a glance, allows for the ease of pilot management, and instant situational awareness.
However, with the new avionics installed, an old and wrinkled vinyl glare shield seemed ugly, detracting from the modernity of the upgrade. With Rick's aircraft already in the hangar, the Maxcraft solution necessitated replacing its vinyl with a custom leather glare shield – with seams of quality double-French stitching. The project was fit and finished to the Max.
The Story
Reflecting on logistics of the install, a real technical challenge was flush mounting the Aspen Pro. Slightly panel recessed, it is something less commonly seen in Aspen installations of this type. Knowing how important the subtle aspects can be to some pilots, Maxcraft endeavored to shoot for excellence and completed the job with a professional looking aesthetic.
Customer Comments
I thought that I'd drop you a line regarding my Maxcraft experiences over the last couple of years.
I've owned NTI for more than 20 years and have tried to make incremental improvements every year. A couple of years ago, I started looking at a partial glass panel up-grade and discussed my options at length with Steve. It was soon obvious that between the Garmin 500 and the Aspen Pro, the Aspen was the only one that would be viable. Maxcraft installed it in May/June of last year and it's quite a step-up from the previous King KI-55 slaved HIS (that I thought was really great!). You also did the WAAS upgrade at the same time. A couple of months after it was installed, I had a total Aspen failure (i.e., it went black!) as I was returning from Portland; luckily I was in VFR conditions over an undercast and Pitt Meadows was clear. I contacted Steve or Daryl first thing Monday morning; you removed it immediately and I was back flying by that Friday. Great service!
I should also mention the fast service that you provided me on two other occasions last year, once when the VOR half of the Garmin 430W stopped working and the very quick diagnosis and replacement of my main comm. Antenna.
That last major improvement to NTI took place this year when you took out the Century 1 autopilot and installed an S-Tec 50 that is coupled to the Aspen, with the GPS steering. I can't tell you how happy I am with it; as my wife commented this is just like an airliner. The combination of the two (Aspen + S-Tec) has made a world of difference to the airplane and made my flying so much easier and more enjoyable.
Once again thanks to the Maxcraft team; I would have no hesitation recommending Maxcraft for avionics and auto-pilot work.
All the best to Daryl and his team,
Rick Johnson