The Latest & Greatest Avionics Technology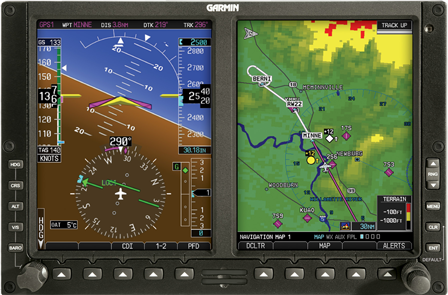 Authorized representative of over 30 of the world's leading Avionics brands.
The sudden leap forward in avionics technology is exciting but it's also made the decision to upgrade your avionics & aviation GPS systems a lot more complex. As pilots ourselves, we realize it's not an easy decision for anybody.
At Maxcraft, we understand avionics and aviation GPS technology better than anyone else in Canada and, as acknowledged experts, we look at our job as not to tell you what to put in your airplane; it's to give you the advice you need to make the right decision.
In helping you make the right choice we'll ask:
What kind of flying do you do?
What's your mission?
What do you already have?
What your budget is?
Then, using our deep knowledge base, we'll help you find right technology for you whether you manage a fleet or pilot your own private plane. As authorized representatives of over 30 of the world's leading avionics brands, we understand all the differences between the brands. And as pilots and technicians, we understand how reliable avionics can save you money and how cool doesn't have to be expensive. That means you can maximize your avionics budget value while maximizing your plane's capability.
Ask us about:
Synthetic vision maps
Touch screen navigators
Bluetooth capability
What we've learned from installing more glass flight instrument panels for longer than anyone else in Canada
Our position as one of the world's renowned experts on IFR capabilities in helicopters
Our work writing technical articles for leading publications and as advisors for Technical Institutes
Or any question that pops into your head.
Daryl MacIntosh, Founder of Maxcraft Avionics & Pilot.
"A capable aircraft is a safe aircraft"
Customer Comments
"Maxcraft did an incredible job before, during and after installation of my new panel. They were on time on budget and were a pleasure to work with. They provide excellent customer support answering my questions promptly when I call them. I wish I could master the operation of this incredible equipment as quickly as they installed it. I recommend them without hesitancy or qualification."
Cessna 185 owner
Call 604-465-3080 To Take Your Aircraft's Capability To The Max