The Aircraft and Owner
Phoenix Heli-Flight is a very professional safety conscious heli-operator which does work supporting various industries in Fort McMurray, AB. This project was the installation of multiple avionics systems into one of Phoenix's AS355 Twinstar helicopters.
The Need
Our customer has a very high standard of safety, and in keeping with these values the new systems bring them better situational awareness and improvement of overall flight safety. Items such as Traffic Alerting, EFIS displays, WAAS GPS, Instrument Lighting, Radar Altimeter, etc… are solutions we installed to meet this need.
The Solution
Maxcraft provided the following solution for Phoenix Heli-Flight's AS355N Twinstar: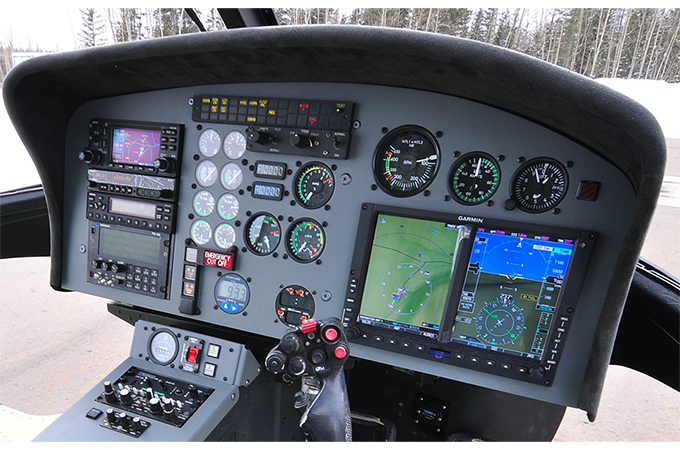 Garmin G500H primary flight display system
Garmin GTS 800 TAS (Traffic Awareness System)
FreeFlight RA-4500 Radar Altimetry System
UMA electro luminescent instrument lighting system
Garmin GNS430W (WAAS) Navigator
2 ¼" standby airspeed indicator
2 ¼" standby altimeter
Garmin SL40 Comm Transceiver
The Story
Installation of a G500H and associated systems into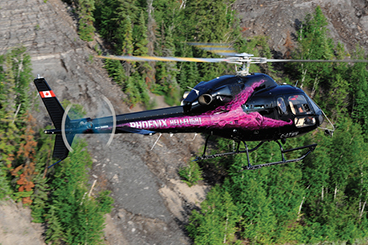 the AS355 Twinstar required us to design and develop an STC. This design process was done simultaneous to the installation which was both started and carried out to completion in Fort McMurray, BC. Our STC was issued on-time for the customer's scheduled return to service of the aircraft.
Transport Canada approval of STC SH12-43 allows Maxcraft to now install the Garmin G500H, GTS 800 traffic system, and FreeFlight RA-4500 Radar Altimeter into Eurocopter AS355 rotorcraft. Developing the STC has created an excellent avionics solution for commercial operators of the AS355.
Maxcraft's president, Daryl MacIntosh, stated:
"This installation provides significant safety enhancements and
superb situational awareness at a practical cost."
Replacing an aircraft's regular six-pack of primary round/analog instruments and any external CDI (course deviation indicator), the G500H is a clean and integrated solution. Standby altimeter and airspeed indicators are still required however relocating the existing indicators can eliminate additional costs. For a cleaner and tidier looking panel there are also 2 ¼" standby instruments available which are what Phoenix Heli-Flight opted for.
Our STC approval covers installation of Garmin's digital AHRS & ADC, GNS 400W/500W Series Navigators, GTS 800 Traffic Alerting system, and the FreeFlight RA-4500 Radar Altimeter. A benefit of having the G500H for operators who utilize the radar altimeter is that it is not necessary to install FreeFlight's Rad-40 display as all information is displayed on the G500H multi-function display. The G500H system also has the ability to interface to existing Garmin GTX Transponders and board NTSC or PAL video systems.
To learn more click here or call 604-465-3080