"Bringing you knowledge of the latest in avionics technology"
In This Issue

Upcoming Events

New Products

In the Hanger

The Technical Side

Vendor Profile

Who's who?

Rebates

Northern Air Tradeshow

Apr. 28 – 30, 2014

WhitehorseYellowknife

Canadian Business Aviation Association

Jun 17- 19, 2014

Edmonton

Canadian Owners and Pilots Association

Jun 20 – 22, 2014

Peterborough

Pitt Meadows Airshow

July 20, 2014

Pitt Meadows

AirVenture Oshkosh

Experimental Aircraft Association

July 28 – Aug 3, 2014

Wisconsin

 

Recently, I had Maxcraft Avionics install Garmin's GTS800 in my G1000 equipped Cessna 182. 

 

I've been a customer of Maxcraft Avionics since I purchased my C182 factory new in 2006 and have been more than pleased with the quality of service that I have received from Clarke Paterson, the operations manager and Andy Hong, the technician, who personally take care of all of the avionics maintenance on my aircraft.  

 

What impresses me greatly is that Daryl MacIntosh, the owner, invests regularly in his staff by providing them with the necessary ongoing training and knowledge that Garmin's new and innovative products demand of the avionics technician professional.  I have personally experienced another company that said it was capable of performing a routine Garmin software installation upgrade only to be disappointed that my G1000 all but ceased to function.  

 

At Maxcraft Avionics such occurrences are unheard of within my personal experience as a customer.  Since I live in Victoria on Vancouver Island, an added bonus to dealing with Maxcraft Avionics is that Daryl MacIntosh personally flies to Victoria International to pick me up in his own Cessna 182 thus eliminating the arduous BC ferry, Sky Train and bus trip to Pitt Meadows. 

 

This service alone gives you the impression you are a valued customer. 

 

Without the slightest reservation, I can say that if you love your aircraft as much as I love mine you should consider Maxcraft Avionics the next time your avionics require attention.

—
Steve Long

Do you have a story to tell?  I would love to hear from you. Send your email to:

 While taxiing at London's Airport, the crew of a US Air flight departing for Ft. Lauderdale made a wrong turn and came nose to nose with a United 727.

 

An irate female ground controller lashed out at the US Air crew, screaming: "US Air 2771, where the hell are you going? I told you to turn right onto Charlie taxiway! You turned right on Delta! Stop right there. I know it's difficult for you to tell the difference between C and D, but get it right!"

Continuing her rage to the embarrassed crew, she was now shouting hysterically: "God! Now you've screwed everything up! It'll take forever to sort this out! You stay right there and don't move till I tell you to! You can expect progressive taxi instructions in about half an hour, and I want you to go exactly where I tell you, when I tell you, and how I tell you! You got that, US Air 2771?"

"Yes, ma'am," the humbled crew responded.

Naturally, the ground control communications frequency fell terribly silent after the verbal bashing of US Air 2771. Nobody wanted to chance engaging the irate ground controller in her current state of mind. Tension in every cockpit out around Gatwick was definitely running high Just then an unknown pilot broke the silence and keyed his microphone, asking:

"Wasn't I married to you once?"

Class A TAWS, P25, JA95-002, Radar Altimeter, WiJAC, G3X Touch and the VIRB

Greetings,

Spring is in the air and so are lots of new products! With Sun N' Fun and the Aircraft Electronics Association trade shows behind us we have several manufacturer announcements to share. Read about the JA95-002 and the WiJAC from Jupiter, numerous cool new products from Garmin, Maxcraft's latest STC, and of course about our featured employee of the month. Learn about the P25 digital radio standard – and one of our radio suppliers –  Technisonic.

To help our customers comply with the Transport Canada TAWS mandate, Maxcraft Avionics has amended their STC package for the 1900C aircraft.

Transport Canada STC SA14-12 approves the installation of a Garmin GTN750 or GNS530AW with Dual Sandel SN3500 EHSI's on Beechcraft 1900C Regional Airliners. For GTN750 Navigators, an optional enablement for Class A – Terrain Awareness Warning System (TAWS-A) is available. The TAWS-A enablement meets TCCA CAR 551.102 Enhanced Altitude Accuracy (EAA) requirements. This installation provides significant safety enhancements for CAR 605, 703, and 704 operators who are mandated to operate with TAWS-A.

GTN TAWS-A

Enablement of the TAWS-A features within the GTN Navigator require control and annunciation at each pilot station.  The newest TAWS Class A FLTA and PDA alerting functions, as well as GPWS Modes 1 through 6 and Mode 6 Enhanced functions are available in the GTN750.  Read more about this STC here.

Jupiter Avionics Corporation announces it has been granted CAN-TSO-C139 Design Approval for its JA95-002 Six Transceiver Audio Controller. With this new addition to the JAC product family, Jupiter provides an alternative to customers who require control of six transceivers. As with the original JA95-001, all legends are field interchangeable to cover multiple mission configurations with no customization fees. Also, all internal adjustments can be set by using Jupiter's free ProCS software.

JA95-001: 7 Users, 5 Transceivers + PA + 6 Receivers

NEW – JA95-002: 7 Users, 6 Transceivers + 4 Receivers

JA95 Audio Systems use newer technology, have more features and are lighter and less expensive than any comparable product on the market.

The new wiJAC-D01 wireless dropcord is now available. The wiJAC-D01 provides the added freedom of a wireless system using a standard aircraft headset and existing aircraft equipment via JA69 and JA68 component plugs. Controls on the headset adapter have been kept to a minimum to ensure ease of operation. As well as VOX and Volume controls there are two buttons, one for ICS PTT and one for TX (radio) PTT. When TX PTT is activated, the microphone audio is transmitted to the aircraft audio controller and then to the selected aircraft radio. 

Technisonic TDFM-9000 Series

The new Technisonic TDFM-9000 configurable radio platform allows aircraft operators to address inter-operability and compatibility problems like no other system before. It is the first and only system to offer user-configurable population of the system with both the latest generation Phase I and Phase II P25 FM digital encrypted radios, spanning VHF to 800Mhz frequencies.

 

The TDFM-9000 can also have up to two analog AM or FM radios covering Low Band, VHF and 225-400Mhz UHF operation. The TDFM-9000 family offers from 2 to 6 transceivers in a single dzus mounted package and can be configured to run as single, dual or individual radios, for maximum compatibility with existing cockpit audio systems. 

GRA 55 Radar Altimeter and GI 205 Indicator 

This comprehensive radar altimeter solution expands upon Garmin's high-performance, all digital GRA 5500 radar altimeter to include the GRA 55, a best-in-class and cost-effective radar altimeter designed specifically for helicopters and general aviation aircraft. The GRA 55 uses Garmin's patent-pending digital signal processing technology.

Touchscreen Flight Display System for Experimental Aircraft 

Garmin's Team X unveiled the G3 Touch a large touchscreen glass flight display system designed for installation in experimental amateur-built and light sport aircraft (LSA). This newest addition from Garmin offers pilots an easy-to read, easy-to-use, high resolution 10.6 inch glass flight display with lots of advanced options and features. is a large touchscreen glass flight display system designed for installation in experimental amateur-built and light sport aircraft (LSA).

An Aviation-specific Action Camera: The VIRB 

Garmin introduces the VIRB Elite for Aviators. The VIRB offers a unique 1.4 inch Chroma color display which makes setup and playback simple and ensure pilots capture the in-flight angle they desire. Using minimal power, The VIRB Elite offers up to three hours of true HD video on one charge. Digital stabilization and lens distortion correction ensures video footage is clear and vibrant.

The new VIRB Elite for Aviation Bundle offers pilots the accessories they need to takeoff and capture in-flight video with ease, at a great value! This bundle features a new headset audio cable, and a propeller filter reduces the distortion which is created while filming through a moving aircraft propeller.

While at Maxcraft we consider our consultation process to be a strong selling point, in truth, it's not always entirely necessary. The savvy owner of this Cessna 340 already had considerable education with regards to his avionics upgrade options. He knew more or less exactly what he wanted and neither our sales nor technical staff could find much fault in his choices. He asked for a Garmin G500 primary flight display, and that's exactly what our technicians installed. Read more on our project 

page

.

In the Hanger: Bell 212

This pair of Bell 212's is

owned and operated by one of Maxcrafts most frequent and valued clients. This year these aircraft returned to our CYPK facility after more than three years of operation in Afghanistan. Prior to that mission, the aircraft were stripped of IFR equipment, optimizing them for VFR operation and reducing their weight considerably. With these aircraft back in Canada, Maxcraft Avionics was tasked with re-installation of IFR equipment in preparation for work at home. Read more about these helicopters here. 

The Technical Side:

What the Heck is a P25 Radio?

Project 25 (P25) is a digital radio standard developed primarily for use in Public Safety such as Police, Fire, Ambulance and other emergency services. It originated in the United States to address the need for communication system interoperability between various agencies especially during disasters or other emergencies. Use of the P25 standard has since spread to a number of other countries including Canada. A key P25 requirement is that any compliant

radio should be able to communicate with any other P25 compliant radio, regardless of manufacturer.

In Canada, commercial helicopters are routinely called upon to provide support services to public safety agencies. As these agencies upgrade their communication systems, many are choosing to implement P25 compliant networks. Helicopter operators will also need to upgrade their radios in order to work effectively with these agencies. Because of the gradual phasing in of P25 networks we recommend that helicopter operators choose VHF FM radios which are capable of both P25 digital operation and conventional analog operation such as the Technisonic TDFM-136B.
Technisonic Industries Ltd. is a privately held Canadian Electronics Manufacturer with principal offices in Mississauga, Ontario (Canada). Since 1990, Technisonic has focused its efforts on the development of aeronautical band VHF ground equipment and special mission airborne RF and audio communications systems. Technisonic is now well-established as a world leader in the development of aviation-related communications products.

As Technisonic ground stations have become "industry standard" in the VHF/AM business for airline and airport operations, so too have the Company's tactical airborne VHF, UHF and multi-band communications systems come to dominate the industry. Technisonic airborne communications systems are the "system of choice" for demanding tactical applications in the fields of Air Ambulance, Electronic News Gathering (ENG), Fire Suppression and Law Enforcement. The company is a member of the Telecommunications Industry Association (TIA) and is involved in the development of the next generation digital, encrypted FM communications system (Project 25). Technisonic now provides airborne solutions to those Federal agencies who are required to become P-25 compliant. Technisonic is dedicated to the development of new and innovative ideas and products, and is constantly searching for ways to improve serviceability and to meet the unique and varied operational requirements of its customers.
Get to know the employee….. Who is Christopher?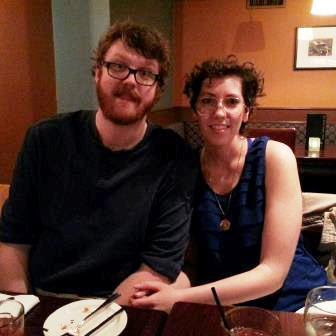 Our feature employee of the month is Christopher Neil. Chris is one our newest employees and was hired as an apprentice avionics technician. He assists with installing new avionics systems, building aircraft harnesses, installations of electrical systems, radio and many other technical aspects of aviation.
Chris went to SAIT (Southern Alberta Institute of Technology) in Calgary for their two year program to train as an avionics maintenance engineer and joined Maxcraft in January. Immediately after graduation and prior to joining us, he worked with Eagle Copters in Calgary. He has now been a technician for 18 months.
No, he's not a pilot. He's prefers to operate vehicles that don't defy gravity. The why did he choose avionics? He liked the potential complexity of the avionic system and the high standards of quality put in to practice in avionic maintenance. What's his favorite thing about avionics? That there is seemingly always more to learn!
Before the decision to attend SAIT, he spent 5 years working as a city bus driver in Calgary. Whilst attempting to fight the boredom of driving in circles for 8 hours a day, he amassed quite a large book collection.
Chris has no pets, and has been with his spouse Serena for 6 years and both fulfilled a large dream of theirs to move to the Lower Mainland and make a home in Vancouver.
Chris also has played the bass guitar for 12 years, huge Rush fan, avid PC gamer and loves to travel.
Maxcraft is hiring!
As you can see we are busy, as we continue to grow our business we are always looking for experienced avionics installation technicians.  If you are interested in joining our winning team send your resume to Joanna at Customer Service.
Aspen Avionics is once again offering substantial savings on all Evolution Systems. This promotion is effect only until April 30th, 2014. Aspen is also offering new system pricing on the Evolution 3000. The pricing includes everything an operator needs: Synthetic vision on the MFD1000, EBB and Evolution Hazard Awareness software are included in the system pricing.
SPOT 3
Be a life saver, and get one for your favorite pilot. The new and improved SPOT 3 is $169.99. Call us for details. COPA member? You will receive a promo code for $50 off the Enhanced Tracking services for the first year! Upgrading from SPOT 2? Add it to your account, call COPA first before picking your service and receive an additional $50 rebate.
Lightspeed – Zulu.2
Receive a $50 rebate when you purchase a new Lightspeed ANR headset with bluetooth. Offer valid until May 26, 2014.
If you would more information or to pre-order any of our products, please contact our Sales department or call 604-465-3080.
_____________________________________________________________________________________

Maxcraft Avionics
offers specials too!  Go to our
webstore
for specials and check
this section
for our used/reconditioned avionics list – updated monthly.